Pall Corp. (NYSE:PLL) is a cyclical, industrial company with a wide variety of Life Sciences and Industrial sales. It is the type of company that is apt to fall dramatically with a falling overall world economy. It missed on EPS last quarter by -22.80%, and its sales figures were still okay. Its total Life Sciences sales were +1.7% year over year (+4.0% excluding Forex issues). Its total Industrial sales were -0.3% year over year (+1.2% excluding Forex issues). This doesn't sound too bad for a cyclical in the currently slowing world economy. However, PLL's orders tell a very different story. European orders for Q3 were down -20%. This is hugely important because European sales were approximately 41% of sales in Q3 2011. Asian orders were down -6%. Only Americas orders were up at +5%. Asia had a double digit decline in larger industrial markets. Europe had a 60% decline in systems. Overall total Life Sciences orders were down -3.0%, and total Industrial orders were down -16.4%. These are results when the world economic slow down is just beginning.
The results are going to get a lot worse before they get better. The EU barely avoided an official recession with a 0% GDP growth reading for Q1 2012. Some might say this is good, but the reality is that everyone agrees that the EU is going into recession. The 0% growth result just means that the "official recession" call cannot be made before the Q2 and Q3 2012 results come in at the earliest. The likely then official recession can not then be officially escaped for another two quarters at a minimum. All this means that slower growth will be prevalent for a minimum of one year from now. More sanguinely, it means that we likely have at least another 1.5 years of an EU recession. The occurrence of a Chinese hard landing would extend this. A US recession would extend this.
PLL trades at a PE of 18.69 and an FPE of 16.41. The PE is in the middle of PLL's historical PE range of 11 to 29. However, given the recent economic slowing, the PE is too high. It might be expected to fall to the 11 to 14 range as the economic slowing continues. This translates into an approximate 30% fall in the price of the stock. Further the recent fall in orders likely means that the PE will go up in subsequent quarters instead of down. The proposed 30% fall in the price of the stock is thus more likely, and the 30% fall may only be the beginning. The recent analysts' cuts to FY2012 and FY2013 EPS estimates ($3.18 to $2.71 and $3.57 to $3.19 respectively) are likely just the beginning too. The poor economic health of the PIIGS seems destined to pull PLL down with them. If you believe they have a lot farther to fall, the same is probably true of PLL. That's what happens when a company is heavily dependent on a geographic area that is not doing well.
A hard landing in China and/or a recession in the US would just mean the stock would fall that much further. It is too soon to reach definite conclusion about either of those, but you can sell or short this stock with relative safety in the near term. Among those cutting estimates for PLL recently are RW Baird and Credit Suisse. JP Morgan did upgrade it to Neutral. It also increased its price target from $53 to $55. However, JP Morgan had one of the lower targets on the street prior to this. I expect all of these ratings to fall further. The major brokerages are notorious for shutting the barn door after the horse has bolted. They like to keep an economically positive view as long as they possibly can. This usually translates into losses for the investors they advise. Choose not to be one of them in this case. PLL is too exposed to the EU not to fall from here. If the economic woes of the EU expand to China, the emerging market economies, and the US, PLL will fall much further.
The five year chart of PLL gives some technical direction to this trade.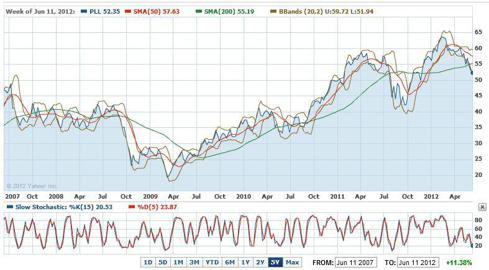 The slow stochastic sub chart shows that PLL is oversold. Ditto PLL's stock price proximity to its lower Bollinger Band. However, there may be good reason for this. PLL only reported earnings on June 6, 2012 (a few days ago). It missed EPS estimates by -22.80%. Many are probably still sifting through its results, new orders, and guidance. The company itself said it sees, "being caught up with back orders by August." The closer the company comes to this point, the more likely the stock is too fall more precipitously. There will then be no buffer at all for its fall in sales in the EU and elsewhere.
The main chart gives a nearly textbook picture of a coming fall. PLL's stock price has already fallen below its 200-day SMA (a sell signal). The 50-day SMA is headed down toward the 200-day SMA. When it crosses the 200-day SMA, this will be an even more powerful sell signal. The first good support point is at $42.40 (the current price is $52.35). The next support point is at approximately $35. In March of 2009 PLL fell to $19.37. The current worldwide economic slowdown has the capability of being worse than the previous recession. PLL could fall this far and further. The easy money is probably a fall down to $42.40. The still reasonably sure fall may be to $35. These would both provide good profits. Only if the world economic situation worsens appreciably, which it well may, should one then consider shorting PLL down to $19.37. You will have to make that decision at a later time. Still PLL does look enticing as a near term short. It is definitely a near term sell, if you own it.
If you plan to short you should be aware that PLL has a 1.60% dividend. Its last ex-dividend date was May 4, 2012. The next ex-date should be approximately Aug. 4, 2012. You can short until the next ex-dividend date without worrying about being liable for the next dividend payment, although you may wish to ignore that liability completely in your shorting strategy. You might very possibly short effectively for the next five months or more. Averaging in is a good strategy, especially with the high degree of near term uncertainty in this market.
If you are looking for other stocks to short in this industrial peer group, you might look at Ingersoll-Rand PLC (NYSE:IR), Pentair Inc. (NYSE:PNR), and Donaldson Co. Inc. (NYSE:DCI). They all seem to be possible setups, although you will have to do your own research.
NOTE: The fiscal data above that did not come from PLL came mostly from Yahoo Finance.
Good Luck Trading.
Disclosure: I have no positions in any stocks mentioned, but may initiate a short position in PLL over the next 72 hours.