Canada's largest apartment real estate investment trust may be facing a falling market for its properties by Desjardins analyst Jeff Roberts is still expecting a 61% 12-month total return for Boardwalk REIT (OTCPK:BOWFF).
Mr. Roberts dropped his 12-month target to C$56, from C$64.50, because of rising capitalization rates. The cap rate is the implied rate of return on a property, so the higher the cap rate, the less the building is worth.
With portfolio cap rate adjusted to 5.7% from 5.35%, Mr. Roberts says the net asset value per unit of the REIT is still C$52.82. He concludes the REIT is now trading at 32% below net asset value.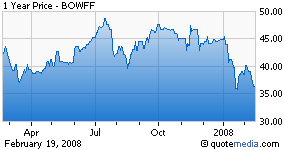 "I know I have one of the highest net asset values on the street but that's what I think it is worth," he said in an interview.
In a report to clients, he noted Boardwalk had strong recurring distributable income which was up 19.6% in the fourth quarter from a year ago.
Mr. Roberts said:
With its significantly below-market-average rents, Boardwalk should generate strong cash flow for the foreseeable future despite more moderate rental growth forecasts.
His forecast was in contrast with one from Gail Mifsud of Blackmont Capital, who said Boardwalk is trading near her NAV estimate. Neil Downey, an analyst at RBC Capital Markets, was also far more conservative in his estimates. He lowered his 12-month target to C$46 from C$52. He puts Boardwalk's net asset value per share at C$45.