Shares of Garmin Ltd (NASDAQ:GRMN) fell 8.56% on Monday to close at new 2012 low.
Click to enlarge: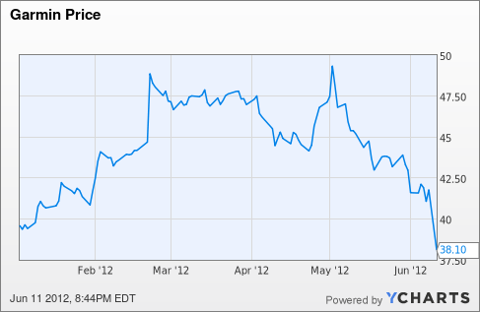 GRMN data by YCharts
Analyst Note
Oppenheimer & Co analyst Yair Reiner maintained a "perform" rating on the stock but did make some cautionary comments.
Global economic slow down is hurting auto sales, thus reducing demand for GRMN products.

Concern about competition from Apple (NASDAQ:AAPL)
While a global slowdown is certainly a problem for GRMN, I believe the threat from Apple is far more worrisome for GRMN shareholders.
Apple Maps
On Monday, Apple announced that its new mobile software, iOS 6, would have a new built in map feature. This is certainly bad news for GRMN and Google (NASDAQ:GOOG) as Apple almost always tends to destroy competitors. Apple's iPhone was incredibly destructive for nearly all other smartphone makers. Blackberry maker Research In Motion (RIMM) and once industry leader Nokia (NYSE:NOK) are both a shell of what they once where because of Apple's iPhone. I believe a similar story may unfold with GRMN. I find it difficult to believe that consumers will continue to pay two or three hundred dollars for a GPS when they can simply use the iPhone app.
Dividend
One positive that GRMN bulls point to is the dividend. Currently, the company pays a dividend of $1.80 or 4.7%. While this dividend is nice, I believe that the competition from Apple presents a risk to future earnings and eventually dividend. That being said, GRMN does currently have over $7 per share in cash so it should be able to continue paying the dividend for the foreseeable future.
Short Interest
Short interest in GRMN currently stands at 10.59 million shares or 9.7% of the float. Given any positive news, such as a possible upside earnings surprise in the next quarter, a short squeeze is certainly possible. However, I believe any such pop would be temporary as the Apple threat is more a long-term threat than a short-term threat.
Marine, Aviation, Fitness, and Outdoor Segments
In addition to the automotive segment, GRMN operates three other segments. These other segments seem to be doing much better than the automotive segment. Overall, GRMN revenue for Q1 2012 increased by 10%. Revenue for the automotive segment increased by just 6%. Revenue for the outdoor segment increased by 16%. Revenue for the fitness segment increased by 26%. Revenue for the aviation segment increased by 5%. Revenue for the marine segment increased by 9%. It should be noted that 50% of total revenue comes from the automotive segment while 20% of total profits come from the division. While Apple might be a most significant threat for the automobile GPS market, it is too early to say what the impact might be on other segments of GRMN. During the iPhone's early days, many thought that while RIMM would be hurt by the iPhone, the company would be okay because of its dominance over the "corporate" world. However, this logic has proved incorrect as the iPhone has penetrated even the corporate smartphone market. The same may happen with GRMN's many business segments.
My Take
I would use any rallies to sell GRMN. Not many companies have been successful in fending off Apple and I do not believe GRMN will be the exception.
Disclosure: I have no positions in any stocks mentioned, and no plans to initiate any positions within the next 72 hours.