The much anticipated Spanish bank bailout package fell flat in Monday's trading. Although I expected any uptick to be short-lived, the speed of the rally fading surprised me. If you left to fetch your morning coffee after the opening bell, you basically missed it (See Chart). When the market cannot even get one good day (or hour) of rally to the latest bailout package, it marks a dangerous new phase in the market in my opinion.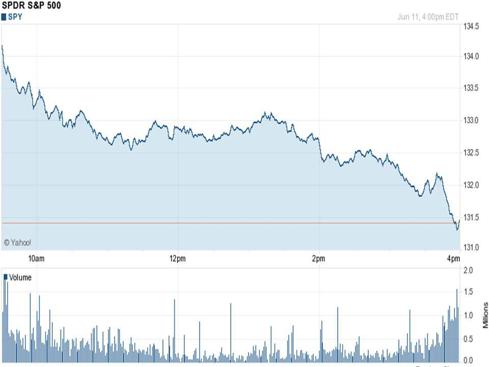 Click to enlarge
Unintended consequences, impacts and misses from the latest bailout in Europe:
 
The ECB missed an opportunity to accompany the announcement of the bank bailout with an interest rate cut which would have had a bigger impact on investor confidence.
The bailout was quickly panned and is unlikely to work. Andrew Sorkin has an excellent piece in the Times today on why this latest effort is probably doomed to fail.
It quickly dawned on people how insane some of the bailout structure was. Ex, Italy has to borrow at 6% to fund the fifth of the 3% Spanish bank bailout it is responsible for?
As the result, interest rates in Spain and Italy went up and not down. Spanish ten year yields hit 6.5%.
Before investors could even digest the news on the latest bailout and its impact on Spain and its economy, fears moved to worries about Italy.
Talk of capital controls (a true act of desperation) are increasing as a result of the negative reaction in the market to this latest bailout.

Today's bad news from Europe:
 
Sovereign debt yields continue to rise in early trading. 10 year yields are at 6.65% in Spain and Italy is at 6.13%.
Monthly U.K. industrial came in slightly worse than expected and is down 1% Y/Y.
Cyprus is the fifth and latest member of Europe to seek its own bailout.
Only five days to French and Greek elections. Think investors will be going long into the weekend?
Be careful out there.
Disclosure: I have no positions in any stocks mentioned, and no plans to initiate any positions within the next 72 hours.