I'd be the first to admit that if you had told me a year ago that the iShares Malaysia ETF (NYSEARCA:EWM) was going to outperform almost any other ETF, I would have been surprised there was even an ETF for the country. It's a little smaller than Montana.
Since then, we've all learned big things can come in small packages.
Malaysia's is the 34th biggest economy in the world...for now. Last year's GDP growth was a hair over 6%, and 2008's projections are for about the same. That may be why the ETF has gained over the last twelve months (up 21.5% since mid February of 2007). Based on the growth projection - when paired with contained inflation - I think there's a lot more for upside for the ETF in store.
What's fueling the growth? Two words...free trade. In just the last three years the Malaysian government has ramped up its trade with the outside world; Australia, New Zealand, and the United States are among the key players. Pakistan and Japan are becoming major partners too, in what will end up being a multi-year phase-in plan. The country is taking full advantage of their new trade agreements.
Toss in the fact that their currency - the ringgit - is just about as strong as it's been in a little less than a decade.
Isn't Malaysia a little off the beaten path? Yeah, but that's what I like about it - they're likely to be nicely shielded from any global economic contraction. Plus, Malaysia has worked its way into a position where the world needs them more than they need the world. They've got plenty of oil, timber, rubber, and a host of other minerals/materials. Their electronics business isn't too shabby either.
As for the chart of the ETF, volatility is plentiful, so I suggest you pick and choose your battles. Bear in mind though that 'buying on a dip' has been advantageous for investors lately (and so has selling when it's over-extended.).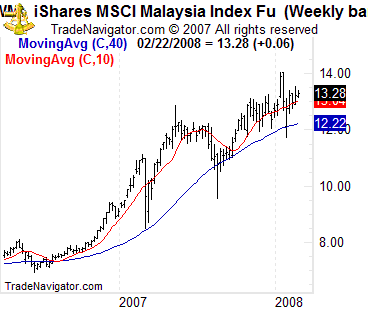 Looking for a specific stock? Don't bother. I only found about 10 Malaysian ADRs with decent volume and liquidity, and even they were all traded as pink sheet equities. That personally wouldn't prevent me taking a swing on the ones I liked, but it can sure make it tricky to do. The ETF will satisfy me for now while I wait for the right ADR to come along.
More than anything else EWM is a nice alternative to American stocks, which seem to be less and less desirable on almost a daily basis.
Disclosure: As of the time of this writing, James Brumley did not own any position in the iShares Malaysia ETF (EWM).