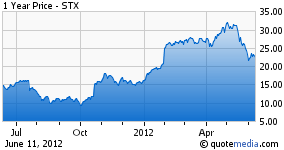 David Einhorn is one of my favorite deep value investors. No other money manager tends to mimic my long and short positions more than he does. I also will always be grateful to him for his exposure of Green Mountain Coffee Roaster's (NASDAQ:GMCR) issues that cratered the stock as I had a large short position in it at the time for similar reasons. It was recently disclosed that he increased his fund's position in Seagate Technology (NASDAQ:STX) by over 9mm shares. Given the stock's rock bottom valuation, value investors should take notice.
7 reasons STX is deeply undervalued at $23 a share:
The stock yields a robust 4.3% which should put a floor under the stock.
It is selling for a ridiculously low 2.4 forward earnings.
The stock increased operating cash flow 50% from FY2009 to FY2011, and the stock sells for less than 5 times operating cash flow.
The company has easily beat earnings estimates for four straight quarters. The average beat over consensus during that time span is 17%.
Consensus earnings estimates for FY2012 and FY2013 have moved sharply higher over the last two months.
Analysts project the firm to grow revenues north of 25% for both FY2012 and FY2013 and it has a minuscule five year projected PEG (.09).
The 19 analysts that cover the stock have a median price target of $34 on Seagate and S&P has its highest rating "Strong Buy" and a $41 price target on STX.
Disclosure: I am long STX.