Having now passed the halfway stage in the first quarter of 2008, this year, more than ever, we will have to ready ourselves for profit warnings as the quarter end draws nearer from those companies which didn't lower their guidance enough when they unveiled their results for the final quarter of 2007.
The profit/expectation adjustment in a slowing economy continued to overshadow the markets last week, with two more first line companies undergoing the painful experience when they published their results - graphic processor company NVIDIA Corp (NVDA), which saw 16% shaved off its price, and the much smaller cable television communications equipment provider Arris Group Inc. (ARRS), which slumped 30% on Friday.
I am now adding RR Satellite Communications Ltd. (RRST) an Israeli company floated on Nasdaq 15 months ago, to my portfolio, tracked by "Globes," which will add a bit more variety beyond the usual chip, telecommunications, or software stocks it already contains.
Headquartered in the Omer Industrial Park in Southern Israel with teleport relay stations at Reem Junction and in Tel Aviv, RR Satellite is a service company specializing in the distribution of end-to-end television content on behalf of TV stations to customers' homes worldwide over fiber optic cables, satellites and the Internet. The company was founded in 1981 by David Rivel, who currently holds 14% of the company. Rivel later brought in two TASE-listed strategic partners, Intergamma Investment Ltd. [TASE:INTR1; INTR5], which currently holds 35%, and Kardan NV [TASE: KRNV;AEX:KARD], which holds 25%.
The core concept behind RR Satellite's business model is that it is not worthwhile financially for television networks and cable companies to maintain an expensive content distribution network of their own, since this would require them, among other things, to spend large sums on buying satellite broadcasting time upfront, and build expensive systems of preset computerized programming schedules. CNN, for example, was one network which built its own network several decades ago, but in this day and age, it is far more economical to outsource all this to subcontractors such as RR Satellite.
The company's customers are principally content producers which sell their programs to television and cable stations, with RR Satellite transmitting broadcasts to viewers' homes on their behalf, according to an agreed playlist. It can also transmit the same channels to several countries simultaneously, with subtitles or advertising tailored in accordance with the countries in question. Because Israel constitutes a source of news of interest worldwide in its own right, RR Satellite also sells production and broadcasting services to television networks that arrive here in droves in times of crisis such as, for example, the Second Lebanon War in July 2006.
We've always been aware of the relative advantage we have here in the "land of milk and honey," but it would appear that in the era of satellite communications we have another advantage unknown to our ancestors, and one which RR Satellite is putting to good use. Seemingly, broadcasts from Israel need just one satellite to reach continents like Australia or Asia, while those from Europe, home to two of RR Satellite's large competitors, need two satellites to deliver them to these destinations, thereby making the service much more costly.
RR Satellite's main competitors are two distributors formed in Europe under the umbrella of two of the continent's leading telecoms carriers, France Telecom (FTE) in France, and BT Group Plc. (BT) in the UK. It was from France Telecom that RR Satellite managed to "steal" the popular fashion channel FTV, which is based in France, and which the telecoms carrier had managed and distributed since it was founded. It now broadcasts it by satellite from Israel to Europe and Asia. In addition, last year RR Satellite also won a major tender by a new Russian news channel which broadcasts in English.
Oppenheimer enthuses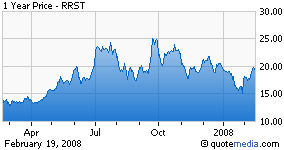 RR Satellite's orders backlog currently stands at $155 million, after it reported a further $18 million increase in the fourth quarter of 2007 in its results at the end of last month. It also posted earnings per share of $0.21 on $16.3 million revenue for the quarter, both of which were higher than market estimates.
In addition, it signed 22 new contracts in the quarter, 14 of them with new customers. In its latest update, in which it rated the company "Buy" and set a target price of $26, Oppenheimer & Co said it believes that the company will ship orders totaling $60 million out of its orders backlog this year, a figure which will enable it to vouch for 80% of its full-year sales guidance ($75 million).
Based on Oppenheimer's projected earnings per share forecast for RR Satellite of $1.11 for 2009, (a 29% increase on $0.86 for this year), at its current price of $19, the share is being traded at an attractive multiple of 17 against 29% growth. These figures do not take into account RR Satellite's projected acquisitions, of which one in the US for the nominal sum of $4.25 million was announced last Thursday, and another larger one is due to be announced in the near future. The company currently has more than $60 million in cash from its offering and accrued profits.
At the same time as adding RR Satellite to my portfolio tracked by "Globes", I am dropping fabless semiconductor company Sigmatel Inc. (SGTL), following its recent acquisition for $3 a share by the privately held chip giant Freescale Inc.
HP steps up to the plate
Investors will get another opportunity today to see how multinational US technology giants handle things with a recession on their own doorstep, a slowdown taking root in Europe, and the weak dollar still driving growth everywhere else. The spotlight, on this occasion, will fall on Hewlett Packard Co. (HPQ), one of the 30 stocks on the Dow Jones Industrial Average, which will report its results for the January quarter after the bell, and issue guidance for the next quarter, and perhaps even for its full year which ends in October.
With more than 65% of its sales to customers outside of the US, HP is likely to report another strong quarter with earnings per share of $0.81 on sales of $27.5 billion. Some people think HP will beat these figures not only because of the weak dollar but also low prices for components, in particular memories, which it benefited from during the quarter. On the other hand, investors are apprehensive about the company's full-year guidance and should this be lowered even more than expected because of the impending slowdown, it will have a marked affect on a lot of tech stocks when trading resumes tomorrow, especially Intel Corporation (INTC), given that HP, among other things, is a leading computer manufacturer.
HP's share has already been falling due to the sharp falls on the market since the beginning of the year, and as of yesterday morning it was trailing at 16% lower than the $53 high it reached in November 2007. Those people who once owned shares in Indigo will remember only too well how the HP shares they received after Indigo was sold, nosedived to $11 at the end of 2002, and I imagine that very few had the patience to wait five years until they climbed back to the aforementioned high.
UBS feels that at the current price of $44, HP's share has already factored in all the worse case scenarios that could unfold as an outcome of the slowdown in the computer and printing industries, and has therefore rated it "Buy" with a target price of $56. The bank's analysts also point out that it is currently traded at a multiple of 11 on their earnings forecast of almost $4 for 2009, which is quite low.
The UBS analysts also remind us that the last time HP was last traded at a multiple of 11 was in 2004, following the severe profit warning that the former CEO Carli Fiorina had to issue after failing to successfully integrate the acquisition of Compaq. As is known, she was fired shortly after and replaced by the current CEO Mark Hurd, who has managed to turn this "aircraft carrier" around and put it on a forward course, with sales of almost $120 billion in one year.
Published originally by Globes [online], Israel business news - www.globes.co.il
© Copyright of Globes Publisher Itonut (1983) Ltd. 2006. Republished on Seeking Alpha with full permission.