In its "ETF Strategist" column on "EU Crisis Turns Has-Beens Into Hot Currencies," CNBC quotes Gary Gordon, president of Pacific Park Financial, as recommending the US Dollar Index Bullish Fund (NYSEARCA:UUP) for investors who have a negative view of the global economy - or buying the CurrencyShares Japanese Yen Trust (NYSEARCA:FXY)
The theory? That until issues are resolved in Europe, the US dollar will continue to rise.
I have no problem with the theory, but UUP might not be the best way to take advantage of this investment thesis.
* * *
The U.S. Dollar Index: A basket of global currencies
The U.S. Dollar Index tracks the US dollar against six different currencies using the following weights:
Euro: 57.6%
Japanese yen: 13.6%
British pound: 11.9%
Canadian dollar: 9.1%
Swedish krona: 4.2%
Swiss franc: 3.6%
So in theory, being long UUP is being short all of these six currencies in that weighted basket. But UUP is a fund that invests in futures contracts in the U.S. Dollar Index, which may not deliver the same results as being short those actual currencies.
You can buy and sell each of those six different currencies through the CurrencyShares series of ETFs, each of which are not futures-based, but holds actual currencies on deposit.
For example, the CurrencyShares Euro fund (NYSEARCA:FXE) holds actual euros, the CurrencyShares Japanese Yen fund holds yen on deposit, etc.
* * *
Long UUP vs. short actual currencies
As an experiment, I compared three approaches as they would have performed year to date:
Shorting $100,000 in those six currencies in the above list in the same weightings as they are represented in the U.S. Dollar Index
Buying $100,000 worth of UUP
Shorting $100,000 worth of the U.S. Dollar Bearish Fund (NYSEARCA:UDN), which should go down when the U.S. dollar rises and vice versa
I assumed that short positions would require paying any distributions made to shareholders. For the currency ETFs, that wasn't much of an issue because few of them pay much, if anything, in interest these days.
Here's how these positions would have performed: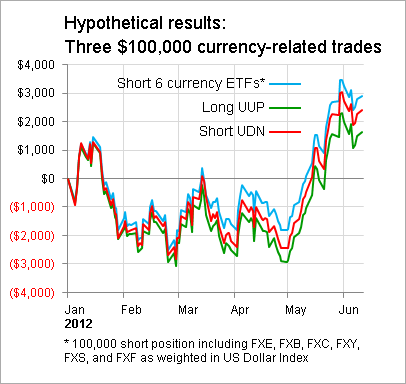 The best approach would have been to directly short the six different currency ETFs as weighted in the U.S. Dollar Index. That resulted in a net profit of $2924, while the long UUP position was up only $1646. The short UDN position would have returned $2420.
Commissions would have obviously impacted the results, but UUP significantly underperformed the short currency positions.
Why the discrepancy? U.S. Dollar Index futures do not necessarily behave exactly the same way as the cash versions of the currencies they track. Of course they are highly correlated, but a U.S. Dollar Index hedge using UUP or UDN may not deliver the results you expect so trade accordingly.
Disclosure: I have no positions in any stocks mentioned, and no plans to initiate any positions within the next 72 hours.