Google's (NASDAQ:GOOG) stock was down almost 4% yesterday (Feb 19) on below average volume. The fall is being attributed to a post by the infamous Henry Blodget on his blog claiming that Google's 10K filings are talking down future revenue. Blodget's post was picked up by a number of other blogs and soon made it to the headlines page of Yahoo! Finance and other news sources. Analysts tend to comb through Google's 10K since Google does not officially provides estimates or guidance.
Blodget's initial post claimed that Google's 10K had new content saying the following:
…we may continue to take steps to improve the relevance of the ads displayed on our web sites and our Google Network members' web sites. These steps include removing ads that generate low click-through rates or that send users to irrelevant or otherwise low quality sites and terminating Google Network members whose web sites do not meet our quality requirements. In addition, we may continue to take steps to reduce the number of accidental clicks. These steps could negatively affect our near-term advertising revenues. Both seasonal fluctuations in internet usage and traditional retail seasonality have affected, and are likely to continue to affect, our business…
However, he later clarified that the only additional sentence is "In addition, we may continue to take steps to reduce the number of accidental clicks". and not the entire paragraph!
This is old news. Google shared their efforts to increase the quality of its publishing partners (Google Network Members) and the desirability of the ad-clicks in their last earnings call. Google is already the dominant player by volume in the on-line ad-space. The focus on better return on the customer's dollar will also make them the quality leader and will help Google maintain its lead over the competition.
Google's two main competitors, Yahoo! (NASDAQ:YHOO) and Microsoft (NASDAQ:MSFT) are distracted by the merger talk; the chances of a long drawn out proxy battle is going up everyday. This gives Google a window to strenghten its market leading position.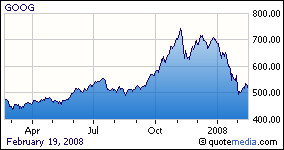 Retracement Analysis: Google's stock hit a recent low of 488.52 on Feb 5. It bounced back to reach a high of 541.04 on Feb 14. The stock has been retracing since then, closing remarkably close to the Fibonacci retracement levels. On Feb 15 the stock closed at 529.64, very close to the 23.60% retracement point of 528.65. On the next trading day, Feb 19, it closed at 508.95, just above the 61.8% retracement point of 508.58. The next retracement level (76.40%) is at 500.92 which should provide some support; the near term upside retracement levels are at $514.78 (50%) & $520.98 (61.80%) which might provide some resistance.
Trading Strategy: There is a lot of cash waiting on the sidelines to be deployed and HP's stellar results are going to provide a short term lift to the technology sector. I feel it is time to start taking long positions in Google. Out of the money calls for the March 2008 expiry look promising; the 540, 550 and 560 strikes are worth considering. The expiry date for March options is March 20, which is a full five weeks from last week's expiration. This has resulted in longer time to expiry for the March options, and consequently lower time decay (theta) in the short term. These options will not lose a lot of time-value in the next one week but will capture most of the upside.