Despite considering a number of potential alternatives to a takeover by Microsoft Corp. (NASDAQ:MSFT) in recent weeks, Yahoo! Inc.'s (NASDAQ:YHOO) options appear to be down to accepting the software maker's $41 billion takeover offer, returning to the bargaining table in hopes of drawing a modestly higher bid, or succumbing to a long and potentially ugly proxy contest.
That's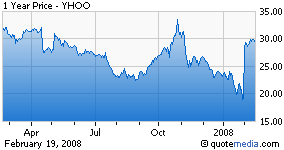 the assessment of many analysts and corporate governance experts following media reports that Microsoft would not increase its offer for the Sunnyvale, Calif., Internet media company, and is gearing up to take control of Yahoo!'s board of directors. All 10 of Yahoo!'s board members are up for re-election at the company's next annual meeting. Microsoft must nominate its slate of candidates by March 13.
Analysts said Microsoft's move to threaten a proxy fight could be enough to force Yahoo! to enter deal talks, especially if the Internet company fails to make progress in arranging other deals. The company has been linked to transactions including mergers with News Corp. (NASDAQ:NWS) subsidiary MySpace and Time Warner Inc.'s (NYSE:TWX) AOL.
"No board wants to be forcibly extracted," said Rob Enderle, principal analyst with Enderle Group, a San Jose, Calif., technology consulting firm.

Paul Lapides, director of the Corporate Governance Center at Kennesaw State University in Kennesaw, Ga., emphasized that the mere threat of a proxy battle could be a powerful negotiating tool for Redmond, Wash.-based Microsoft winning Yahoo! at its original offer price.
"Part of this is really just a matter of how do you get people to sit down and talk and get to a reasonable agreement," Lapides said, calling Microsoft's talk of a governance fight "another tactic to get it closer to the finish line."
This does not mean Microsoft will hesitate to carry through with its threat, but it does increase the chances that Yahoo! will reconsider its current position opposing the Microsoft offer. "It is easier to negotiate before you have dissident shareholders on your board," said Lapides who added, "Yahoo! is not against selling."
Since Microsoft made its unsolicited $31 per share offer for Yahoo! three weeks ago, there has been a strong sense that the software giant would ultimately prevail, given that the price it offered was a 60% premium over Yahoo!'s share price and that the latter faces a challenging year amid a budding recession, which is expected to damp online advertising revenues.
Another key issue affecting a possible proxy challenge is the significant shareholder overlap between the two companies. Capital Research & Management Co. is the top institutional shareholder in both companies, owning 2.7% of Microsoft shares and 11.4% of Yahoo!'s stock. Several of Yahoo!'s other top institutional shareholders, including Vanguard Group Inc., Barclays Global Investors, State Street Global Advisors and Fidelity Management & Research Co., are also Microsoft investors.
In a report issued last week, RiskMetrics Group (RMG) noted that this overlap in ownership could favor Microsoft because they were likely to be more concerned about Microsoft overpaying for Yahoo! than they are interested in Yahoo! fetching an even higher premium.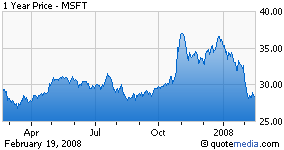 Microsoft's stock has fallen from $32.60 before its bid was announced on Feb. 1 to $28.42 on Tuesday on concern over the challenges of absorbing struggling Yahoo!.
Although Microsoft continues to hold the advantage, governance experts noted the difficulty of overhauling a company's board, even when the business is struggling and needs a change. One such expert, who asked not to be named, said Microsoft must come up with a qualified board slate that can pass muster with all the proxy solicitation firms that review these contests and make recommendations.
"It will still be incumbent on Microsoft to demonstrate that their bid offers good value," he said.