It seems like only yesterday when those exotic energy stocks featuring diversified operations and fictitious balance sheets were the darlings of Wall Street. Companies like Enron, Mirant (MIR) and Calpine (NYSE:CPN) were "must haves" in every investor's portfolio. Then as quickly as these companies share prices rocketed to extraordinary valuations, they cratered, leaving scandal and bankruptcy behind for any of the bagholders still remaining.
Now, following a humbling tour through the bankruptcy process and a brief stay on the pink sheets, earlier this month, Calpine emerged back on the NYSE. Propped up by a new cadre of investors, and entering the market at a time when clean energy solutions are being highly sought after by investors, CPN may be able to redeem itself as a viable investment the second time around.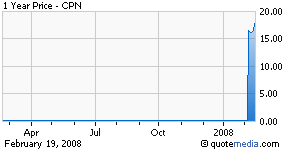 According to the corporate website, Calpine is a major U.S. power company. The company claims to deliver approximately 24,000 megawatts of clean, cost-effective, reliable and fuel-efficient electricity to customers in 18 states. The company owns, leases and operates low-carbon, natural gas-fired and renewable geothermal power plants.
CPN's last substantive financial filing was a 2006 Annual Report, so the financials and fundamental details surrounding its issue may not be as current, and clear as most investor's prefer. Also, at this time, there are no analysts covering the stock.
The company realizes this can hinder new investors from taking a position. Therefore, it is conducting an analyst meeting on Friday, Feb. 29. I will wait until after this event to form my own opinion of the stock.