Dollar General (NYSE:DG) stock price broke through $50 for the first time on Friday as sales saw double digit growth and earnings surged 36 percent. The company has thrived as consumers search out bargains and, with positives sales performance in May, the outlook remains bright for the company.
Founded in 1939 as J.L. Turner & Son, Dollar General changed its name in 1968 and is now the largest discount retailer in the United States with over 9,900 stores in 38 states. Kohlberg Kravis Roberts & Co, the private equity firm, acquired the company in 2007 before completing an IPO in 2009.
Since the IPO in 2009 revenues have grown from $10.5 billion to $14.8 billion in 2012 while net income has grown from $108 million to $767 million. Total debt has been paid down from $4.1 billion to $2.6 billion.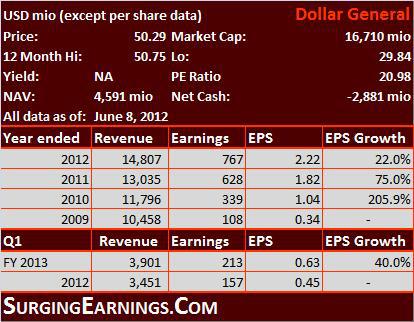 Q1 results announced last week show no let up in growth with net sales up 13.0 percent and same-store sales up 6.7 percent representing the fifth consecutive quarter of accelerating growth. Net income increased by 36 percent to $213 million.
Based on first quarter results, the company continues to expect total sales for the 2012 fiscal year to increase 8 to 9 percent and diluted EPS is expected to be approximately $2.68 to $2.78. Consensus earnings from 23 analysts averaged $2.79.
At $50.29 as of Friday's close Dollar General is priced at 21 times historic earnings and 18 times consensus earnings. The stock price had initially fallen to below $47 on Tuesday after shareholders of the company announced a public offering of 30 million shares at $46.75. However the stock broke through $50 for the first time on Friday as investors were reassured that the private equity holders would continue to hold around 37 percent of the company combined with improving market sentiment towards the end of the week along with the very strong results.
The strong performance looks set to continue as consumers are likely to continue to use discount stores while the economy struggles to recover from the economic crises. Moderate economic improvement is expected as the economy slowly picks up but households continue to seek value as they reduce high levels of borrowing.
The company reported that it was pleased with the sales performance in May. Following five consecutive quarters of accelerating growth the outlook is positive and a PE of 21 does not look expensive.
Disclosure: I have no positions in any stocks mentioned, and no plans to initiate any positions within the next 72 hours.
Disclaimer: This article does not constitute a recommendation to buy or sell. Investing in stocks or other securities and derivatives is a high risk activity and not suitable for everyone. It is strongly recommended that individuals should consult with a SEC registered investment advisor prior to making any investment decisions.