We have FOMC minutes at 2pm, that's always fun.
The CPI and Housing Starts will give us topspin in the morning and I expect us to see some inflationary data in the CPI as both food and energy are out of control, probably breaking up to 0.3% even in "the core." Any positive movement in Building Permits will be seen as a good sign and we don't get Oil Inventories until tomorrow along with Leading Economic Indicators (probably not pretty) and the Philly Fed, which was awful last month.
The markets will do what they want to do ahead of the minutes, which is probably continue to test a little lower but holding last week's lows will be a good sign as they were higher than the lows of 1/22 and, as we keep saying, there is nothing going on that we didn't already know about. If you're going to have a proper rally you need to clear all the suckers out first and we've had some good capitulation but I think we will have a little more pain before we're really ready to turn. Yesterday I said (NASDAQ:GOOG) was on it's way to retest $500, that more than any other stock will guide my daytrades on the Qs.
I'm hoping to buy (NYSEARCA:QID) $53 puts for $3 (now $3.70) as my bullish play of the day ahead of the Fed but, otherwise, we'll just have to hope our covers hold (we are mainly 1/2 covered) through the morning shake out. Asia had a big shake this morning, giving up 532 points on the Hang Seng and 447 points on the Nikkei with financials leading the drop. Shanghai Pudong Development Bank's planned share sale heightened concerns that China's stock markets would be flooded with shares and the bank went "limit down" 10% in today's trading. Also not helping is news that KFN has delayed Billions of dollars in payments to banks and is asking for the second restructuring in six months.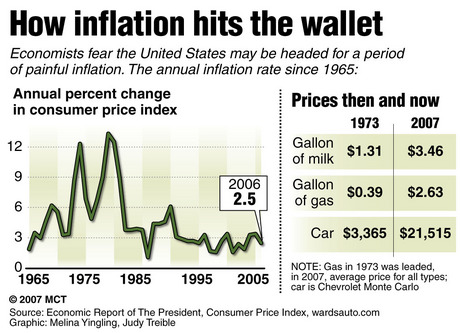 Of course industrials are also starting to take a hit as $100 oil is spooking inflation hawks with chemical and rubber manufacturers getting hit very hard in Asia and in Europe, where the markets are off about 1.5% in early trading. Heineken fell 5.9% on a 33% drop in net income caused by "steep price increases in raw material and packaging costs." (NASDAQ:VOD) took a big hit as they own 45% of (NYSE:VZ) and both VZ and T are now involved in a price war.
8:30: CPI hit 0.4!!! That is really painful! So much for my hopes of a rally, that is a nasty bit of news to start our morning. Even core CPI is 0.3% and Building Permits and Housing Starts came in pretty much in-line with low expectations.
Let's not forget that housing is 40% of the CPI and that cost was only up 0.2%, substantially decreasing the apparent CPI. Adding insult to injury, in a separate report, the Labor Department said the average weekly earnings of U.S. workers, adjusted for inflation, fell 0.5% in January, suggesting worker paychecks aren't keeping pace with inflation, which could in turn drag down spending. Average hourly earnings increased 0.2%, and average weekly hours were down 0.3%.
Let's see if we can hold some downside levels today. We'll be watching Dow 12,200, Nasdaq 2,275, S&P 1,325, NYSE 8,800, Russell 700 (this will be tough), Transports 2,600 and SOX 340 (not that it matters at this level). If we can maintain those levels, then this is simply some good old fashioned consolidation but, if we slip below them, we are likely heading to a retest of the January lows.
We are still not getting a lot of misses and this morning we had beats from (NASDAQ:GRMN), (JBX) and (NYSE:RIG) and a surprising miss from (NYSE:STP) which is spooking the solar sector in general. (STP) lowered guidance but most guidance continues to be in-line and I'm still not buying the premise that things are so awful if it's not really impacting earnings. Look at this chart of the % of NYSE stocks below the 200 dma - the worst since post 9/11: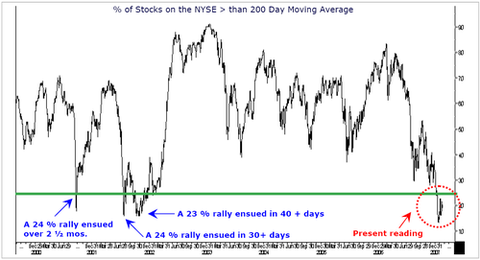 80% of stocks are below the 200 dma! That seems a bit much doesn't it, especially when 80% of the companies are meeting or beating expectations. I know expectations are low but NOT THAT LOW!
What's going wrong here is the ridiculous Fed and Administration policies of throwing money at our problems (which were mainly caused by throwing money at us after 9/11) has led to hyper-inflation of commodities but the support for these prices is very artificial as the moment the free money spigot is turned off, there will be very few people lining up to pay 50% more for the DB Commodities Tracking Index than they paid just 6 months ago: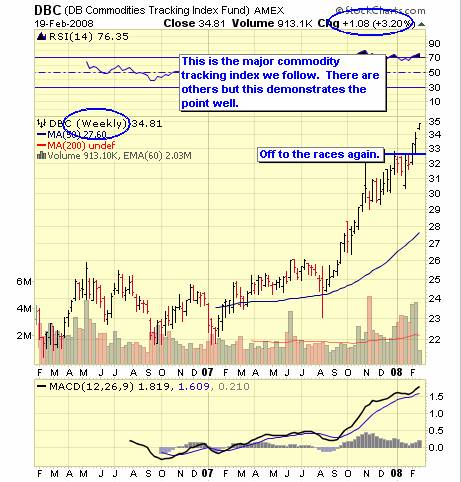 I mentioned in comments this morning that there simply is not enough money in the world to sustain this move, what we are seeing here is the effects of speculators driving prices up on momentum as stocks have lost their luster and the talking heads have once again convinced investors that commodities are "the next big thing."
If you think about it, how can we have parabolic moves in metals, and agriculture and oil while the world is ratcheting down expectations of an expansion? It is possible, but highly unlikely and the slightest hint from the Fed that the free money spigot will be shut down at some point (and we are only 3% away from 0 now) should start to deflate commodities from this retest of their highs.
The key is going to be watching the dollar, as it's the decline of our own currency (you need $1.47 to buy a Euro today) that has been pushing these charts more so than a real increase in demand. If the dollar can simply stop falling, it will be very tough for commodities to break out to new levels. As attention turns to the November elections, the economic intentions of the two candidates will act as a dollar catalyst as the leads change in each poll.
So, despite all the bad news this morning I am not changing my outlook. We will wait for a bottom and start picking up some of those beaten down securities. (NYSE:HPQ) had great numbers and raised guidance last night but the stock is barely moving this morning so don't worry if your stock is down, it's probably nothing personal…