Company Overview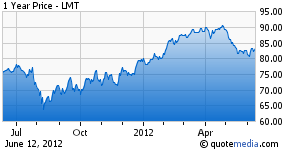 Lockheed Martin Corporation (NYSE:LMT) is an the world's largest defence contractor. It operates in 4 different business segments: Aeronautics, Electronic Systems, Information Systems & Global Solutions, and Space Systems. It is far ahead of any of its competitors with important contracts such as the F-35 contract. Its competitors include Boeing (NYSE:BA), General Dynamics (NYSE:GD), and Northrop Grunman Corporation (NYSE:NOC).
At the end of 2011, Lockheed reported revenues of $46.499 billion, operating income of $3.980 billion, and net income of $2.655 billion. It has total assets of $37.908 billion, and total equity of $1.001 billion. Its current share price is $83.29 and its market capitalization is $27.1 billion.
Bearish or Bullish?
Lockheed's biggest strength is unfortunately also its biggest weakness. The company relies heavily on the U.S. government for funding. At a time of U.S. budget cuts, this is not a very good position for the company to be in. The Department of Defense is likely to have to cut more than half a trillion dollars out of its budget over the next ten years, this will lead to a significant decline in Lockheed's revenues. All four of Lockheed's business segments have been severely damaged by this as all four have important contracts with the Department of Defense.
Lockheed has poured money into the development of the F-35, an aircraft which is meant to replace aircraft across the armed forces in the army, navy and air force. However, Lockheed has run into serious problems which has delayed testing more than two years to 2016 casting doubt on the company's ability to meet its targets which could lead to some order cancellation from international customers and perhaps even the US government.
The costs of production for the F-35 are also quickly rising out of control. They have almost doubled to roughly $390 billion since first being commissioned in 2001. This could well lead to worse profitability for Lockheed in the new future and cuts in research and development as it seeks to retain its competitive edge. Furthermore, if the costs and timeline do spiral out of control, then this will after the average cost of its aircraft as it will produce less over the long run eliminating some of the economies of scale it could benefit from. Therefore, this could damage the net profit it makes off the F-35.
However, Lockheed does have many important redeeming qualities. The company still has a wonderful product portfolio and has been allowed by Congress to sell most of its products on an international scale leading to increased revenues. The firm has also reduced its workforce significantly, laying off about 20,000 workers, to reduce its labor costs and raise profit margins.
Furthermore, the U.S. government probably won't be keen to cut defence spending overly much due to its continuing wars in Iraq and Afghanistan. It still needs a lot of equipment to protect its troops and help "win the war." Congress has not been very forthcoming in authorising defence budget cuts and would actually probably prefer to raise the defence budget. Therefore, Lockheed is well positioned as the number one defence contractor to benefit off this.
The election in 2012 is likely to play a big role in Lockheed's future. If a Republican administration is elected, then defence spending is unlikely to be excessively cut or cut at all, helping Lockheed hugely. However, if Obama is reelected then the future does not look too bright for Lockheed as huge defence cuts will likely go ahead and Lockheed will be one of the big losers of these cuts.
Conclusion
Morningstar gives Lockheed a fair value of $71.00 per share and gives it two stars. The Motley Fool is more generous giving Lockheed a 4-star rating and most of its users believe it will outperform the market. I believe that Lockheed is not a very attractive investment over the next few months and if I held it I would sell. However, if Mitt Romney becomes elected in the Winter then I would like Lockheed at its current price. At the moment, the election seems like a toss up so Lockheed's future is very much uncertain.
All my data is from morningstar.com, unless otherwise stated.
Disclosure: I have no positions in any stocks mentioned, and no plans to initiate any positions within the next 72 hours.