NeoStem (NBS): When Is The Announcement?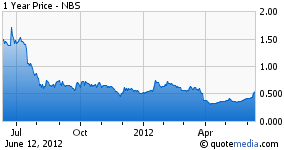 In my article "NeoStem's Comeback in the Making," I talked about the completion of the sale of the Chinese generic pharmaceutical business as the most important catalyst for the stock price. The proceeds of the sale would bolster NeoStem's balance sheet.
In a bullish May 2012 report from Deutsche Bank, the author notes that the China pharmaceutical sector has improved considerably. All the lights are green, so one can guess completion of the sale could be announced shortly. Let's investigate the reasons for a possible near-future sale of Suzhou Erye.
Improving trends in the healthcare sector
After reading the report we can summarize some positive catalysts.
One of the positive catalysts in the Chinese drug sector is the accelerated volume growth (Figure 4 below). The healthcare market also remains a defensive sector if China is headed for a hard landing as the demand for many goods may suffer in an economic collapse, but healthcare demand is more closely a fixed demand.
Another positive catalyst is the weaker-than-expected pricing pressure. Hospitals are unlikely to sustain more pricing pressure, as they have to deal with existing revenue pressure on multiple fronts. As state-owned hospitals are regulated by the government, it is more likely the government will fine-tune drug pricing policies in the near future.
According to the DB report, hospital drug sales achieved 24% year-over-year growth, reaching a two-year high in 2011, which represents significant acceleration of 17% annual growth. For the last four quarters, volume growth rates were an average of 15%, which the report ascribes to a recovery in anti-infective sales.
The third positive catalyst is the fact that industry margins started to rebound in 4Q11 after reaching a 3-year nadir in the third quarter of 2011.
Attractive valuation
Because of the improving trends in the healthcare sector, the risk/reward is interesting for the China healthcare sector at present. For NeoStem's generic business in China, this is important news because it could lead to a fair valuation of their stake.
Global investors invest in Chinese healthcare primarily because of robust volume growth, which has started to accelerate as mentioned before. During the last few quarters, volume growth decelerated due to restrictions on antibiotics usage; pricing pressure may have also contributed to volume weakness. Based on updated industry data, drug sector growth accelerated to 23% in 1Q12, vs. 17% in 2011, while volume growth accelerated to 19% in 1Q12, vs. 13% for 2011.
Suzhou Erye Pharmaceutical
If we look to there latest 10-Q (page 30), there is a possibility that NeoStem's generic pharmaceutical company, Suzhou Erye Pharmaceutical Company Ltd., will be sold to the minority shareholders. NeoStem has a 51% ownership interest in this entity, and Suzhou Erye Economy & Co. Ltd. ("EET") a 49% ownership. From the last sentence on page 30 of the filing you can read that EET's CFO and General Manager, Madame Zhang Jian, resigned last May. She also holds a position with NeoStem. I guess she resigned to avoid conflict of interest so EET could be seen as a potential buyer of NeoStem's 51% interest in Erye.
If we look into its history, we can learn that Erye was founded more than 50 years ago and represents an established, vertically-integrated pharmaceutical business. Historically, Erye has concentrated its efforts on manufacturing and distributing of generic antibiotic products. It has received more than 160 production certificates from China's State Food and Drug Administration covering both antibiotic prescription drugs and active pharmaceutical intermediates (APIs).
Erye's Q1 revenues
Reading through the SEC-filings we see that Erye's revenue for 2010 and 2011 was approximately $69.6 million and $63.4 million, respectively. Erye's revenues were approximately $18,284,000 for the three months ending March 31, 2012 compared to $18,141,900 for the three months ending March 31, 2011, representing an increase of approximately $142,100 or 1%.
The slight increase in revenues is due to a variety of factors. A strategic decision to adjust the product mix and eliminate certain low margin pharmaceutical intermediates (APIs). Positive is the fact that revenues from sales of antibiotics, cephalosporins, and other therapeutic products increased approximately 3% for the three months ending March 31, 2012 compared to the same period for 2011. The unit volume of these products increased approximately 10% due to increased marketing efforts. The increase in product volume was offset by an approximate 7% decline in revenues as a result of price reductions in connection with specific government policies for products on China's essential drug list. NeoStem recognizes that there will be continuous price pressure on these products as over 70% of Erye's manufactured drugs are on China's essential drug list.
In response to changes associated with healthcare reform in China, NeoStem believes the generic antibiotic business has become less of an opportunity, and as such, has signed a definitive agreement to sell back their interest to the minority shareholders of Erye.
In 2011 the price reductions experienced by Erye were approximately 24%. Approximately 85% of Erye's revenues are derived from products that use penicillin or cephalosporin as the key active ingredient. These products are manufactured on two of the eight production lines in Erye's manufacturing facility.
From NeoStem's 10-Q, we noticed that in March 2011, the National Development and Reform Commission in China issued insurance reimbursement price cuts which impacted two of Erye's products. The company recognizes that there will be continuous pressure on Erye product pricing as a result of such actions.
This policy could substantially impact the sales price of two of Erye's drugs, Piperacillin Sodium and Sulbactam 50% to 75%. Recently, the Ministry of Health "Administrative Measures on Clinical Use of Antibiotic Drugs" has become policy. These guidelines are to curb the overuse of antibiotics, categorizing antibiotics into groups: 1) restricted, 2) non-restricted, and 3) special-use only. On October 12, 2011, Deutsche Bank AG (the "China Healthcare report") projected that the limitation of antibiotic usage in China will reduce the historical compound annual growth rate, which has been approximately 20%.
Erye's business channels
From NeoStems's 10-K, we learn that in China consumers generally receive prescription drugs through hospitals. For example, Antibiotics are distributed almost exclusively through hospitals. Since pharmaceutical manufacturers in China are not permitted to sell directly to hospitals, it is essential to have an effective and extensive distributor network. Erye's distributor network covers all of mainland China's provinces and municipalities and generates sales principally through three channels. More about these channels can be read in the company's 10-K.
Final Note
The upbeat in total pharma purchases by revenue (figure 3) and volume (figure 4) will have a positive effect on Erye's business too. The coming quarters could lead to recovery for Erye's antibiotic prescription drugs and active pharmaceutical intermediates (APIs).
As mentioned before, there is a possibility that the minority shareholders are interested in NeoStem's 51% ownership. The minority shareholders and NeoStem will both benefit if they would finalize the sale transaction as soon as possible. Any further delays would make the deal more expensive for both parties.
With the high cost of capital today, the cash NeoStem will receive from the sale is of high value, and will assist the company in reaching its cell therapeutic development milestones and build its manufacturing business. By monetizing this asset through a divestiture to the minority interest holders, the management will be able to focus time and resources to its cell therapy business and key objectives of enrolling patients in the PreSERVE AMR-001 Phase II clinical trial for preserving heart function after a heart attack. The proceeds could also be used to expand their other stem cell therapeutic initiatives.
Let it happen!
Disclosure: I am long NBS.