Bunge Limited (NYSE:BG) specializes in farm products. The company produces and sells everything from sunflower seeds to sugar. The stock is currently trading under $60 per share, but I believe it can easily see $80 by the end of the year.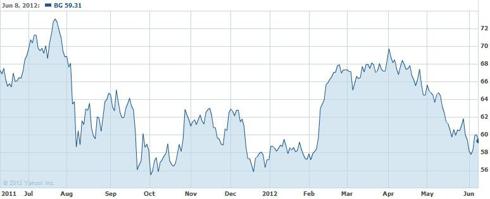 Bunge was just trading at nearly $70 per share in April. At $80 per share that implies a market cap of $11.7 billion and a return of 33%.
Bunge's book value is $78 per share, yet the stock is trading .77 times that. Now normally when I see stocks trading below book, I mainly think that the market believes the company's earnings or balance sheet will deteriorate over time.
The reason Bunge has been taking a recent hit is because the price of commodities such as sugar and corn have fallen off a cliff recently.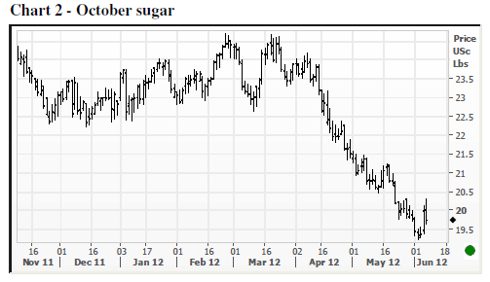 While these commodities have been falling in price, it has been mainly due to production, not sales. Due to the warmer-than-expected weather, production for corn and sugar has increased recently. This has caused prices to drop even while demand has been steady. While the warm weather may be the root of the price declines, it's not a trend that will continue.
Chicago Board of Trade said that spot future for corn rose 8% on Friday. This rise was due to dry weather and a lack of rain killing older crops, which lowered production. This weather not only positively affects Bunge's corn prices, but also other commodities such as sugar, which saw heavy production bring down prices.
Analysts currently expect Bunge to earn $7.30 a share next year. At $80 a share the company would be trading just at book value and based on estimates would have a P/E ratio of 11, which is reasonable.
Bunge is a much better play than Monsanto (NYSE:MON) and Ingredion, Inc. (NYSE:INGR). Monsanto also has exposure to corn, but trades at much heavier forward P/E multiple, 18.82. Monsanto also trades 3.5x book value. Corn Products has a forward P/E of 9 and trades 1.75x book. Bunge has much more upside than these other companies. I expect the stock to approach book value as the market for corn and sugar stabilizes.
Disclosure: I have no positions in any stocks mentioned, but may initiate a long position in BG over the next 72 hours.