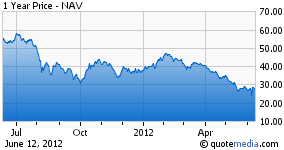 Shares of Navistar (NYSE:NAV) the manufacturer of trucks and buses showed a great deal of volatility last week. Shares started around $27 on Monday, fell to $21 on Thursday after the company announced its quarterly results to jump back to $28 on Friday after corporate activist Carl Icahn announced he raised his stake in the company.
Second Quarter Results
Navistar announced a loss of $172 million for the second quarter, or $2.50 per share. The earnings report was full of one-time charges including warranty charges, asset impairment charges, integration costs, penalties and deferred tax assets releases. The loss compares to a net loss of $153 million in the first quarter of 2011 and a net profit of $74 million for last year's second quarter. Revenues for the second quarter fell 2% to $3.3 billion.
Truck
The truck segment reported losses of $89 million vs. a profit of $92 million a year ago. Higher commodity costs and governments cutting defense budgets impacted the results. The company took $52 million in asset impairment and warranty charges.
Engine
The engine segment reported losses of $108 million vs. a small profit of $2 million in the same period last year. Lower sales in South America resulted in a 6% decline in sales. Profitability was impacted by a $78 million charge in warranty costs.
Parts
The parts department was the only segment able to report a profit. Segment profits fell from $74 million last year to $41 million as a result of a shift in the military order mix and a $10 million asset impairment charge.
"Going forward, we've identified a path for delivering strong profits in the second half of 2012," Ustian said. "Historically, the second half is stronger across our businesses, and we expect to build on this with improved market share in North America, stronger global performance and further cost reductions across all operations. Additionally, we're making management and operational structure changes to align our organization in a more effective manner to drive these results."
Outlook
For the full year of its fiscal 2012 ending October 31, the company expects adjustable manufacturing profit between $600-$750 million, which would translate into a net profit estimate between breakeven and $140 million. Earnings per share are expected to come in between flat and $2.00
Valuation
Navistar ended its second quarter with $737 million in cash, equivalents and marketable securities. It operates with roughly $4.5 billion in short and long term debt for a net debt position of about $3.8 billion. As a result of the losses the shareholder equity post on the firm's balance sheet has been wiped out.
With a market valuation of $1.9 billion the market values the firm at just 0.14 times annual revenues. A price-earnings ratio is not really applicable given the one-time nature of 2011's earnings. Excluding a $1.5 billion benefit from income tax allowance for the full year results of 2011, shares are valued around 10 times earnings. Competitor PACCAR (NYSE:PAC) trades at 0.8 times annual sales, Oshkosh (OSH) at 0.2 times, Volvo (OTCPK:VOLVY) at 0.5 and Ford (NYSE:F) at 0.3 times annual sales.
Navistar currently does not pay a dividend.

Investment Outlook
Shares of Navistar have fallen 25% year to date to levels of $28 after reaching an intra-week low of $21 on Thursday. The last time shares traded in the low twenties was in 2008 amidst the heights of the financial crisis. From that point in time shares have recovered to highs of $70 in April 2011. A string of lower outlook guidance's for 2011 and 2012 have resulted in a significant correction in the share price, losing between 60% and 70% of their value.
Corporate activist Carl Icahn took advantage of the share price decline on Thursday expanding his stake in the company from 10% to 12%. He now owns 8.1 million shares in the company. Icahn strongly expressed his desire to merge Navistar's activities with those of truck maker Oshkosh. Other candidates to buy the troubled company could be Fiat or Volkswagen.
On Friday rating agency Fitch put Navistar on watch for a possible downgrade. Navistar's debt is currently rated at BB, two notches into junk territory. Fitch said the rating is under review for a further downgrade.
Something has to happen either way. Either Navistar will be merged with another smaller player in order to build a new company or Navistar will be sold to a large European truck manufacturer. Depending on how the inevitable merger and acquisition action will take place it is up to the management of Navistar how much value they can create for their shareholders.
Disclosure: I have no positions in any stocks mentioned, and no plans to initiate any positions within the next 72 hours.