DealerTrack Holdings (TRAK) shares have gone spinning off the road Wednesday morning, after the company provided disappointing guidance for 2008.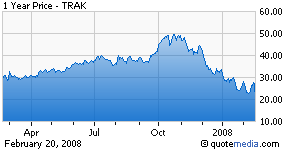 DealerTrack, which provides software and services to auto dealers, Tuesday reported fourth quarter revenue of $60.7 million and EPS of 25 cents a share, in each cash very slightly below the Street. More troubling: for 2008, the company sees revenue of $270 million to $276 million, and EPS of $1.14 to $1.18, below the consensus of $284.03 million and $1.28.
One issue involves auto loan origination: the company provides dealers with links to third party lenders. Tom Roderick, an analyst with Thomas Weisel Partners, wrote in a research note Wednesday morning that the weaker-than-expected guidance "is an effort to reflect the difficulties within the core credit application business, where financing sources are tightening their lending standards and are increasingly scrutinizing the dealerships to whom they are willing to provide financing."
On the post-earnings conference call last night, DealerTrack execs said that lenders have terminated an aggregate 4,000 lending relationships with dealers in the last 90 days.

Franco Turrinelli, an analyst with William Blair, wrote Wednesday that the guidance "refutes" his prior belief that the company could sustain 20%-plus growth through the developing auto industry and macroeconomic weakness. "We expect the glass will be see as (more than_ half-empty, and we also are concerned that the long-term multiple will suffer form the company being perceived in the future as more closely tied to the auto industry than heretofore," he wrote.
DealerTrack shares Wednesday are down $5.73, or 21.4%, at $21.10.