Exelon Corporation (NYSE:EXC) was always such a strong company with a great stock performance leading up to the middle of 2008. However, once the stock hit $90, it tumbled downhill and hasn't recovered. Why such a terrible performance for a utility company that was previously so stable?
The initial large plunge in the stock in the second half of 2008 was related to the financial crisis and plunging commodity prices. Exelon's revenue took an 8% plunge from 2008 to 2009, but has since recovered. Earnings per share decreased every year since 2008. Earnings growth is what drives stock prices higher, so the falling earnings trend is what led to the falling stock price.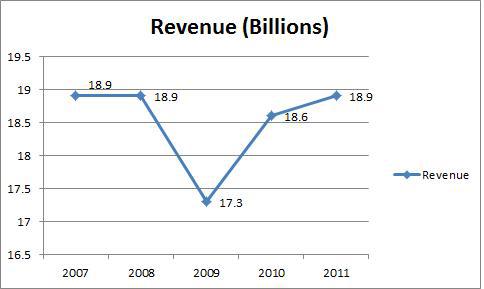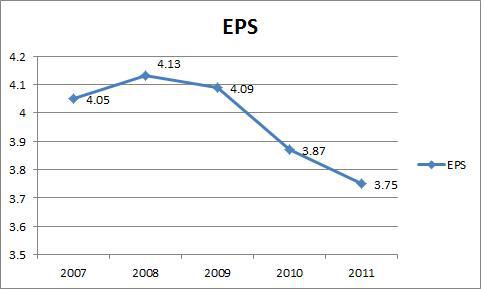 Falling natural gas prices have contributed to the decrease in Exelon's earnings power. Exelon handles 20% of the U.S. nuclear power capacity with 10 power plants and 17 reactors. The problem is that 93% of Exelon's electricity generation comes from nuclear. The decrease in natural gas prices have caused the company's earnings from nuclear to 'melt down'.
Exelon is now undervalued with a forward PE ratio of 12.64 and a price to book ratio of only 1.52. However, the stock has not shown evidence of bottoming yet. It will take a reversal in natural gas prices to see a reversal in Exelon's stock. Once natural gas prices are back on an upward trend, Exelon stock should recover.
The Constellation merger is expected to be completed in August 2012. This merger provides Exelon with another million customers to add to its current base of 6.6 million utility customers. Revenues are expected to increase from $18.9 billion to $32.7 billion.
Earnings per share for 2012 are expected to be in the range of $2.55 - $2.85, which is lower than analyst's expectations of $2.89. The company's earnings growth has decreased at a 2.45% pace annually for the last five years. For the next five years, earnings growth is expected to decrease by 3.79% annually. However, that is taking into consideration this year's expected loss of 30%. Next year, Exelon is expected to achieve earnings growth of 2.4%.
As the EIA expects electricity generation to increase by 24% for natural gas usage, the higher demand is expected to cause natural gas prices to rise. This should allow the stock of Exelon to bottom out and begin rising as its nuclear generation increases in profitability.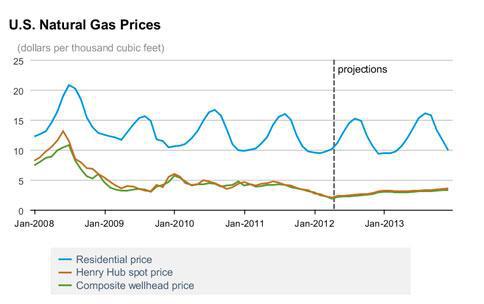 Source: EIA.GOV
Exelon's current dividend yield is an attractive 4.1%. This will provide income while shareholders wait for a turnaround in the stock. I can't say exactly when the stock will start a new uptrend, but I do think that Exelon will prove to be a good investment for the long-term with a time horizon of five to ten years or more.
Disclosure: I have no positions in any stocks mentioned, and no plans to initiate any positions within the next 72 hours.