Black Diamond, Inc (NASDAQ:BDE) announced last week that they will acquire POC Sweden in a 90% cash deal worth about $43.5 million. Black Diamond also presented at the Piper Jaffray Consumer Conference on Wednesday, June 6 and held their annual shareholder meeting on Friday, June 8th.
POC is a supplier of protection gear for gravity sports athletes with helmets, body armor, eye wear, gloves & apparel lines. In fiscal year 2012 revenues for POC increased to $22.5 million a year over year gain of 35%. Black Diamond is paying about 2 times revenues for POC compared to the 1.6 times revenue they paid for Gregory in 2010. However given the strength of the economy today compared to 2010, and POC fast growth rate, I think this will prove to be a fair price for POC. Black Diamond believes longer term POC could be over a $100 million brand. By the end of 2013 the POC distribution should be integrated into Black Diamond. Given that the POC deal has been in the works for the past 16 months, I think the integration process should move quickly and smoothly. After the POC acquisition, Black Diamond's balance sheet would still allow for other modest acquisition this year.
At the Piper Jaffray Consumer Conference on Wednesday Black Diamond underscored the importance of apparel going forward. CEO Peter Metcalf said that specialty retailers, including REI are very excited about Black Diamond apparel. They will start by launching in fall of 2013 in about 300 stores in North America, and will launch a new line over each of the next 6 seasons. It will start as an invitation only launch, and then after a few seasons will be rolled out to all 5,000 retailers that currently carry Black Diamond products. Additional costs from apparel in 2012 are forecasted to be $3 million. A new website to support apparel will launch in summer of 2013, Black Diamond currently gets about 5% of sales from direct customers and hopes to grow that segment going forward.
I believe Black Diamond will be a great investment over the next 3 to 5 years. I will be closely watching the growth rates over the next few quarters on the Black Diamond and Gregory brands. Then into 2013 I think Black Diamond will start to see strong returns from the POC acquisition. The launch of apparel in the back half of 2013 will be the next catalyst for the company after POC. Analyst estimates have been moving up slightly over the past 90 days, and with POC and details of apparel coming out, I think those estimates will continue to increase.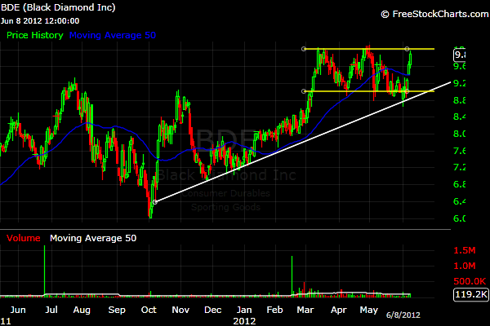 Black Diamond is currently approaching resistance at $10 per share, after testing an uptrend that has been in place over the past 7 months on June 1st. After the move higher over the past few days BDE is now above its 50 DMA, and I believe that 50 DMA could now provide support on the downside, drive BDE above resistance at $10 per share.
Disclosure: I have no positions in any stocks mentioned, but may initiate a long position in BDE over the next 72 hours.