Michael Kors Holdings Ltd. (NYSE:KORS) reported fourth-quarter earnings on June 12, 2012, of $0.21 per share, beating estimates of $0.16. Estimates of $0.16 had moved up over the past 90 days from an estimate of just $0.13 per share. Total revenues for the year were up 62.1% to $1.3 billion. Michael Kors also gave EPS guidance for the next quarter of $0.18 to $0.20, compared to current analyst estimates of $0.17 per share. Overall it was an exceptional quarter, and I see it as a positive sign when earnings estimates are increased and the company still beats those estimates.
In the quarter, North America accounted for just below 90% of revenues. Europe accounted for 9.5% of sales, and that segment increased 123% year over year. As noted by the company, a larger mix of sales from Europe improves margins as Europe has higher margins then North America.
If you look at the midpoint Michael Kors guidance for fiscal year 2013 of $1.10 per share, the company is currently trading at about 35 times those earnings. While these multiples are high compared with peers, other luxury brands are not growing at over 30% per year. The company is also growing in Europe and plans to open 10 to 15 stores in Europe annually. Kors has a long-term goal of $500 million in annual sales from Europe, compared to $108 million this year. It is positive to see a company that is having success even in Europe today.
Michael Kors currently has about 25% the earnings of Coach (NYSE:COH), and about 15% of the EBITDA. Over the longer term, the next five to 10 years, I think Kors could significantly close that gap with Coach. Estimates for next year are for Kors revenues to be about 31% of Coach's. Today, Coach has an enterprise value about 2.3 times that of Kors, so I think some of Michael Kors' growth is priced in. However, I think it still has more to go.
Click to enlarge image.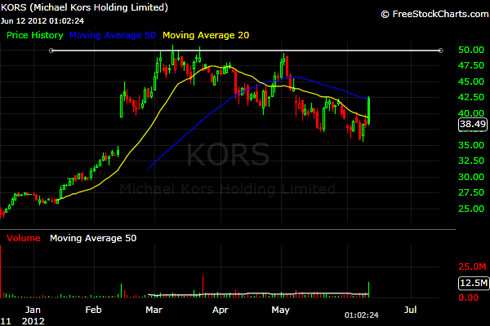 Michael Kors stock has not held on to the gains it saw after first reporting earnings, as it reached a high of $42.73 and then slid back below $40 per share. I think it might be offering an opportunity to buy this stock. However, I would not go all in on this name here as it has not yet found support on the current move down. With that said, there is a lot of upside to resistance around $50 per share.
Another option I would consider is a buy-write strategy; buying Kors today at $39 and selling the November 50 calls for $2.00. This gives you a little over 12% on an annualized basis from selling the call, and also gives you $2 of downside protection. You could also consider the $45 call for an annualized return of about 20%. The tradeoff would be upside on the stock being capped at 15%, vs. 28% with the $50 strike call. I also believe that with resistance at $50 it is unlikely you would be called out of the stock by November using the $50 strike call.
Data sourced from Yahoo Finance and company filings.

Disclosure: I have no positions in any stocks mentioned, and no plans to initiate any positions within the next 72 hours.