Investors have been attracted to mortgage REITs including American Capital Agency (NASDAQ:AGNC) due to their strong dividend yields. The majority of mortgage REITs trade around book value, thus investors need to understand the specific strategies that each manager deploys. The "valuation" based on price to book is trades within a narrow band so security or manager selection is important. AGNC is an agency-focused mortgage REIT, meaning it makes investments in securities that have implicit government guarantees. AGNC management has been able to outperform its peers due to security selection. AGNC has focused on securities that exhibit lower prepayment speeds than other securities.
Prepayment Risks
Mortgage REIT investors should focus on conditional prepayment rates (CPR) to monitor the health and dividend potential for mortgage REITs. The CPR reflects the percentage of principal that is prepaid over a period of time on an annualized basis.
As CPRs increase, the company will have to invest in securities with lower coupons, which will hurt earnings. Mortgage REITs are highly levered investment vehicles, which employ significant leverage to generate yields. Accumulating securities with lower CPR in a declining interest rate environment has allowed AGNC to outperform peers and provide investors with a strong dividend yield.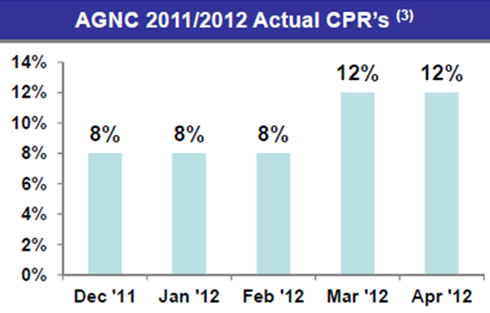 Click to enlarge
Portfolio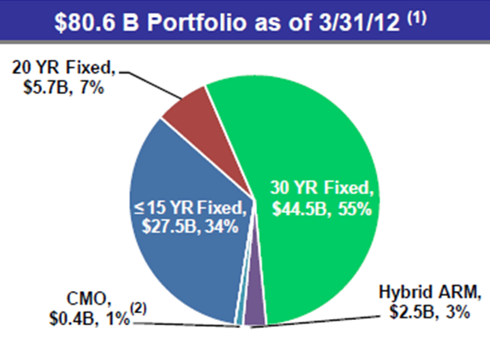 Click to enlarge
AGNC management has accumulated low balance loans and Home Affordable Refinance Program (HARP) securities that carry low balances ($85,000 - $125,000) or high loan to values (105% to 125%). The rationale is simple, homeowners that have lower balances are less likely to refinance their mortgages and pay closing costs despite modest moves in rates. A borrower who has $100,000 in outstanding loan balance is less likely to take advantage of a 25 basis point move in rates as it only saves $250 per year. A borrower who has a $400,000 mortgage can save $1,000 per year making the refinance more likely. Similarly, owners that have high loan to value loans who have already refinance have lower refinance risk.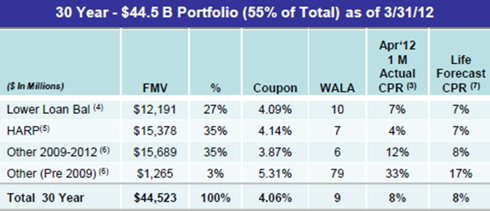 Click to enlarge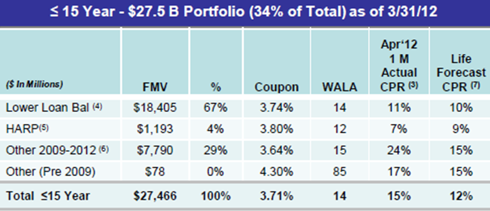 Click to enlarge
Before investing in any mortgage REIT, investors need to understand the specific strategy and security selection of the manager. I advocate that investors own a diversified portfolio of agency and hybrid mortgage REITs.
American Capital Agency - Fixed Rate Agency Focused REIT
Price to Book Value: 1.1x
Dividend Yield: 15.3%
Market Capitalization: $9.8 billion
Leverage: 7.7x
Annaly Capital Management, Inc. (NYSE:NLY) - Fixed Rate Agency Focused REIT
Price to Book Value: 1.0x
Dividend Yield: 13.1%
Market Capitalization: $16.3 billion
Leverage: 5.2x
MFA Financial (NYSE:MFA) - Hybrid REIT (Agency and Non-Agency)
Price to Book Value: 1.0x
Dividend Yield: 12.5%
Market Capitalization: $2.7 billion
Leverage: 3.2x
Two Harbors (NYSE:TWO) - Hybrid REIT (Agency and Non-Agency)
Price to Book Value: 1.1x
Dividend Yield: 15.4%
Market Capitalization: $2.2 billion
Leverage: 4.5x
Hatteras Financial (NYSE:HTS) - Floating Rate Agency Focused REIT
Price to Book Value: 1.1x
Dividend Yield: 12.4%
Market Capitalization: $2.8 billion
Leverage: 6.7x