Sherwin Williams (NYSE:SHW) and Valspar (NYSE:VAL) have traded in lockstep for over 5 years. In the past month the two stocks have diverged. In this article we will analyze whether a convergence trade (Long VAL/Short SHW) makes sense.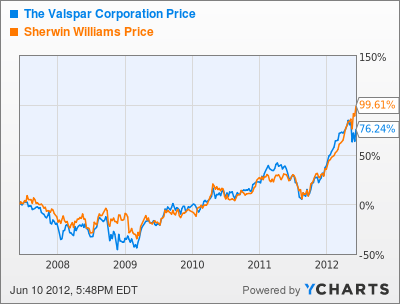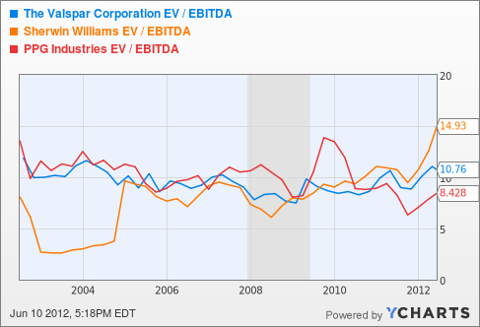 VAL EV / EBITDA data by YCharts
Sherwin Williams:
The Sherwin-Williams Company, founded in 1866 and incorporated in Ohio in 1884, is engaged in the development, manufacture, distribution and sale of paint, coatings and related products to professional, industrial, commercial and retail customers primarily in North and South America with additional operations in the Caribbean region, Europe and Asia.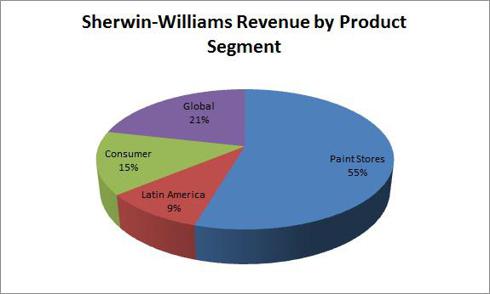 Valspar:
The Valspar Corporation is a leading global coatings and paints manufacturer and distributor, based on revenues and trade publication rankings. We manufacture and distribute a broad portfolio of coatings, paints and related products. We operate our business in two reportable segments: Coatings and Paints.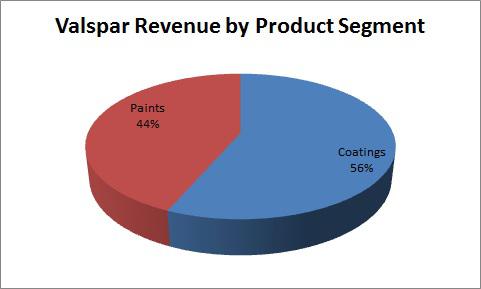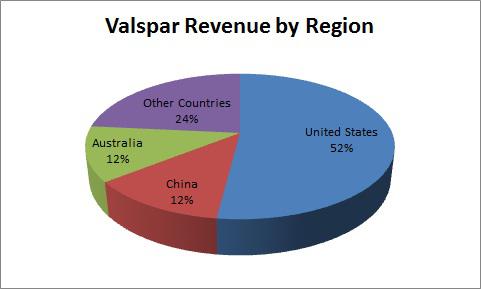 Sherwin-Williams does not breakout revenue by country other than what is already specified by the Latin America and Global Product segment groups. Almost all of the SHW paint stores are located in the United States. Other countries includes Latin America for Valspar. Sherwin-Williams has almost no exposure to Australia.
Both stocks are a play on a housing market recovery in the United States and rising GDP growth worldwide; with a particular focus on emerging markets. Both stocks are suffering margin compression from increased raw materials cost, particularly Titanium Dioxide. More information on TiO2 can be found here.
Sherwin-Williams is a better company in a number of ways including higher margins, less debt, higher ROE and ROA. According to the Wall Street Journal, SHW has a Debt to Ebitda of 1.04, while VAL has a Debt to Ebitda of 2.11.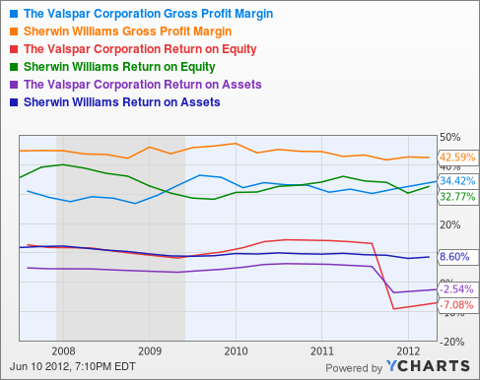 VAL Gross Profit Margin data by YCharts
Both companies have moderate overseas exposure, including key emerging markets like China and Brazil. Valspar has significant exposure to Australia. Consider there may be a housing bubble or not. Finally, SHW is almost 3x bigger by Market Cap, than VAL.
This means SHW should trade at a premium to VAL. Alternatively, SHW is trading 50% higher with respect to EV/EBITDA than VAL. It is also more expensive across all price multiples.
I believe the recent divergence in price has been caused by the relative safety of SHW over VAL. If we are to experience a "risk-on" period relatively more money would go into VAL than SHW, closing the gap. This trade should be executed if you think the market is recovering or will recover soon. If you believe the market will deteriorate further, then the gap will continue to widen, and this trade will lose money. Given how similar the companies are, I do expect the gap to narrow in a "normal" market.
Sources: Company Documents, Yahoo Finance, Finviz.com
Disclosure: I have no positions in any stocks mentioned, and no plans to initiate any positions within the next 72 hours.