The Nasdaq OMX Group (NASDAQ:NDAQ) has had quite the public relations nightmare lately. After an erroneous start for the Initial Public Offering of Facebook (NASDAQ:FB) on May 18, many have questioned the practices utilized by the exchange on that instance and also whether greater concern is warranted. Questions now abound for the world's second largest exchange, based upon market valuation of the companies within it.
See a recent performance chart for NDAQ: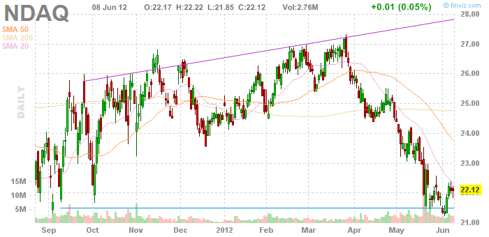 Click to enlarge
NASDAQ was founded in 1971 by the National Association of Securities Dealers and was the first electronic stock market. NASDAQ was initially a slightly more advanced version of over-the-counter type trading, comprised of a computer bulletin board system that did not actually connect buyers and sellers. It was not until the late 1980s, or about twenty years after its formation that the exchange stopped commonly being referred to as the OTC by media and ratings agencies such as Standard and Poor's.
Initially and by its design, the electronic exchange helped lower the spread, or the difference between the bid price and the ask price. This feature was unappreciated by many brokerages because it reduced their profit margins, but was greatly appreciated by retail investors. The system grew over time and developed into a full exchange. Technology companies, many of which likely appreciated NASDAQ's electronic origins, as well as its attempts to reduce costs associated with exchange affiliation, helped make the exchange the large market participant that it is today.
Digitization and spread reduction helped push many companies to the exchange and, as it turned out, technological advancement was also what helped many of the exchange's constituents to thrive and flourish into large cap companies. Today, most high tech companies are on the Nasdaq, but many have been on the exchange for years, or even decades. Examples of long-time high tech Nasdaq members include Microsoft (NASDAQ:MSFT), Intel (NASDAQ:INTC) and Apple (NASDAQ:AAPL), the largest publicly traded equity by market valuation.
More recently, though, the exchange has been tainted by questions and complaints regarding the handling of the Facebook IPO. Nasdaq estimates that orders for as many as 30 million shares did not participate in the IPO due to its internal errors, with some estimating that an even greater number was affected. The exchange said it would pay out $40 million in cash and credit to reimburse investment firms, but this figure may be far below its eventual cost of resolving the issue. Some have criticized the $40 million gesture as being insubstantial to cover broker losses and inconsiderate of losses sustained by retail investors.
Despite these recent issues, Nasdaq has apparently convinced yet another large company to convert over to the exchange. Last week, Kraft Foods (KFT) announced plans to move from the New York Stock Exchange to Nasdaq, which would be the largest company to switch exchanges. The transfer will occur on June 26.
Kraft is the first Dow Jones Industrial Average constituent to switch exchanges and the largest ever transfer of an already publicly traded company. Kraft is currently valued at about $67.6 billion. See a recent performance chart for KFT: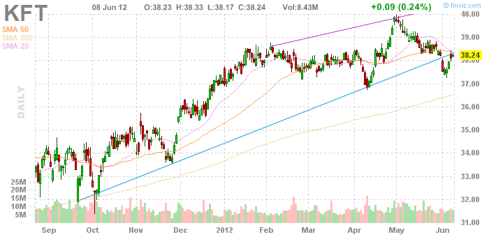 Click to enlarge
The decision by Kraft has to be seen as a very fortunate one for Nasdaq, which was in great need of some good publicity. Kraft is a well-known company that owns many premier brands. The current Dow Dog is also planning to split into two companies later this year, Mondelez International and Kraft Foods Group, with both entities trading on Nasdaq.
Nasdaq has won several companies from the NYSE over the last year. In December, Texas Instruments (NYSE:TXN) announced that it would move to Nasdaq, at which point it was worth about $32 billion. Additionally, so far in 2012, Nasdaq also won over Western Digital (NYSE:WDC), valued at about $8.1 billion, and Analog Devices (NYSE:ADI), valued at about $11 billion. All three of these other converts are technology companies, which are generally more at home on Nasdaq.
Some companies have gone the other way and left Nasdaq for the NYSE recently, including Teva Pharmaceutical Industries (NASDAQ:TEVA), currently a $34 billion company, and TD Ameritrade (NASDAQ:AMTD). Nonetheless, this newest and largest transfer is going Nasdaq's way, and the timing could help it get over its current problems.
Swiss bank UBS (NYSE:UBS) claims it lost as much as $350 million due to Nasdaq's technical glitches regarding the Facebook IPO, and it is not beyond the realm of possibility that others will announce similar substantial losses that they will blame on the glitches. Apparently, UBS placed an order for one million shares, did not receive a confirmation and repeated the order several times, causing it to purchase far more stock than it intended. Each order then resulted in losses, which may now be either realized or unrealized.
It may be difficult to prove whether losses are due to such glitches or if they were merely trades that ended up losing money. This will be an issue for both Nasdaq and UBS, as well as any other companies that come forward claiming such substantial losses. Anyone that made multiple trades on Facebook's day one might simply subsequently argue that they only did so due to a misunderstanding caused by Nasdaq's failure to perform and properly notify. Nonetheless, more complaints are likely forthcoming.
Disclosure: I have no positions in any stocks mentioned, and no plans to initiate any positions within the next 72 hours.