Shares in cloud media company Synacor (NASDAQ:SYNC) have been very strong lately. We'll assess what's going on and wonder whether it is too late to get in, or if there are other profitable trading strategies.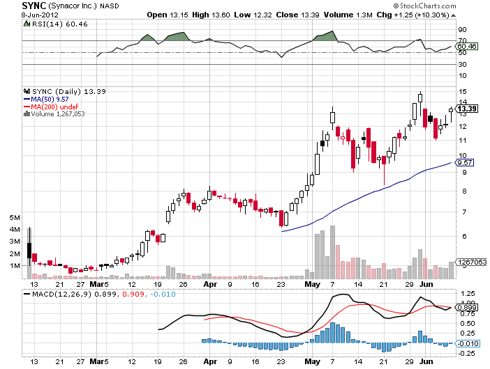 What do they do?
The best description comes from the latest Quarterly filing:
We are a leading provider of authentication and aggregation solutions for delivery of online content and services. We deliver our solutions as a set of services through our hosted and managed platform, enabling cable and telecom service providers and consumer electronics manufacturers to provide the online content and services that their consumers increasingly demand. Our platform allows our customers to package a wide array of online content and services with their high-speed Internet, communications, television and other offerings. Our customers offer our services under their own brands on Internet-enabled devices such as PCs, tablets, smartphones and connected TVs.

We generate revenue from search and display advertising and by charging subscriber-based fees for services and products delivered through our platform.
The company is probably most known for their TV Everywhere platform, which enables customers (of cable companies, telecoms, satellite and consumer electronics companies) to offer media content to electronic devices over the internet.
Synacor offers a one-stop-shop for monetizing digital content over the internet on multiple devices, which is difficult and expensive for companies to do this themselves, especially smaller ones. What Synacor does is offering a hosted and managed solution that is near free, making most money on search and ad revenue (79% of revenue in 2011, the rest comes from subscriber based services like TV Everywhere).
Possible growth
The company has several trends in its favor:
The increasing desire to consume media content on any device at any time over the internet
Increasing broadband speed and penetration
Increasing amount of internet enabled devices
The need for content aggregation
Market
Synacor is a relatively big player with some 25% of the market.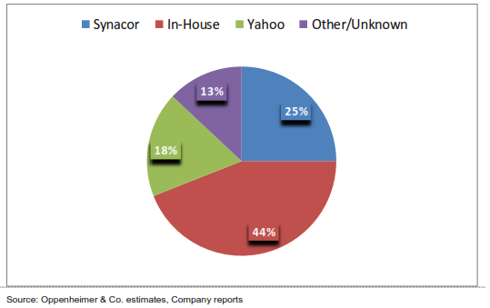 According to an Oppenheimer report, Synacor's market opportunity is approximately 70 million unique visitors. That leaves considerable room for growth with the number of unique visitors standing at 18.7 million (Q411). However, this means that the law of large numbers dictate that a slow down in growth should set in at some point not too distant in the future and they will need to address other markets or segments and/or get more revenue out of its existing customer base.
They could grow international (they already have presence in Canada) and/or explore new customer segments, like consumer electronics companies. The company is already doing that as well, and has Toshiba as its first customer in this segment. The mobile market is also an interesting opportunity since video is the fastest growing data component for mobile networks and many companies do not have the appropriate resources to offer mobile content.
As the company scales up costs are likely to diminish as a percentage of sales so there is room for margin improvement, but addressing new markets and sectors might involve additional cost.
Risks
Concentration of customer revenue is something of a risk. From the latest 10-Q:
For the three months ended March 31, 2012, we derived revenue from over 45 customers, with revenue attributable to four customers, CenturyLink, Inc. or CenturyLink (including revenue attributable to Qwest Communications International, Inc. or Qwest, which merged with CenturyLink in April 2011), Toshiba America Information Systems, Inc., or Toshiba, Charter Communications Inc., or Charter, and Verizon Corporate Services Group, Inc., or Verizon, together accounting for approximately 73% of our revenue
Google (NASDAQ:GOOG) is an increasing part of revenue, it averaged 56% in 2011 and rose to 61% in Q1 2012 [Q211 10Q]. This is because the search queries are the fastest growing category, growing faster than display ads, which grows faster than subscriber based revenues (but they're all growing).
Another risk is the possibility that as on-line media consumption becomes ever more mainstream (so far as it isn't already), more companies will chose to keep it in-house.
Q1 2012
The first quarter of this year was a very good one:
85% increase in search queries (271M)
47% increase in ad impressions (8.5B)
81% increase in 'unique visitors' (21.3M)
10% increase in subscription based revenue ($4.9M)
Revenues increasing by 64% ($30.7M)
100% increase in EBITDA ($3M)
Net income was $1.2M, earnings per share 4 cents (based on 26.8M shares).
The latter deserves some explanation as currently there are 16.6M shares outstanding so the net income would be 7 cents per share on the basis of that. But according to the Q1 2012 Quarterly Filing (p.13), 7.8M shares (conversion of preferred stock) and 2.33M (stock options) count for the dilution.
While this year will be good, and growth will likely continue thereafter. Guidance was increased (ever so slightly, by 2%) for 2012 revenues. Full year revenues are expected to be between $123M and $126M.
However, the law of large numbers argue for a flattening of this growth, unless they can enter new markets and segments, and/or increase revenues from existing customers.
Enter the 'BVSN kings'
Jonathan Lebed and the "National Inflation Association" (essentially the same) have started for some time to heavily tout the shares of Synacor, in a flurry of daily emails. Lebed and the NIA are of Broadvision fame, the stock they pumped from $8 to $50+ (it's now almost back to where it started, at $11).
It was truly remarkable how they managed to six-fold BroadVision (NASDAQ:BVSN) on hype alone, considering that company had declining sales for a decade, was losing money and has little immediate prospects (if any). We have to congratulate them with SYNC though, as this, unlike BVSN, is a company which has bright prospects.
What both companies share is a low float. The SYNC float is just 25% of outstanding shares, so this is an attractive 'pumper' target to manipulate, especially after a hit like BVSN.
It is somewhat ironic that while BVSN shares managed to six-fold on the basis of hype alone, SYNC has risen on the daily flurry of emails from Lebed and the NIA, but not anywhere close to triple digit territory while there is a lot of positive to not about SYNC's business development and prospects.
We think that the main culprit here is the more sophisticated investor base in SYNC (compared to BVSN). There are several analyst reports on the company (Oppenheimer, Bank of America, Stifel Nicolaus, BMO Capital Markets, Albert Fried, Citigroup, Needham), while analysts had given up on BVSN. This means that the more sophisticated investor base know when to sell, as one can argue that the shares are becoming rather expensive over $10 (although not anywhere near as expensive as BVSN was during the time it was hyped by NIA).
What certainly didn't help were three downgrades by analysts (from Stifel Nicolaus, Citigroup and Bank of America), apparently with explicit reference to Lebed:
even though Bank of America Merrill Lynch and Citigroup remain bullish on the stock, they've noted efforts by the infamous stock promoter Jonathan Lebed, have caused an unwarranted run-up in the stock.
Valuation
Oppenheimer has a $10 price target, unchanged despite better than expected results in Q1 2012, in which revenues increased by 64% over Q1 2011 and EBITDA increased a whopping 200% and a (slightly, just 2%) raised outlook from management for 2012. The market capitalization of $360M is roughly three times sales.
At over $13 per share, the expected 16 cents in profits this year, or the 38 cents expected for next year amount to rather stiff price-earnings ratios of 84 and 35, respectively. Even the most optimistic analyst expects just 43 cents for next year, which would still amount to a p/e of 31.
Conclusion
Unlike BroadVision, Synacor is a real promising company. It is well positioned, profitable, fast growing, and has several good growth opportunities in front of it. It has no debt either. However, much of the growth of the coming one or two years is already priced into the shares at $13, so we think the shares are expensive at the moment. Rather than an outright buy we think it offers an interesting trading opportunity between $9 and $13-14.
One might also want to keep in mind that the promotional efforts of Lebed and the NIA have been going on for some time, while we don't expect anywhere near the downdraft that happened to BroadVision when these efforts stopped, some retreat is to be expected when that happens.
Disclosure: I have no positions in any stocks mentioned, but may initiate a short position in SYNC over the next 72 hours.