When a firm like Goldman Sachs buys shares of a relatively little known company like ZVUE Corporation (OTC:ZVUE), careful consideration is warranted. A quick perusal of recent institutional investors revealed that Northern Trust Corp, and Wexford Capital also reported initiating positions in ZVUE on December 31, 2007. Look a little closer and we find the CEO and co-Founder buying shares. Now the immediate question that comes to mind is, is this a pure technical play, a value driven fundamental investment, or something else? Technical indicators reveal ZVUE to be in oversold territory. But is there more value here than a quick trade? Perhaps our focus on this YouTube want-to-be might answer these questions.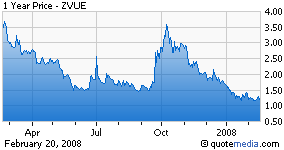 According to CEO Jeff Oscodar, ZVUE is executing its business strategy of acquiring UGC web properties while building the ZVUE network into a global digital-media-to-go company. Acquisitions include Putfile.com, YourDailyMedia.com, FunMansion.com, Dorks.com, UnOriginal.co.uk, HolyLemon.com, and the granddaddy of UGC, EBaumsWorld.com. When EBaums was acquired in 2007, it was reported as the only profitable UGC site known. ZVUE's main website, Zvue.com, offers music and video downloads for free and purchase. ZVUE's latest ipod-like 260 media player can also be purchased at the home portal, Amazon.com (NASDAQ:AMZN), and Wal-Mart (NYSE:WMT).
What about management? Does ZVUE's management have the necessary talent? Can they deliver? I believe leadership is everything! Great leaders need vision, talent, and experience to succeed. Let's examine the company's three key leaders: Jeff Oscodar, CEO, Carl Page, Chief Technology Officer & co-Founder, and Bill Keating, Chairman of the Board.
Chief Executive Officer, Jeff Oscodar, is a business savvy professional. He brings successful experience to the table. Jeff Oscodar founded Rule 168 Advisors, and co-founded InfoGear Technology Corporation, sold to Cisco Systems (NASDAQ:CSCO). Amazon.com, eToys, Time Inc., USA Today and Yahoo (NASDAQ:YHOO) are just a few content relationships partners that Jeff has developed over the years.
Chief Technology Officer & co-Founder, Carl Page, is no stranger to success. Prior to ZVUE, Page co-founded eGroups, which was acquired by Yahoo for $425 million. Page has demonstrated his passion and unfaltering commitment to ZVUE by buying shares on the open market and providing out of pocket financing for the company when needed. Carl Page is reported to be the brother of Larry Page, Google's (NASDAQ:GOOG) co-Founder. Chairman of the Board, Bill Keating, has over 25-years experience in the technology industry. Keating was General Manager at Microsoft (NASDAQ:MSFT) TV, Senior Vice President at General Magic, Director of Technology Marketing at Sun Microsystems (JAVA), Vice President and General Manager at Rational Software, and CEO of Xtend Networks. As a founding member of Nekei, Keating helped to secure funding for several business that have either gone public or been acquired. As ZVUE expands its network footprint they continue to multiply UGC, professional content, and unique visitors. Humorous, edgy, and outrageous UGC along with professional music & video download content is available for free and purchase. Sony/BMG, National Lampoon, Showtime, and Anime Network provide quality music and video downloads.
With over 25 million unique visitors per month, ZVUE was recognized as the fastest growing web property by comScore Media Metrix for August 2007. PC World Magazine named ZVUEe's EBaumsWorld "one of the 10 funniest sites on the internet." Last month ZVUE signed a deal with 5 new professional content creaters: Comedy Time, FuTurXTV, GoTV, Link TV and Mobi Jokes. ComScore also ranked ZVUE in the top 10 video sites. All of these achievements are driving ZVUE to the next level. Advertising is ZVUE's main revenue stream, and they are well positioned to penetrate and capture the growing market of online advertising. Hardware sales and downloads play a significant supplemental role, but advertising revenue is the prize.
CEO Jeff Oscodar says:
Advertisers in the United States alone are already spending more than $1 billion on user-generated content sites, with expectations of $4 billion by 2011.
A recent survey of ZVUE's current advertisers reveals ZVUE has cultivated some very impressive and well established clients: NBC (NYSE:GE), Best Buy (NYSE:BBY), Wall Street Journal (DJ), Microsoft, H&R Block (NYSE:HRB), Capital One (NYSE:COF), Dish Networks (NASDAQ:DISH), Circuit City (NYSE:CC), Frito-Lay, Ask.com, Match.com (IACI), T-Mobile, MarketWatch.com (DJ), Verizon Wireless (NYSE:VZ), ads by Google, Vonage (NYSE:VG), La Quinta Inns, Lionsgate Films, University of Phoenix, Church & Dwight Co, among others.
Besides utilizing banner ads and block tile advertising across its network, Zvue uses ScanScout software to provide "contextually relevant - overlay video ads - within the millions of video clips it streams daily." The number one provider of Internet advertising, DoubleClick, won the job of providing media campaigns for the company's advertisers. Factor in the growing number eyeballs flocking to the ZVUE networks and the ever increasing list of online quality advertises, and then the possibility of soaring revenue seems very likely. If conservative estimates are correct, ZVUE will report upwards of a 200 percent increase in 4th quarter revenue for fiscal year 2007.
Disclosure: Author has a long position in ZVUE