Several important data points were released in the past week. The stocks started the week with a mixed investor sentiment. While Dow Jones started in the red territory, Nasdaq composite and S&P 500 was up by a inch on Monday. The disappointing jobs data initiated new rumors regarding a third round of monetary expansion. Thanks to these rumors and better-than-expected reading on services sector, stocks edged higher on Tuesday. The stimulus speculations gained momentum on the following day. As traders speculated on additional stimulus packages, the U.S. equities posted their best day of 2012. Meanwhile, China made a surprise cut in the benchmark interest rates. While the interest cut initiated a positive spike on the stock markets, Bernanke's confusing statements on monetary easing faded the early stock rally on Thursday. President Obama's statements on bolstering U.S. jobs growth had positive impact on equities, and the markets closed higher on Friday. I expect the positive momentum to keep going on this week. The stocks did not make a bullish start this week, but the European markets seem to be doing fine as we are heading into Tuesday.
Amidst this investing atmosphere, several stocks made it to new highs in the past few weeks. A stock is usually considered overbought when the relative strength index reaches above 70. That does not mean that these stocks are expensive stocks. I would rather consider them momentum stocks, supported by short-term catalysts. Nevertheless, overbought stocks signal a red flag for contrarian investors. Based on the Relative Strength Index [RSI] indicator, I noticed 5 stocks that are in the overbought territory. Let's see, what is driving these stocks, and whether they are still worth to consider after making significant gains recently.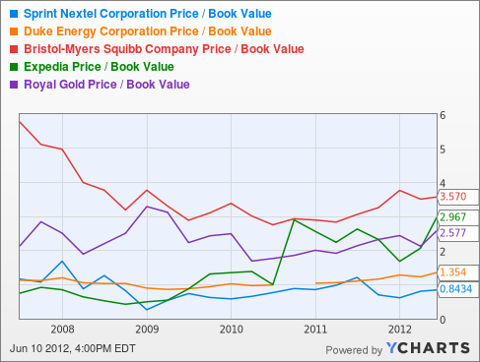 Price / Book Value data by YCharts
Sprint (NYSE:S)
Sprint has a very long history in the market. Established in 1899, Kansas-headquartered Sprint Nextel is among the oldest telecommunication providers in the U.S. It offers both wireless and wireline voice and data transmission services in the U.S., Puerto Rico and the U.S. Virgin Islands. At the beginning of the century, Sprint was among the top wireless service providers. The company is still the third-largest carrier, offering services to more than 50 million customers. However, investors have lost their confidence in the company, driving down the stock to insanely low prices compared to pre-recession levels.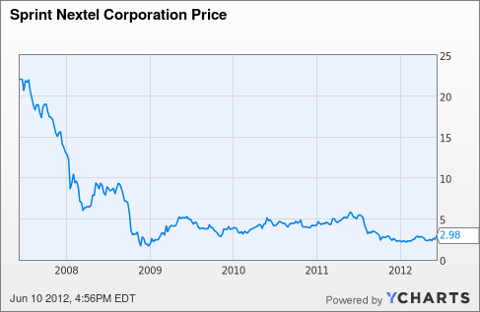 Sprint, which was trading for a price as high as $24, has recently touched almost $2.2. That is a loss of almost 90%. Back in February, I suggested that Sprint is primed for a rebound. The recent performance of the stock proved me correct. The stock gained about 30% since February. This week has been a particularly great one for Sprint. Virgin Mobile (NASDAQ:VMED), which relies on Sprint's network, is expected to offer iPhones to its prepaid customers starting from as soon as July 1. That move would support the Sprint's commitment to 7.5 million iPhones per year.
I think Sprint is a strong buy, with at least 100% potential by the end of this year. $3 will be a strong resistance level, but given the bullish momentum in the markets, this resistance might soon be broken. The recent purchases of insiders also support the positive investment thesis.
Duke Energy (NYSE:DUK)
I am a big fan of utility stocks. They are slow, but steady movers. They also offer high and stable dividends, as well as significant capital appreciation. While many investors discard utility stocks as boring investments, some companies in this sector returned outstanding profits to shareholders. Duke Energy is no exception. The stock has returned 32% in the last year alone. Last week has also been a good one, where the stock gained 3.6%.
Duke Energy is one of the largest electric utility providers in the Americas. The company has operations in North Carolina, South Carolina, Ohio, Indiana, and Kentucky. Duke Energy also runs hydroelectric power generators in Latin America. The company, headquartered in Charlotte, North Carolina, employs more than 18,440 employees.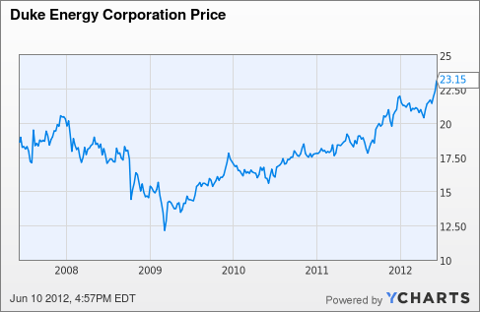 Duke is a nifty dividend payer. The current yield is 4.3%, with a payout ratio of 89%. Thus, earnings more than fully support the yield. The stock has been a long-term outperformer, but it recently got into overbought territory. Duke has a stable business model where analyst estimates closely match with company's actual results. Analysts estimate an annualized EPS growth of 4.20% for the next 5 years. This is a reasonable estimate given the company's past performance. Based on this estimate, my FED+ fair value range is around $22. At the current prices, the stock is overvalued. Therefore, a pullback should be waited for.
Bristol-Myers Squibb Company (NYSE:BMY)
Bristol-Myers Squibb is a global pharmaceutical company engaged in discovering, developing and delivering innovative medicines that help patients prevail over serious diseases. The company was founded in 1887 and is based in New York. The market cap of this company is $58 billion and its P/E ratio is 15.41. The forward P/E ratio of BMY is 17.90. BMY has a yield of 3.96% and the stock supports a low beta of 0.46. The stock has been trading between $31 - $34 ranges since the beginning of this year. Thanks to its recent run, currently it is trading slightly above $34.
While I like Bristol-Myers as a company, I think the stock is overpriced compared to its peers. The earnings are expected to stay constant for the next 5 years. Surely the dividends have plenty of room for growth, but I do not expect much capital appreciation for the intermediate term. Therefore, a pullback should be waited for.
Expedia Inc. (NASDAQ:EXPE)
Established in 1996, the Bellevue, Washington-headquartered Expedia Inc. became one of the largest online travel companies in the world. The company operates several well-known online traveling agencies such as expedia.com, hotels.com, hotwire.com, etc. I am particularly a devoted user of hotwire.com. This website, which has a very unique business model, suggests you a deeper discount at 4-star, 5-star hotels. The discounts become particularly handy, if you have no preference for the brand names. Thanks to this simple but elegant business model, the shareholders enjoyed magnificent returns. Since its dip of $12 at the peak of sub-prime crises, the stock returned about 400%.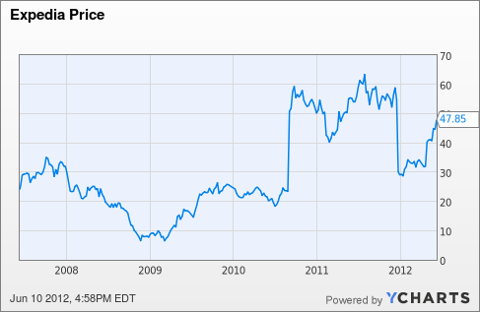 While I like Expedia's business model, I think the stock needs a rest. After returning 16.5% in the last month alone, the stock has gotten into overbought territory. Expedia is a perfect stock to buy low and sell high. Because the current price looks expensive, I rate it as a sell at the moment.
Royal Gold (NASDAQ:RGLD)
Established in 1981, the Denver, Colorado-headquartered Royal Gold has been one of the top performing gold miners in the last decade. Those who purchased their shares a decade ago earned a return of about 700%. The stock also performed nicely in this year, returning 18% so far.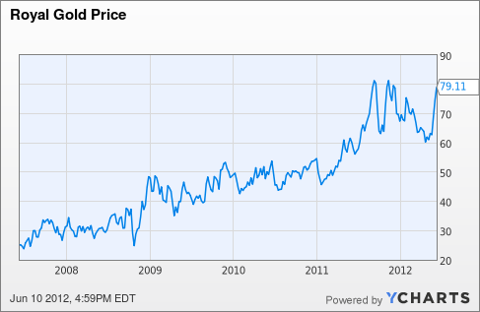 Even after making such magnificent returns, Royal Gold is trading at a modest book value multiple of 2.64. It is debt-free and has a clean balance sheet. However, the trailing P/E ratio of 47.66 does not suggest much safety. The company's value of investment portfolio is highly correlated with precious metals such as gold and silver. These metals performed well, as the interest rates kept going down. But, we reached a point, where the interest rates can't go any lower. What that means for precious metals is that they cannot go any higher. Therefore, I am bearish on both precious metals and related stocks.
Disclosure: I have no positions in any stocks mentioned, and no plans to initiate any positions within the next 72 hours.