One of the most impressive biotech firms today that's focused on treating multiple sclerosis is Questcor Pharmaceuticals (QCOR). Their drug H.P. Acthar Gel has seen nearly 100% quarterly growth in the number of shipments year-over-year, and the drug's many other applications besides treating adults with MS (including treatment of infantile spasms, nephrotic syndrome, and rheumatology conditions) point to greater growth ahead.
Looking at the fundamentals of the company, there are several reasons to believe Questcor stock is undervalued. At $44.12 a share, QCOR stock is currently rallying above its 20-day, 50-day, and 200-day moving averages, yet its PEG is still only at 0.7 compared to 4.5 for the pharmaceutical industry average. Although price multiples with forward earnings and sales are high compared to industry averages, analysts expect big earnings growth over the coming years for Questcor. Projected EPS growth next year expected at 37.45% and forward EPS long-term growth (3-5 years) at 38.75%.
Questcor stock also passes DuPont analysis with flying colors, with rising ROE, net margin, and asset turnover year-over-year, along with falling leverage. Its income sheet also appears healthy, with higher gross, operating, and pretax margins than the pharmaceutical industry averages.
Sell-side analysts are also optimistic on QCOR. Oppenhiemer currently rates Questcor 'Outperform' and Jefferies & Co. rates it a 'Buy'. On top of these ratings, institutional investors bought net shares over the last quarter, representing over 17% of float short. (Net institutional purchases in the current quarter at 10.2M shares, which represents about 17.1% of the company's float of 59.65M shares.)
Lastly, management appears to be confident - one of the best indicators of all. The company has strong liquidity, with current and quick ratios above 4, and management is returning this cash to shareholders. In mid-May, the company authorized a share repurchase program of 5 million shares, expanding on another 5.4 million shares authorized to be repurchased (62.38 million share float). As of Friday's close, 10.4 million shares represents about $459 million market value to be returned to shareholders.
Among Questcor's potential downfalls are its reliance on the success of only two drugs (its only other drug on the market is Doral for treating insomnia), and the possibility of Questcor failing to meet the market's high expectations for earnings growth. Like any newer drug on the market, its commercial success remains a question mark for some time.
However for all of the reasons above, I believe Questcor offers high growth at a fair to discounted price.
Below you can use Kapitall's Compar-o-matic to compare Questcor's analyst rating to its industry peers.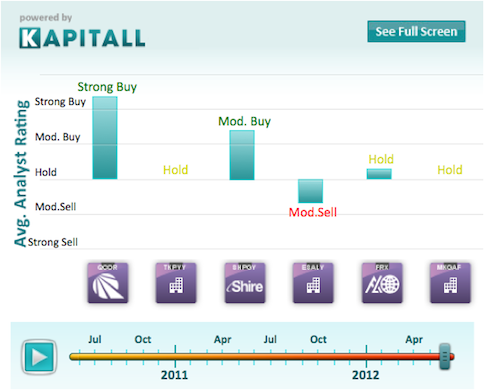 *Written by Alexander Crawford. EPS, institutional, and profitability data sourced from Fidelity, sell-side data sourced from Yahoo! Finance. All other data sourced from Finviz.
Disclosure: I have no positions in any stocks mentioned, and no plans to initiate any positions within the next 72 hours.