La-Z-Boy (NYSE:LZB) reported increased profits on decreased sales. Always a good trick if you can do it. So the company deserves closer scrutiny. Who knows, maybe an important business lesson may reveal itself.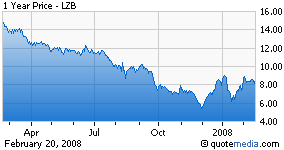 After reading the press release and search for the financial statements here is what happened. They dropped their dividend to conserve cash. Why not just drop the entire dividend and do the job right?Also, last year's supposed loss was the result of non cash write downs of intangibles from business held for sale. So the bounce is not as dramatic as you would think.
But keep reading. La-Z-Boy made $9.5 million net income in the quarter. To get there they booked approximately $7.2 million for Income from Continued Dumping and Subsidy Act and approximately $4.9 million other income.
Kurt L. Darrow, La-Z-Boy's President and Chief Executive Officer, said: "We continue to go through a difficult macroeconomic period which is impacting the housing and home furnishings markets."
Okay, we all read the papers, but what are you doing to make this place a financially viable entity? You cannot make it on corporate welfare.