A large red flag has been raised on Potash Corporation of Saskatchewan (NYSE:POT) after its latest quarterly results revealed a massive slowdown in sales of its primary product. Sales of potash dwindled from $1.021B in Q1 2011 to $543M in Q1 2012, yielding an uninspiring 47% decrease despite the fact that average per ton prices of potash were roughly 16% higher in North America and 24% higher in offshore markets quarter over quarter. There is little doubt that the major contributing factor with regard to Potash Corp's underwhelming share performance has been weak global demand for potash and has been affecting much of the industry as a whole.
Potash Corp is not alone in facing pressure from lackluster demand for potash. Several of its competitors reported weak demand for potash so far this year, although a few are able to compensate due to favorable product mix with heavier sales in phosphates and nitrogen based products, which has had steady demand. Fellow Canpotex member Mosaic (NYSE:MOS) reiterated weak demand for potash and reported a decrease in sales of potash of 29%. Agrium (NYSE:AGU) also reported slow demand for potash with a decrease in potash sales of 21%, but still managed to report a strong quarter.
Potash Corp cited that weak potash demand was in large part due to the reluctance from consumers to restock potash inventories in the current macroeconomic environment. This reluctance is being fueled by fears of economic uncertainty surrounding Europe that will lead to another global slowdown. Consumers have been content with expending excess inventories built up in late 2011, but this practice is predictably unsustainable. At some point consumers of potash will need to replenish product.
If there is any truth in CEO William Doyle's Q1 2012 earnings call statement, "Despite some bumps on the road over recent months, the reality of our business is that a void created today must be filled tomorrow. Dealers who defer purchases must eventually restock to meet the needs of their customers." Then Potash Corp's depressed share price could be seen as a major buying opportunity. If potash sales pick up as 2012 progresses, as is the general consensus among the industry, POT shares stand to recover quickly when coupled with the higher per ton prices that have been seen thus far in 2012. It is not a stretch to believe there is a high likelihood of this occurring. After all, the world population is not decreasing and the demand for food to feed populations continues to grow. Such an important commodity cannot be deferred for too long without causing major harm and possible crises to large populations. If one thing is certain, people have to eat to live and that remains true regardless of macroeconomic conditions.
Making a case for Potash Corp as a value buy is largely supported by the fact that POT is valued cheaper now than it has been at any time since 2004, making an exception for overly depressed markets in late 2008 into 2009. Based on current year EPS estimates at $3.46, POT is currently valued at a P/E ratio around 11. Figure 1 shows historical P/E ratio ranges for POT since 2004.
Figure 1: Historical P/E ratios valuation range for POT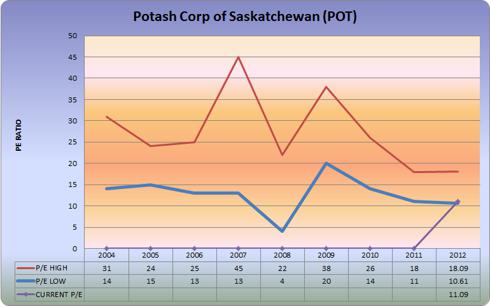 Click to enlarge
In addition to its attractive valuation, Potash Corp's management has been making attempts to reward shareholders through dividend hikes, with a 10 year dividend compound annual growth rate of 23% and a doubling of the dividend paid to shareholders from $0.07 to $0.14 in 2012. This gives an accelerating dividend growth rate with the 3 year growth rate higher than both the 5 and 10 year rates. Figure 2 shows the rolling dividend compound annual growth rates for POT since 2005.
Figure 2: Rolling 3 and 5 year dividend CAGR

Click to enlarge
The competitive landscape in potash production is relatively limited, with 13 countries supplying global demand. Canada and Russia by far produce the world's largest amount of potash and the scene has changed with the merger between Russian companies Uralkali and Silvinit. It will be of interest to see how global potash supply is impacted by this merger with an emphasis on the markets in China and India. Other potash producers, aside from Canpotex members, include US based Intrepid Potash (NYSE:IPI) and Compass Minerals International (NYSE:CMP), German based K+S (SDF.DE), Israel based Israel Chemical (ICL.TA), and eventually BHP Billington (NYSE:BHP).
With historic low valuations and a highly sustainable product, Potash of Saskatchewan may be ripe for buying. Given some uncertainty to how depressed POT share prices may become, potential investors may choose to enter positions by selling put options. This allows target entry points to be maintained while collecting option premiums for immediate cash inflows.
There is no doubt that Q2 2012 will be highly anticipated by investors to determine if Q1 2012 was an anomaly driven by timing in potash contracts or a precursor to longer lasting pressures on the industry.
Disclosure: I am long POT.