Like the Canadian stock market it tracks, iShares MSCI Canada ETF (NYSEARCA:EWC) is chock-full of energy, commodities, and materials stocks, drivers of the long bull market. The result? Over the past five years, EWC returned 219%, three and one half times the gain of the S&P 500.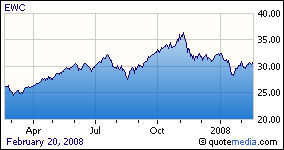 Energy and materials stocks combined recently accounted for nearly 46% of EWC's assets. By comparison, the iShares S&P 500 Index fund recently had just more than 16% of assets in the stocks of energy and materials firms, a big reason for EWC's outsized gains.
Of course, the long bull market isn't a top concern these days. But EWC isn't just a play on the Great White North's abundant natural resources. The fund offers U.S. investors a play on the country's strong currency and the stocks of banks, technology companies, and other firms that have held up fairly well during the U.S. downturn.
Over the last four weeks, EWC rose from No. 11 to No. 7, just one spot below iShares Emerging Markets, in the ETF Momentum Tracker international ranking.
Canada has felt the shockwaves of the credit crisis and the economic slowdown that is afflicting its largest trade and investment partner: The TSX Composite has had three drops of 9.2% or more in the last year—in July/August, in November, and from Jan. 14 to 21—but Canada's broad market index is off less than one percentage point over the last year (through Feb. 15), while the S&P 500 is down 7.3%.
EWC touched an all-time high on Nov. 2, at which point the fund was up 44.8% in 2007, before plunging nearly 15% in the next month. Since Dec. 4, however, EWC's NAV is off just 2.6%, compared with a nearly 8% drop for the S&P 500.
The fund's biggest single sector play isn't energy or materials, but financials. Led by recent top holding Royal Bank of Canada (NYSE:RY), No. 2 Manulife Financial (NYSE:MFC), and No. 5 Bank of Nova Scotia (NYSE:BNS), financials recently accounted for 32.3% of EWC's assets, compared with a 17.5% stake in the iShares S&P 500 fund.
Canada's banks, protected from foreign competition by strict government regulations, have survived the subprime crisis to the south in part because they're not as exposed to the subprime mortgage market, according to RBC Dominion Securities analyst Nadine Eugene. These stocks may feel some headwinds, Eugene said, but she also recently told clients that Canadian banks' net margins are at 20-year highs, with positive trends for return on equity—unlike many S&P 500 banks.
Through Feb. 15, RBC shares gained 6.4%, Manulife 1.3%, and Bank of Nova Scotia 1.9%. Of the fund's top 10 holdings—which recently made up 41.6% of the portfolio—the best-performing stock of recent years wasn't an oil and gas giant or a bank, but BlackBerry maker Research In Motion (RIMM), with a 73.5% rise. With Apple's (NASDAQ:AAPL) iPhone not (yet) available in Canada, RIM's December earnings and 2008 forecast showed no signs of a slowdown, sending the stock up another 14% in two days.
Another top performer fits into the materials sector, but not necessarily in a way one would expect. With strong earnings and a bold 2008 forecast, shares of fertilizer giant Potash Corp. of Saskatchewan (NYSE:POT) are up 35.5% over the last three months.
Investors evaluating EWC should be wary of the fund's natural resources bent. The Canadian market and the ETF are relatively concentrated in that broadly defined sector, and both would likely feel the pain of falling prices from a major worldwide recession.
And yet, after the January TSX tumble, Morningstar analyst Kish Patel noted that the market's pain was "nothing compared with a blizzard in Winnipeg." He listed several key EWC stocks as "excessively punished," including a pair of independent oil and natural gas players that are two of EWC's largest energy stakes: No. 3 holding EnCana (NYSE:ECA) (up 10.7% in the last month) and No. 9 Canadian Natural Resources (NYSE:CNQ) (up 7.2% over the last 12 months), each with ties to a massive oil sands project in Alberta.
As a commodities play, EWC has offered the kinds of gains (five-year annualized returns of better than 27%) available only in developing markets over recent years. But the fund also offers something that other resource-rich lands can't.
As a developed Western country and a North American neighbor, Canada offers commodities exposure without all the geopolitical risk. "It's much safer to invest in Canada than the Congo or Latin America," Brian Hicks, co-manager of the Canada-heavy U.S. Global Investors Global Resources Fund, told Morningstar in late 2007. For a niche holding, that kind of safety could pay off going forward in turbulent times.