In a previous article related to Silver Wheaton (NYSE:SLW) posted on November 9, 2011, a protected covered call or collar was considered as a way to hedge the price of Silver Wheaton's stock, as the price of Silver Wheaton's stock is highly correlated with the price of silver. A protected covered call may be entered by selling a call option against a purchased or existing stock and using some of the proceeds from selling the call option to purchase a protective put option. Specifically, the 2011 December 38 call option and the 2011 December 33 put option were noted for the protected covered call position.
Following the article, the price of Silver Wheaton's stock dropped significantly as shown below: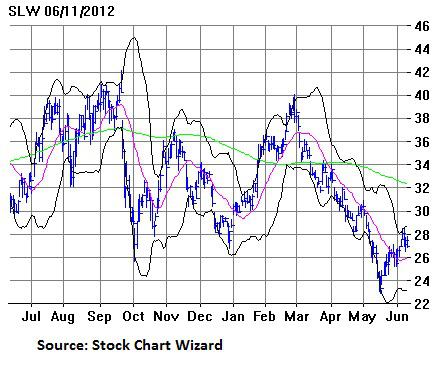 An investor long in Silver Wheaton' stock would have been down -21% as of December option expiration. However, an investor in the Silver Wheaton protected covered call would have been down a much less -8.6% at December option expiration.
Silver Wheaton is in the silver streaming business. The company buys and sells silver, but doesn't own or operate any mines. The company purchases interest in silver as a by-product from mining companies where other metals are the primary business. As an example, Silver Wheaton may purchase interest in silver from a gold mining company whose primary activity is related to mining gold.
In Silver Wheaton's Q1 2012 earnings call held on 5/14/2012, the company experienced record quarterly revenues and project silver production to grow to 43 million ounces by 2016 which represents a 5-year growth rate of 65%. The company indicated a large portion of the near-term projected growth is to be derived from Goldcorp's (NYSE:GG) Penasquito mine, as the mine is on its way to achieving full production capacity. The company noted a significant portion of the company's 5-year growth is expected to be as a result of Barrick Gold's (NYSE:ABX) Pascua-Lama mine.
Competitors to Silver Wheaton include Coeur d'Alene Mines (NYSE:CDE), Mitsubishi Materials (private) and Industrias Penoles (private).
A protected covered call or collar search performed using PowerOptions tools, seeking to find the highest returning position for profitable companies with a maximum potential loss of 8% and a stock price in an uptrend, produced Silver Wheaton as shown below:

Not too far behind Silver Wheaton were pharmaceutical company Vertex Pharmaceuticals (NASDAQ:VRTX), pharmaceutical company Warner Chilcott (NASDAQ:WCRX), fabless semiconductor company Cirrus Logic (NASDAQ:CRUS) and bio-pharmaceutical company Onyx Pharmaceutical.
The highest returning positions as shown above were found by selecting to search and sort by the highest returning positions. Profitable companies were found by selecting to search for companies with a Price-to-Earnings ratio (P/E) greater than zero. Stock price for companies in an uptrend were found by selecting to include companies with a 100-day moving average greater than the 200-day moving average. The 8% maximum loss parameter was selected, as a loss of 8% or less can typically be recovered fairly quickly using income generating investment methods.
An investor seeking to hedge their stock investment might once again consider a protected covered call as a way to position an investment in Silver Wheaton for a return, yet remain protected against a large drop in stock price. A new investor might also consider the position in order to take advantage of the increased option premiums. The protected covered call position listed in the table above has a potential return of 4.2% (38% annualized) with a maximum potential loss of 7.3%, so even if the stock price drops to zero, the maximum potential loss is 7.3% (at expiration). The specific call option to sell is the 2012 Jul 27 at $1.72 and the put option to purchase is the 2012 Jul 24 at $0.64. A profit/loss graph for one contract of the Silver Wheaton protected covered call is shown below: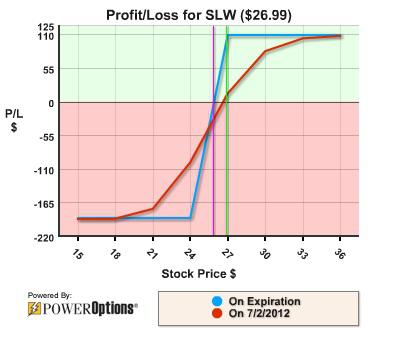 The price of the protected covered call remains unchanged for a stock price below the $24 strike price of the put option (at expiration). If the price of the stock increases to around $30 to $35, the position can most likely be rolled in order to realize additional potential return.
Disclosure: I am long SLW.