I recommend one core stock for retirees' dividend income portfolios. Coca Cola (NYSE:KO) is a hands down winner for both retirees' dividend growth and safety portfolio. There are 4 key reasons to build a portfolio around this equity.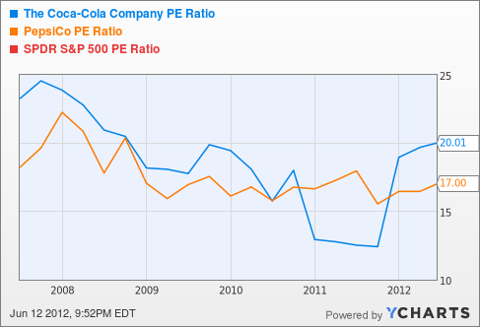 Click to enlarge
KO PE Ratio data by YCharts
1. Steady Results
Coca Cola simply delivers consistent revenues and earnings. They are number one in the global beverage market. They are far from sitting on their laurels. They are rapidly growing in emerging markets. Coca Cola is not slowing down. They are increasing market share in Eurasia/Africa (includes India) and the Pacific Region (which includes China).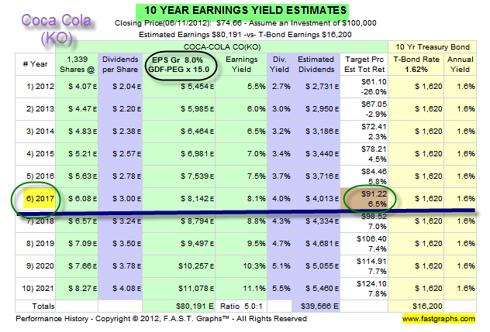 Click to enlarge
The above chart shows an anticipated earnings per share growth rate of 8%. This is a strong growth rate for a leading category blue chip.
In my opinion, a premium should be placed upon the valuation for an industry leader. Coca Cola offers 500 various beverage products. China and India offer over 2.2 billion potential consumers to embrace the company's red and white emblem.
2. Low Volatility
Coca Cola has a .43 beta. This refers to the company's stock movingat about 43% of the overall market. The company offers recession and depression resistant beverages. For 20 years I have listened to Joe Kernen discuss the case sales volume of Coca Cola. Consumers love Coca Cola beverages, and revenues continue to increase.
3. Allows for Portfolio Asset Options
Owning Coca Cola provides a position with balance, stability, and includes an excellent management team. A core stock like Coca Cola truly serves as a piggy bank to add new money when opportunity knocks. In the meantime, the retired investor can consider activist or special situation stocks like Iron Mountain Inc. (NYSE:IRM).
Iron Mountain
On June 5th, Iron Mountain announced plans to pursue to a real estate investment trust (REIT) conversion. This implication is a higher dividend payout.
The company clearly outlined its business decision to investors. On June 5th, the request for a REIT conversion was initiated with an 8% increase in quarterly dividend distributions. For income investors, this allows for a position dedicated to a special situation dedicated to higher dividend payout yields.
Gaylord Entertainment Co. (GET)
On May 31st, Gaylord decided to sell off assets and state they intend to become a REIT. This provides an initiative for Gaylord to increase the dividend payout. This is a positive catalyst for income investors. Any activist or special situation event, which increases the dividend, is a positive event for shareholders. Knowing that Coca Cola is a solid holding allows the self directed investor to consider such opportunities on their own merits.
4. Dividend Reinvestment Plan
Based upon the following data points, I can review the Coca Cola growth in value, dividends, and value. Dividend reinvestment truly allows for rapid growth of reinvested dividends.

Click to enlarge
The above dividend reinvestment data points result in the following bar chart: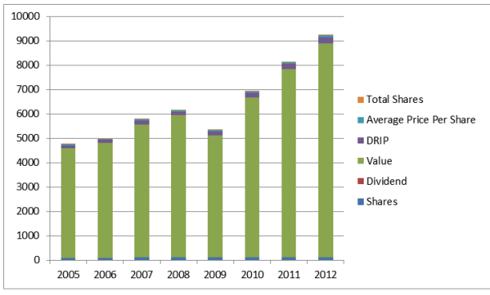 Click to enlarge
Coca Cola has increased its dividend for 50 years. A corporate focus upon buying back stock, increasing the annual dividend, and increasing revenues are all highlights of Coca Cola's business model.
Action
Coca Cola has established itself as the must own safety stock. The company is expanding into India and China. The balance sheet is A++.
If I could choose one stock to serve as my piggy bank, Coca Cola is the name. This is a core name for retirees' portfolios. Focus upon core holdings and nibble as opportunity knocks.