On June 12, after the markets closed, Enerplus Corporation (NYSE:ERF) cut its dividend in half. The company reported that starting in July, Enerplus will reduce its monthly dividend by 50 percent, from 18 Canadian cents per share to 9 Canadian cents.
See below for a recent performance chart for Enerplus:
Click to enlarge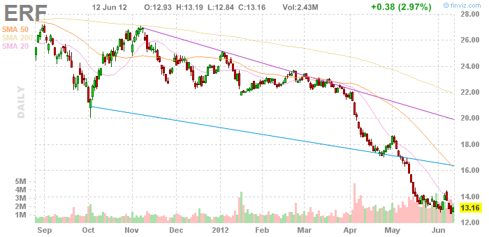 Enerplus reported this large, but largely expected dividend reduction in the middle of a reiteration of its production growth targets for the year, in which the company affirmed that:
"We continue to expect to deliver 10% organic production growth through a capital spending program designed to increase crude oil production significantly throughout the year and preserve the value of our core natural gas assets for the future."
For many months now, it has been speculated that several high yield exploration and production companies would have to reduce their payouts. In April, natural gas prices declined to generally unexpected lows, and though they subsequently rebounded in late April and into May, they still remain depressed and have again trended lower through June.
See below for a recent performance chart for Natural Gas:

Additionally, crude oil prices spent most of May in a state of free-fall, declining around 20 percent. See a recent performance chart for crude oil:

The result of these declines in energy commodities has a clear affect upon E&P companies. Due to natural gas exposure, many have estimated that several high yield Canadian energy companies such as Enerplus, Penn West (NYSE:PWE) and Pengrowth (NYSE:PGH) may have to reduce their dividends due to these declining commodity prices, as well as growing production and development costs.
As a result of these expected cuts, as well as reduced reserve valuations, these companies have sustained considerable equity declines over the last several months. See a year-to-date comparison chart for these three companies below: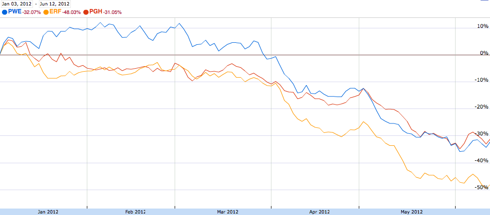 Enerplus is the only of these companies to cut its dividend so far this year. It may not be the last. Perhaps now that one company has announced a reduction, another will soon follow.
Enerplus did have a much higher yield to start off with, so it may be expected that dividend cuts by comparable companies may not be as significant as this 50 percent move. Nonetheless, some cuts are clearly expected by the market. Even after cutting the dividend in half, Enerplus will still yield about 8.3 percent based upon its Tuesday closing price, which is around what ERF shares yielded during 2011.
In the short term, this dividend cut is likely to hurt ERF shares, as well as some of its peers, but much of this cut has already been priced into the shares. Over the longer term, a dividend cut appeared inevitable and ERF's decision to make its cut in advance of another comparable company will probably save it some more pain, and also help improve its financial condition going forward.
Disclosure: I am long PGH.