Selling naked puts is a great way to purchase shares in companies you like at a predetermined price. In essence, you are getting paid to put in a "limit order." In the case of Sirius XM Radio Inc. (NASDAQ:SIRI), this strategy should only be employed if you are bullish on the long-term prospects of the company.
Benefits associated with selling puts
In essence, you get paid for entering a "limit order" for a stock or stocks you would not mind owning.
It allows one to generate income in a neutral or rising market.
When you sell a naked put you are in a way acting like an insurance agent. The Seller of the option agrees to buy the stock in the future if it drops to a certain level before the option expires. For this, you (the seller) are paid a premium upfront. If this strategy is repeated over and over again, these premiums can really help boost you returns over time.
Acquiring stocks via short puts is a strategy widely used by many retail traders and is considered to be one of the most conservative option strategies. This strategy is very similar to the covered call strategy.
The safest option is to make sure the put is "cash secured." This simply means that you have enough cash in the account to purchase that specific stock if it trades below the strike price. Your final price would be a tad bit lower when you add the premium you were paid upfront into the equation. For example, if you sold a put at a strike of 20 with two months of time left on it for $2.50; $250 per contract would be deposited in your account.
Most put options expire worthless and time is on your side. Every day you profit via time decay as long as the stock price does not drop significantly. In the event it does drop below the strike you sold the put at, you get to buy a stock you like at the price you wanted. Time decay is the greatest in the front month.
The majority of traders opt to close the put out prior to expiration if they have the chance of buying it back at a much lower price. For example, selling the put at $2.50 and buying it back at $0.50
Reasons to be bullish on Sirius XM Radio :
It owns an extensive satellite network that provides audio content through over 170 channels. Subscribers grew to a record 21.9 million, up 8.4% year over year.
Management has stated that it expects to add 1.3 million new net subscribers in 2012.
Management raised adjusted EBITDA to $875 million for 2012.
It reported record revenue of $3.10 billion up 7% year over year.
In December of 2011, it launched SIRIUS XM.20 product suite. This product includes Wi-Fi, Bluetooth, and internet and will expand its bandwidth by another 25%.
It launched new Mexican and Latin channels; these include Spanish news channels and also channels that provide sports commentary in Spanish, which is intended to target the lucrative Hispanic market.
S&P upgraded its credit rating from "BB-" to "BB" and stated that its overall outlook for Sirius XM is stable.
A positive levered free cash flow of $466 million
Net income increased from $-352 million in 2009 to $427 million in 2011.
Cash flow per share soared from $0.04 in 2009 to $01.9 in 2011.
It has a strong projected 3-5 year EPS growth rate of 25%
A strong five year sales growth rate of 33%
Year over year projected growth rate of 5.3% and 28.8% in 2012 and 2013 respectively.
Operating margins of 29%
A strong ROE of 79%
A strong quarterly earnings growth rate of 38%
Click to enlarge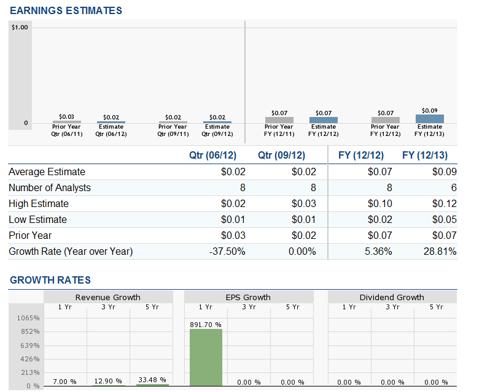 Click to enlarge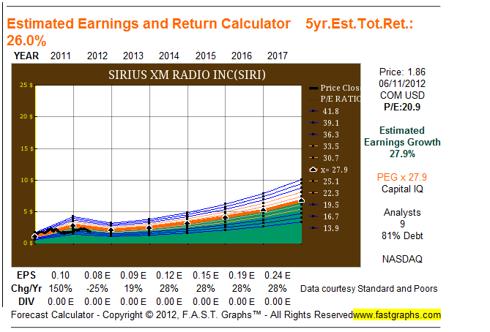 Click to enlarge
Suggested Put strategy for Sirius XM Radio: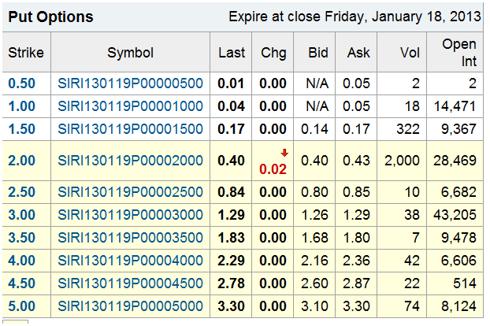 Click to enlarge
The Jan 2013, 2.00 puts are trading in the $0.40- $0.43 range. We will assume that the puts are sold for 40 cents. For each put sold, $40 will be deposited into your account. One is usually assigned the shares if the stock trades below the strike price on the expiration day. Once in awhile the shares can be assigned to your account before the expiration date. If this had to occur say tomorrow, your final price would be 1.60 (2.00 minus 0.40) and so you could potentially turn around and sell the shares at a profit.
If the stock is trading above the strike price then the shares will not be assigned to your account and you get to walk away with the premium, which in this case works out for a gain of 20%. So, in theory, this non dividend stock was converted into a short-term paying dividend stock and the yield of 20% is excellent for a period of just 8 months. Most of the high flying divided stocks pay significantly lower dividends.
Risk factor
If the stock trades below the strike price, the shares could be assigned to your account.
Conclusion
If you are bullish on a stock this is a great strategy to employ, as it provides you with the chance to get into a stock at much lower price (one of your choosing) and if the stock does not trade below the strike price, you get to keep the premium. Investors looking for other ideas might find this article to be of interest: Caterpillar: A Yield Boost Of 12% Or A Lower Entry cost

EPS and Price Vs industry charts obtained from zacks.com. A major portion of the historical data used in this article was obtained from zacks.com. Option table sourced from yahoofinance.com. Earnings and growth estimates sourced from dailyfinance.com.
Disclosure: I have no positions in any stocks mentioned, and no plans to initiate any positions within the next 72 hours.
Additional disclosure: We might sell puts on SIRI within the next 3-4 trading days.
Disclaimer: This list of stocks is meant to serve as a starting point. Please do not treat this as a buying list. It is imperative that you do your due diligence and then determine if any of the above plays meet with your risk tolerance levels. The Latin maxim caveat emptor applies - let the buyer beware.