Investors in Phase Forward (PFWD) have to be disappointed with the way things are turning out. The stock peaked above $25 only 2 short months ago and now trades near $16 for a hearty 36% decline. Granted, the stock had moved up in an exceptional run last October as the company posted solid earnings growth, but all of those gains have now been wiped out and then some.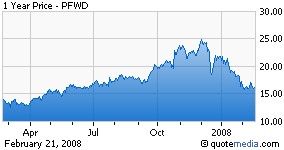 After happening upon the dreary pattern, I dug a bit deeper and found that there were very few if any analysts who had a negative opinion on the stock. Yet at the same time, the projected earnings for 2008 come in at a 42% discount to the amount the company earned per share in 2007. Part of the reason for this earnings decline is the fact that the company will no longer be able to receive preferential tax treatment as all of the company's Net Operating Loss (NOL) credits have been used up. But a 42% decline in earnings is much more than any tax issue coming into play.
While the company is guiding for higher revenues next year, the margins are set to contract significantly due to a difference in the sales mix. Previously, the company has received a larger portion of revenue from licensing their software which enables data capture for clinical trials. The license fees have huge margins because there are only minute costs associated with licensing a software product that has already been developed and paid for. More recently, the company has been selling ASP services (Application Server Provider) where PFWD actually hosts the application on their own hardware and allows clients to log in and use the service. This is a more expensive endeavor because it requires hardware expenses, human resources, connectivity etc. So as revenues trend higher, the company is actually benefiting less and less from the incremental dollars.
Long-term, the company is still expected to grow profits, although at a decelerating level. However, management appears less and less willing to provide investors with key information as the most recent conference call featured management indicating that they will no longer supply backlog or deferred revenue figures. These are key statistics that investors use to project future revenues and earnings. If management takes this visibility away from the market, it is very likely that the market will assign a lower multiple to the stock due to the higher risk. The adage "Wall Street hates uncertainty" certainly applies at this point and there will likely be little tolerance for this move.
Finally, the clinical software market is very competitive with several large players. An analyst asked a question about Oracle's new product in the space and the question was met with a bit of defensiveness. While management does not believe new offerings by competitors will cut into market share, there seems to be some difficulty in assessing what the long-term affect of competition in this market will be.
The bottom line is that while the stock has a much more attractive multiple than at the turn of the year, risk is still predominant in this security and the time for bottom fishing is likely not here yet. Aggressive traders may wish to take a short position and wait for panic selling as momentum investors continue to bail out of this name. Long-term the stock will likely have a much lower multiple to reflect stable but less attractive earnings growth.