For a company that reported steady results closely resembling those of the year prior, One Liberty Properties (NYSE:OLP) has had some massive price fluctuation. From low to high this year, its price has changed over 17% and fluctuations of nearly this magnitude occurred multiple times.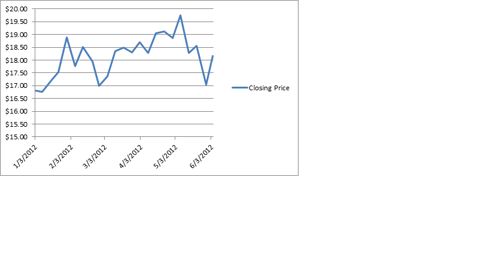 While REITs as a whole this year (based on RMZ) have also fluctuated a fair amount (just over 13% from low to high) the changes were smoother and less sudden. What caused such drastic price behavior for OLP, and why is this useful to know?
Causes
An unstable global economy has created erratic behavior throughout the market, but the effect is amplified on OLP and other small market capitalization issues. With larger companies, strong institutional following keeps the prices somewhat normalized, but with a market capitalization of only $263mm there is less volume and fewer traders to buffer irrational sell-offs. Since there was no company related news or events preceding the drop, we can attribute it to the erratic market.
Opportunity
On June first, OLP closed at $17.03 compared to $18.82 the week prior (8.2% drop) whereas the whole retail sector only dropped 3.1%. Any time the intrinsic value of a company remains virtually unchanged during a massive price fluctuation, it logically follows that it was either overpriced before, or a good value afterward. In either case, an investor who is well versed in the company can spot the opportunity and seize it. In the case of OLP, a yield of 7.75% at the discounted price along with sturdy performance suggests that $17.03 was the opportune entrance price. As OLP has since risen back over $18.00, much of the window of opportunity has closed, but the continual price volatility suggests that new windows will open. Knowledge of the internal performance of One Liberty Properties allows us to better spot such windows.
We will start by looking at the first quarter's performance. Both revenue and FFO are up from the year prior, but new shares were issued so these metrics remain essentially flat on a per share basis. With $0.38 FFO per share in the first quarter, the $0.33 dividend from the same period is sufficiently covered. Much of the increased revenue was from new acquisitions, 4 of which were in the first quarter of 2012. Funds were obtained for these purchases through the use of a credit facility at a rate of 5.5%. While this seems expensive in the current environment of extremely low interest rates, it is a fairly typical rate for such a small company. With the $9.8mm 2012 acquisitions producing annual rent totaling $769,000, the cap-rate of approximately 7.8% is sufficient to cover interest while enhancing cash flows. Ample liquidity and an aggressive business strategy suggest continued acquisitions in the near future. Further research into the efficacy of its rapid and continuous acquisitions may provide some insight as to the company's outlook.
One Liberty Properties is a net lease REIT focusing most of its portfolio in the retail sector. Presently, leasing revenues are stable due to over 97% occupancy and a weighted average leasing term of over 8 years. Greater than 20% insider ownership aligns management with shareholders, so we may see an increased dividend if FFO allows.
Overall, OLP seems like a fairly strong company but the true source of opportunity is the recurrent price volatility. If the trend continues, look to pick it up at a price with excellent yield and capital gain opportunity.
Disclosure: 2nd Market Capital and its affiliated accounts are long OLP
Disclosure: I have no positions in any stocks mentioned, and no plans to initiate any positions within the next 72 hours.