A company that will benefit greatly from the macroeconomic events unfolding now in the natural gas market is Westport Innovations (NASDAQ:WPRT). I discussed, in detail, the migration to natural gas for a transportation fuel in my article titled "The Case for Natural Gas as a Transportation Fuel".
(Click to enlarge)

Within that article, written in March 2012, I explored the pricing differential between diesel and natural gas costs. Since March, fuel prices have gone through a period of dramatic change and I thought it prudent to revisit our analysis. By reviewing critical points we can determine if the investment thesis still holds true or needs to be adjusted.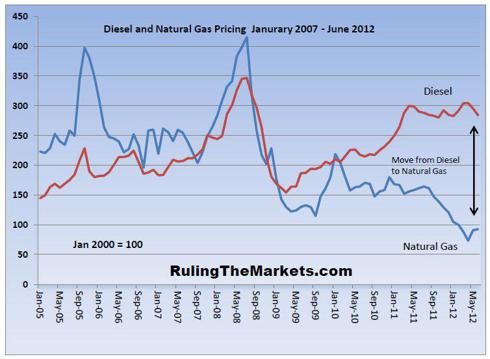 The chart above graphically illustrates the current pricing differential between diesel and natural gas as of June 2012. This pricing differential is the single most important factor for investing in natural gas-related companies. As this price gap holds, businesses will continue to adopt natural gas as a transportation fuel.
This confirms our investment thesis.
Disclosure: I am long WPRT.
Additional disclosure: This work is based on public filings, public events, interviews, corporate press releases, and what I have learned as financial journalists. It may contain errors and you shouldn't make any investment decision based solely on what you read here. It's your money and your responsibility.