I keep track of investor interest concerning several different groups of stocks using the email subscriber data from Seeking Alpha. You can find some background here: The Seeking Alpha Interest Index: What's Hot, What's Not? In the database of real estate investment trusts - REITs - the least popular stock by the Seeking Alpha subscriber numbers is RLJ Lodging Trust (NYSE:RLJ). With a $1.9 billion market cap, RLJ Lodging is not small by REIT standards. The company's market value is right at the median point for the 140 or so publicly traded REITs. The IPO for RLJ Lodging was just a year ago in May 2011. However, the company was spun out of private equity funds which have been operating in the same line of business since 2000.
RLJ Lodging is in the lodging/ hotel business, owning "premium-branded, focused-service and compact full-service hotels." Brand names of the owned hotels include Courtyard by Marriott, Residence Inn by Marriott, Hilton Garden Inn, Homewood Suites by Hilton, Hyatt Place and Embassy Suites. RLJ Lodging currently owns 143 hotels in 20 states with over 21,000 rooms.
Lodging REIT companies are evaluated on how many of the hotel rooms a company manages to fill on a average basis and the average collected room rate for those rooms. The two numbers are combined into a metric called RevPAR - revenue per available room. For the first quarter of 2012, RLJ Lodging reported RevPAR of $84.40, up 3.8% from the 2011 first quarter. In the second and third quarters of 2011, the reported RevPAR was $96.48 and $92,52, respectively. The higher per room revenue rates may be due to seasonality.
In 2012, RLJ Lodging plans to spend $95 million renovating or repositioning 45 of its hotels. This spending will complete the company's ongoing two-year capital improvement program. In the 2012 second quarter, the company acquired three new hotels in Washington, D.C., San Francisco and New York City.
An initial dividend rate of 15 cents per share was paid for two quarters following a partial dividend soon after the IPO. For the first quarter of 2012, the dividend was increased by 10% to 16.5 cents. In the first quarter, adjusted funds from operations was 27 cents per share, providing plenty of coverage for the dividend. The current yield for RLJ Lodging is 3.7%. This is lower than competitive lodging REITs such as Summit Hotel Properties (NYSE:INN) yielding 5.4% and Hersha Hospitality Trust (NYSE:HT) paying 4.5%. On the flip side, a significant number - 4 out of 13 of lodging REIT companies pay little or no dividend.
RLJ Lodging Trust rates as a speculative buy on the prospects for continued dividend growth and the company's attractive niche in the hotel/lodging market.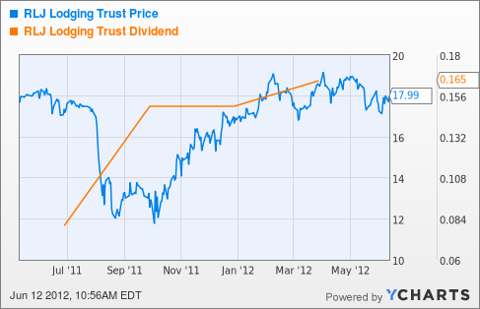 Disclosure: I have no positions in any stocks mentioned, and no plans to initiate any positions within the next 72 hours.