The social media space has had several of its major players come public over the last year. Much has been written about Facebook (NASDAQ:FB) and its recent IPO debacle and subsequent 30% decline which have effectively shut the IPO pipeline, especially for social media concerns, for the time being. However, other social media IPO's have performed even worse. Groupon (NASDAQ:GRPN) has lost almost 2/3's of its value since its debut in November and Zynga (NASDAQ:ZNGA) has been cut in half since it came out in December. So what are the prospects of these firms going forward?
Facebook - I was wary of the valuation on this overhyped IPO from the beginning. Since the IPO we have learned that revenue is slowing and the company is more challenged with the migration to mobile than most investors were led to believe. That being said, Facebook is a company with almost one billion users. It has real and growing earnings and revenues. Although I still believe the stock is overvalued and could fall to $20 a share in the medium term, it does seem to have found a near term support level over the last few days. I can neither go long or short this equity and have it as a "neutral" now.
Groupon - The decline in this stock is hardly surprising given its pre-IPO accounting issues and immature management. First the positives. Analysts expect the company to earn 70 cents a share in FY2013, they have a median price target of $17 a share on GRPN, the company has over $1B in net cash on the books and its revenues are growing rapidly. However, there is no moat around its business model, and it faces increased competition from deep pocketed rivals like Amazon (NASDAQ:AMZN) and its "local deals" mass emails. One piece of good news is one of its primary competitors, LivingSocial, is unlikely to be able to go public in the near future now. I think the money has been made on the short side and I cannot go long due to concerns on Groupon's long term viability. Avoid.
Zynga - After its 50% decline, its valuation is actually reasonable on a P/E and P/S basis. I am actually positive on the stock for myriad reasons and own an out of the money bull put spread position on this equity. I am concerned about the migration of social gaming to mobile and the company's dependence on Facebook. The one move I wish the company would make is to buy another company I own in the mobile gaming space, Glu Media (NYSEMKT:GLU).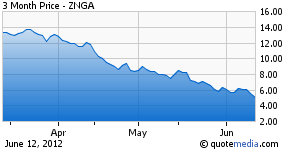 Why ZNGA should buy GLUU at $6 (40% premium to current price) in an all cash deal:
The acquisition would immediately establish Zynga in the mobile space and help lower its dependence on Facebook.
Based on the speculated $6 takeout price and current analysts' earnings estimates, the acquisition would add approximately 4% to Zynga's FY2013's earnings before operational efficiencies.
The synergies and cost savings are likely to be significant as well. Both companies are located in San Francisco and target roughly the same users (albeit one in mobile), so there is likely to be substantial overlap and cost synergies.
Most importantly, it would make me money on both sides of the deal (sorry, but I am a self-interested investor after all).