Several important data points were released in the past week. The stocks started the week with a mixed investor sentiment. While Dow Jones started in the red territory, Nasdaq composite and S&P 500 were up by an inch on Monday. The disappointing jobs data initiated new rumors regarding a third round of monetary expansion. Thanks to these rumors and a better-than-expected reading on the services sector, stocks edged higher on Tuesday. The stimulus speculations gained momentum on the following day. As traders speculated on additional stimulus packages, the U.S. equities posted their best day of 2012. Meanwhile, China made a surprise cut in the benchmark interest rates. While the interest cut initiated a positive spike on the stock markets, Bernanke's confusing statements on monetary easing faded the early stock rally. President Obama's statements on bolstering U.S. jobs growth had a positive impact on equities, and the markets closed higher on Friday. I expect the positive momentum to keep going on this week. The stocks did not make a bullish start this week, but the European markets seem to be doing fine so far.
Amid this investing atmosphere, several stocks made it to new lows in the past week. A stock is usually considered oversold, when the relative strength index slides below 30. That does not mean that these stocks are dirt-cheap. I would rather consider them as out-of-favor stocks, under short-term selling pressure. Investors have a tendency to panic when their stocks show a strong negative performance in a short period. Therefore, these stocks might offer good opportunities for contrarian investors. Based on the Relative Strength Index (RSI) indicator, I noticed five stocks that are being dumped by the investors. Let's see, why these stocks are in the oversold territory, and whether they can be good contrarian picks after making significant losses recently.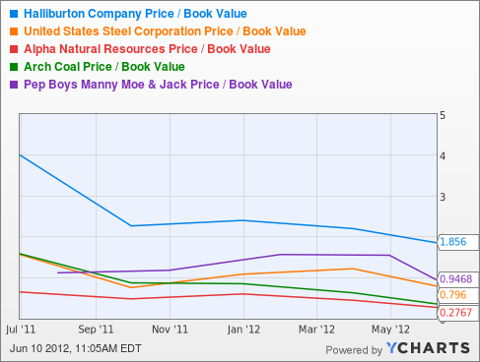 HAL Price / Book Value data by YCharts
Halliburton (NYSE:HAL)
Established in 1919, Halliburton is one of the oldest oil companies in the U.S. Established The Houston-based Halliburton is a truly global energy company, providing various services and products to the oil and gas companies in more than 80 countries. This year has not been a good one for the basic material companies, but it has been an exceptionally bad one for Halliburton. The company lost near 18% of its market cap in 2012 alone.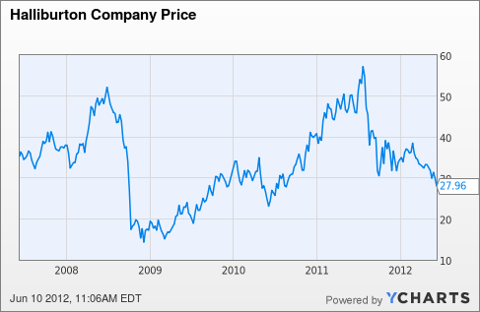 HAL data by YCharts
Halliburton reported an operational update on Wednesday. According to the news release, Halliburton experienced an increased cost for guar gum, an agricultural commodity that is used as a blending additive in the process of hydraulic fracturing. Due to the rise in the price of guar gum, Halliburton now expects its margins to be about 500 basis points lower than the previous quarter. While commodity stocks averaged a gain of 3.5%, Halliburton closed the week about 6.5% lower than it started. With an RSI index of 29, it just fell into oversold territory. I do not think that the stock could go any lower. It is priced with attractive ratios and offers a modest yield of 1.3%. FBR has an outperform rating with a price target of $50. That is almost 100% upside potential from the current valuation.
At a price of $28, and a forward P/E of 7, Halliburton looks like a good deal to me. From a technical point it is obvious that the stock has fallen too much too fast. That is another reason to rate Halliburton as a buy.
U.S. Steel (NYSE:X)
Founded in 1901, with headquarters in Pittsburgh, U.S. Steel is one of the largest steel mill producers in North America and Europe. The company operates in Flat-rolled products, U.S. Steel Europe, and Tubular Products segments. Steel stocks are highly cyclical and they tend to have extremely high Beta values. U.S. Steel is no exception. The stock is trading with a Beta of 2.43, which is even higher than that of Bank of America (NYSE:BAC).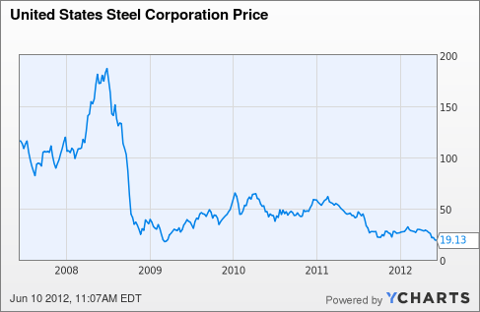 X data by YCharts
After losing almost 27% of its market cap in this year alone, I think U.S. Steel is deep into oversold territory. U.S. Steel is trading lower than its book value, and the P/S ratio of 0.14 is one of the cheapest in the market. I think rising automobile sales, and heavy construction in emerging markets could be great catalysts for the long term. I am not sure, whether U.S. Steel reached its bottom, but I think it is trading somewhere close to the bottom. UBS has a buy rating with a target price of $47. That is almost 150% upside potential.
Alpha Natural Resources (ANR)
Established in 2002, with its headquarters in Virginia, Alpha Natural is one of the leading coal miners in the U.S. The company operates several mines and coal preparation plants in the Appalachian and Powder River Basin regions. Its customers include steel-processors, manufacturing industries, as well as energy producers. Alpha Natural has a relatively clean balance with a debt/equity ratio of 0.40. After its market cap is slashed by almost 80% in a year, the stock is trading well below its book value. Last week has also been another bad one for investors. After announcing that it will close several mining fields, the stock lost almost 10% in the past week alone.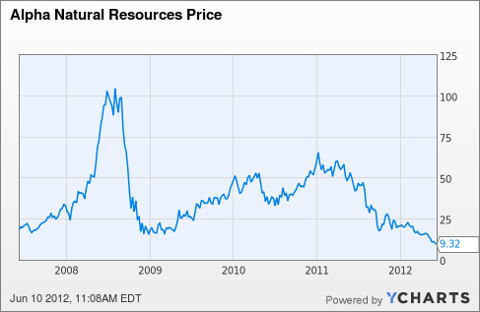 ANR data by YCharts
One question that comes to investors' mind is, are we at the bottom or not? First of all, the business prospects for coal miners are gloomy. The sharp fall in natural gas prices induced many utility companies to switch to natural gas instead of coal. Next, the trend in the world is to reduce emissions and choose low-emitting energy sources. On the other hand, the stock looks too cheap to ignore. Its net profit margin is negative, but it has a gross margin of about 14%. That leaves substantial room for reorganization and cost reduction to become profitable. Besides, a rise in natural gas prices could be another catalyst for coal stocks. Therefore, I rate this one as a hold for the moment.
Analysts are bullish about the company though. They expect a double-digit EPS growth over the next 5 years. If their estimates hold, Alpha Natural can be an outperformer. Barclays has an overweight rating with a target price of $32, implying more than 50% upside potential in middle term.
Arch Coal (ACI)
Arch Coal is another coal producer that fell deep into oversold territory. Last year has been a tough one for coal companies, including Arch Coal. Its earnings declined by 24%, and the stock lost almost 77% in a one-year period. $13 was a solid support level, but the stock could not resist the sell-off pressure. Currently, Arch Coal trades at $6.10, which is near its 52-week low.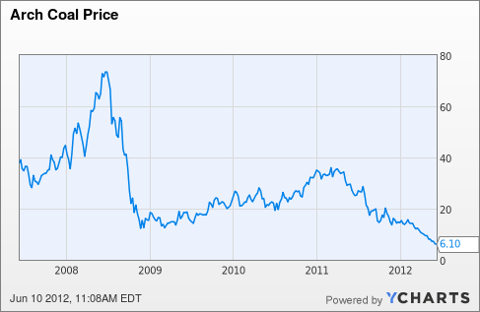 ACI data by YCharts
The future of coal producers depends on the price of substitutes. Most energy producers are flexible when it comes to their input use. Since natural gas prices are near their historical lows, several energy producers switched to natural gas as their primary input. Nevertheless, after losing two-thirds of its market capitalization, Arch Coal looks like a good deal. It is trading at 64% discount to its book value. UBS has a buy rating with a target price of $11, which implies about 80% upside potential. Insiders are pretty bullish on the stock, as they have made several purchases recently. (See here and here)
PEP Boys - Manny, Moe & Jack (NYSE:PBY)
Pep Boys is one of the most popular auto parts distributors in the U.S. The company operates more than 550 super centers, 160 service & tire centers, and 7 pep express stores across continental U.S. and Puerto Rico. At the beginning of this year, private equity company, The Gores Group offered a $1 deal for the company. That is about $16 per share. I do not know how the deal was blown off, but it just did not work out for the company. And the stock suffered a loss of about 50% since the deal is broken.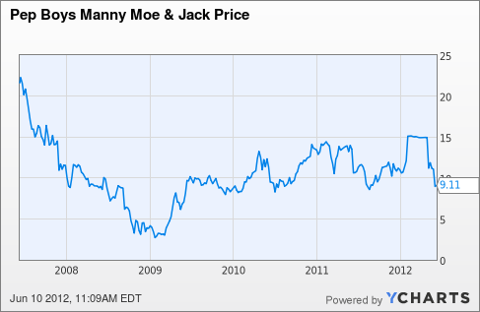 PBY data by YCharts
At the current valuation, I think Pep is undervalued. Sure, $1 billion might be too high, but a modest PE ratio of 20 suggests a valuation of around $11-$12. Any price below this level could be a good entry point. Given the high cost of labor in automobile mechanics, Pep Boys has a solid business model. You can find almost anything in the centers, and depending on your communication with the sales people, you cannot only get free advice, but also maybe some physical help as well.
Disclosure: I have no positions in any stocks mentioned, and no plans to initiate any positions within the next 72 hours.