Friedman Billings Ramsey (NYSE:FBR) has done a nice job winning me over ever since I questioned their use of the REIT structure a couple months ago. At that time, I wondered if FBR might be considering a partnership conversion. After reading through the Q407 earnings call transcript, I think FBR is back on track to succeeding as a REIT.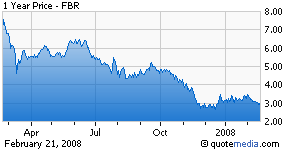 FBR has done an excellent job of restructuring its balance sheet, dumping the riskiest assets and eliminating commercial paper as a source of funding. The company has deployed the capital freed from asset sales into the purchase of agency-backed securities, a return to FBR's "core business, the conservative substantially hedged agency mortgage backed security strategy." Most importantly, FBR has set itself up to generate qualified REIT income through its mortgage management segment, which may help FBR to monetize its $372 million of net operating loss carry-forwards and $268 million of capital loss carry-forwards. At a minimum, the NOLs will allow FBR to retain tax-free earnings at the REIT and shield the Company from a dividend obligation. It may choose to repurchase shares, since FBR is trading once again below economic book value of $3.10/share (including the expected FNLC recovery).
FBR very nearly destroyed itself by trying to do too much within the REIT umbrella, as active mREITs and those with numerous nonqualified activities can quickly stretch themselves too thin.
Disclosure: none