My focus for the analytics of precious metals is focused on: Gold Indices, the ETF, SPDR Gold Shares (NYSEARCA:GLD) and ten Mining Companies. Another couple ETFs I like are (NYSEARCA:GDX) and its junior partner (NYSEARCA:GDXJ). Typically, gold and silver along with the above securities all move in sync. I am in the midst of pulling away from that theory and treat gold and silver separately. My ten mining companies are listed and rated in the table below.
My current recommendation for gold is to continue to hold cash. Any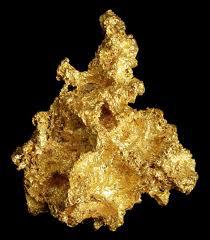 resumption of any rally is sometime down the line, definitely not now.
We all know that investors in gold lean heavily on their position that gold, over time, works as an inflation hedge. This position or thought carries with it some meaningful time periods of argument.
Over the very long term, (see the below chart (1974 to date) this graphic shows two positive exponential gains and one very long declining period that convinces me that gold is not what you are lead believe by many authors. I suggest that any investment that goes up more than inflation can be considered an "inflation hedge." Obviously, as with any other asset, it matters greatly at what levels you buy it. Perhaps even more important is when you sell it. At the tail end of a giant bull market, gold as in any other over-inflated asset does not hedge inflation properly. Misconceptions of facts and data can be very expensive!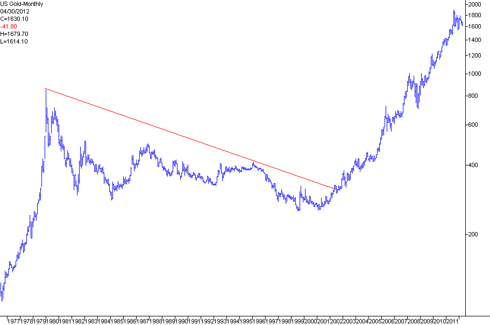 Click to enlarge
The above very long-term graphic of gold's performance, offers a clear perspective of why there are no sure bets, to lean on for making money. What appears to be golden can often be a major disappointment. Investors who bought gold in late 1979 or early 1980, spent 20 years absorbing losses. Not only didn't gold compensate for inflation, it compounded its negative effects on purchasing power and your portfolio had some meaningful hurt.
More recently, gold has been a disappointment to many investors while it has been mostly treading water. Gold is trading well beneath its all-time high of $1,924 an ounce on September 6th and well above its subsequent low near $1,520 which took place in late December. Most investors expected higher prices for gold this year. Since late January the price of gold has declined about seven percent. I advised clients last November to sell all precious metals and hold cash.
If you need some encouraging news, I suggest you stay tuned to my future articles on gold. I also reference another author below that you might want to follow. In all due respect there is very little good advice being published on gold, silver and precious metals. Analyzing the fundamental situation and staying close to the news is important, but the analysis would be incomplete without referring to long term technical charts.
Supply and Demand for Gold
As an economist I have many thoughts when I ponder gold as a commodity and as well as a currency. Understanding the chart below answers a number of those thoughts. The current bull market for gold that has lasted about a decade and has quite possibly been sustained by the more recent increase in the production of gold. Beginning in 2007, mining companies reversed the downtrend and for over 3 years, gold production has been on the rise. Scarcity is a principle that says if the demand is greater than the supply prices will typically rise. This information and data is something to consider when thinking about where gold is heading in the coming months and years.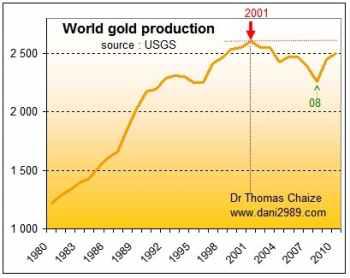 ETFs Rated
| | | | |
| --- | --- | --- | --- |
| ETF- Symbol | Price | Rating & Direction | Guidance |
| GLD | $158 | 72 / C - - descending | Hold cash, the next move is down. |
| GDX | $46 | 68 / D - - descending | Hold cash, GDX is weaker than GLD. |
| GDXJ | $21 | 65 / D - - descending | Hold cash, GDXJ is the weakest of all. But, it may very well signal the next bullish inflection point. |

Click to enlarge
Gold Miners Valuated
Company / Symbol

Price

Valuation Divergence -- percent (%)

Six Months to One Year - Projected from a Mean - Sigma and from the next - - Bearish Inflection Point.

Rating & Direction - - (ascending / status quo / descending)

Guidance

Barrick Gold Corp. (NYSE:ABX)

$39.

Minus - 18%

73 / C - - descending

ABX does not have a positive valuation, and technically it is in a clear down trend. That means holding cash is the current prudent investment strategy. A pull back could be followed by a meaningful rally!

Goldcorp, Inc. (NYSE:GG)

$39.

Minus - 18%

73 / C - - descending

(Same as the above - ABX)

Newmont Mining Corp. (NYSE:NEM)

$50.

Minus - 18%

73 / C - - descending

(Same as the above - ABX)

Kinross Gold Corp. (NYSE:KGC)

$8.25

Minus - 20+%

68 / D - - descending

KGC has a poor valuation and the price is down over 70% from its highs. It would not be a candidate for buying, unless you are prone to absorb much greater risk! Hold cash.

Randgold Resources Ltd. (NASDAQ:GOLD)

$88.

Minus - 10%

70 / C - - descending

GOLD has a poor valuation and a good technical prospect for a rally. I need both valuation and the charts before I recommend a buy. So, it is cash for a while longer.

Yamana Gold, Inc. (NYSE:AUY)

$16

Minus - 10%

82 / B - - descending

AUY has both a positive valuation and by far the strongest technical position. You might like to know that I always wait for other peer companies in an industry group before buying the ones that seem to be leading a future rally. Hold cash for a while longer.

Eldorado Gold Corp. (NYSE:EGO)

$12

Minus - 20+%

67 / D - - descending

EGO is currently in the negative category of this list. Hold cash.
Source of raw data: Yahoo Finance & Finviz.
Notes for the above table: Valuation Divergence is a calculation from the raw data and produces a probable price for the intermediate-term. I used a matrix of Fundamental Valuation & Technical Opinion is calculated and translated into a Rating & Direction. Ratings below 90 / A are not current (never are) candidates for buying. I suggest cash and patience as an alternative for taking bearish positions.

Click to enlarge
Industry Status
The gold and mining industry is and has been weak for almost a year. This fact is applicable, both fundamentally and on the charts. The industry group is

technically in sync with its fundamentals. Under bullish circumstances this would be a positive remark. However, it is clear when looking at the above tables and the charts below that the outlook remains negative. This current situation is not unusual, and only time will provide clarity as to that old question. The question that is yet to be answered is, do you buy, sell or hold? I hope you like my guidance in your search for profits.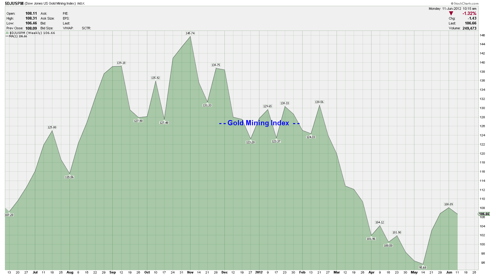 Click to enlarge
My criterion for taking a bullish position is that the company as well as the industry group must have the prospect within its fundamental valuation and technical chart to outperform the general market, its sector, and industry group.
Gold and the General Stock Market
As for gold, I use the Indices such as $GOLD, $GDM and $DJUSPM. For the general market, I use the New York Composite Index and the Nasdaq Composite Index. Both are represented well by their respective ETFs: for the NY, it is the SPDR S&P 500 (NYSEARCA:SPY) and for the Nasdaq, it is the PowerShares QQQ Trust (NASDAQ:QQQ).
Whether I am looking at a commodity or the general market, I am most interested in the identification of the ever-cycling bullish and bearish inflection points.
The charts below offer a one-year and a ten-year view of how the gold tracks the general market and vice versa. The long-term chart above makes clear that the history of gold tracking the general market is not all that reliable.

Click to enlarge

Click to enlarge
I also mentioned above that I no longer look at gold and silver tracking each other reliably. This marketplace and the economies around the world are becoming very independent of each other. That means what has tracked 'reliably' in the past may not track the same in the future. I hope you will take note of these remarks and warnings. Gold has its indices and classifications of miners the general market has its own indices, sectors and industry groups.
When I identified the top of the gold run several months ago, I took all my clients to cash for all precious metals. We are holding cash until the next bullish inflection point occurs. I have a simple investment philosophy that says that you're either are long, short or in cash. Cash is the best "safe haven" despite what is said about hedging and using other strategies to maximize profits.
If you have questions or are not convinced by the following charts, I would welcome your Email expressing your thoughts. I will respond with what I believe is an appropriate explanation of my methodology of investing wisely.
For your information, my analytics of the general market is: My current opinion is that the fundamentals are over-valued; the technicals are over-bought, and the consensus opinion is way too bullish. I am currently a bear because my valuations are convincingly negative, and we are in a bearish cycle; it's just that simple!
And, for your information, my analytics for gold is: My current opinion for gold is the same as for the general market, but you must remember that gold is much more dynamic. That means gold is definitely independent of the general market and can and will do what it wants, when it wants to do so!
I will keep you informed. Further and on going support for my guidance for the general market and gold can be read in my weekly "Saturday Update" in my Instablog article.
Summary
Currently, the above tables and charts present a clear and not-so-positive account of these ETFs and the seven mining companies. It is a fact that, the stock market cycles endlessly, both fundamentally and technically, from bullish to bearish and then back to bullish again. Unfortunately, this is a pattern that is not well-understood or taken advantage of by most investors. Just so you don't miss my point; gold does the same thing as the stock market, only it has a different pattern.
Within this present bearish time frame, there is nothing (longer-term) wrong with these ETFs and mining companies. It is simple what happens when they turn bearish, and is just the on-going "cycling effect" of the way the stock market and gold works.
I hope you understand and will continue to follow my work / analytics. It won't be long before I can offer you a bullish and up-beat forecast once again for the general market and for gold. I preach patience and discipline for investing wisely in the stock market. Try using these tools and see if your annual profits don't improve, markedly.
May I remind you to take the time to study my longer-term charts; they too can make a big and positive difference. When buying or selling, taking a longer-term view of a security's price history is often the difference between profits and losses!
Conclusion
I am bearish on both the world economies and the general market and gold. My more recent Instablog postings are focused on securities that should not be currently held in your portfolio. I suggest that it is vitally important for you to understand that holding cash during questionable time frames in the marketplace is a much wiser choice than holding your present security's positions. I can assure you that; this is definitely a "questionable" time frame!
Further and on-going support for some of these companies and ETFs current status will be posted this coming Saturday. My "Saturday Update" can be read weekly in my Instablog article.
Have fun, investing wisely.
Disclosure: I have no positions in any stocks mentioned, and no plans to initiate any positions within the next 72 hours.