Aunt Mitzi Speaks Out of Turn
In a somewhat amusing slip-up, Austria's finance minister Maria ('Mitzi') Fekter decided to continue the tradition of putting her foot in her mouth at inopportune moments by suggesting that Italy would be the 'next country that requires a bailout'.
Mario Monti was less than amused by the public airing of this assessment - never mind that it certainly has a chance to turn out to be true, judging from Italy's bond yields.
"Raising the stakes in Europe's debt crisis, Austria's finance minister said Italy may need a financial rescue because of its high borrowing costs, drawing a sharp denial on Tuesday from the Italian prime minister.

Maria Fekter's assessment of the euro zone's third largest economy stoked investors' fears that Europe is far from ending 2-1/2 years of turmoil - a feeling reinforced by Dutch Finance Minister Jan Kees de Jager, who said the euro zone was "still far from stable".

A deal by euro zone finance ministers on Saturday to lend Spain up to 100 billion euros ($125 billion) to recapitalize its banks was seen by many in the markets as yet another sticking plaster. Spanish 10-year bond government yields soared to 6.81 percent, their highest level since the euro's launch in 1999.

Euro zone rescue funds, already stretched by supporting Greece, Portugal, Ireland and soon Spain, might be insufficient to cope with Italy as well, Fekter said in a television interview on Monday night.

"Italy has to work its way out of its economic dilemma of very high deficits and debt, but of course it may be that, given the high rates Italy pays to refinance on markets, they too will need support," Fekter said.

She sought to soften her remarks on Tuesday, saying she had no indication Italy planned to apply for aid.

Italian Prime Minister Mario Monti, asked by a German television network whether his country would need a bailout, said: "I don't believe so."

Earlier, he called Fekter's comments "completely inappropriate" for an EU finance minister. Euro zone officials said they were deeply unhelpful.

Amid the cacophony, Italian 10-year bond yields also rose further as the aid deal for Spanish banks failed to ease doubts about Madrid's ability to fund itself, fuelling wider contagion fears."
(emphasis added)
That's actually quite a climbdown, going from "completely inappropriate" to "I don't believe so". So Monti isn't quite sure either whether Italy will escape unscathed. The markets, however, were quick to give voice to their worries. Spain's 10-year yield climbed back to its November panic highs (no surprise there, we always expected it to eventually follow the run-up in the CDS on Spain), and Italy's 10 year yield went well over 6% - however, both yields settled a tad below their intra-day highs.
---
Click to enlarge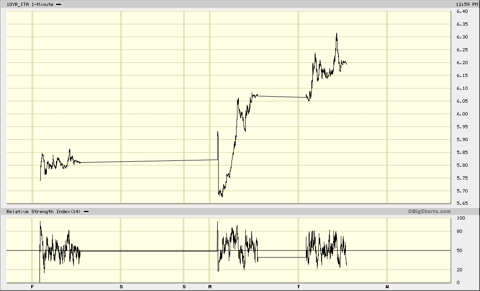 Click to enlarge
Italy's 10-year yield settles just below 6.20% in European trading on Tuesday.
---
As Alphaville reminds us, a number of analysts believe Italy is in far better condition than Spain or any of the other members of the 'PIIGS' stable, an opinion also shared by Albert Edwards of Societe Generale, and he is not known for his sunny disposition vis-a-vis big debtbergs. Still, it is quite funny to read in what way precisely Italy is held to be better - the following is a quote by Marc Ostwald from Monument Securities:
"Once again we must highlight that while the high level of BTP yields does no favours for the Italian banks, the fact that while Italy's debt to GDP metrics at 120% plus are ugly, its overall outstanding govt debt stands at just short of EUR 2.0 Trln, but the financial sector has savings and assets in excess of EUR 8.4 Trln, and Italy also has a mortgage to GDP ratio just south of 20% (the Netherlands by contrast has an equivalent ratio of 110%!) - so Italy is in fact rather like Japan rather than the popular myth that says it is similar to Spain, Ireland, Portugal, let alone Greece."
(emphasis added)
You can tell how much trouble the euro area is in when you're being told not to worry about its third largest member because it is in a condition similar to Japan's!
Fitch chimed in as well, opining that it didn't think Italy would require aid - however, it also added a qualification: if interest rates fall. What if they don't?
The Reuters article quoted above also contained a few remarks about the 'banking union' idea that has lately made the rounds (so far meeting with German disapproval) as well as on Mrs. Fekter's history of upsetting her euro-group colleagues by occasionally blurting out the truth instead of following the J.C. 'I lie whenever it seems opportune' Juncker line of diplomacy.
First on the 'banking union' fantasy:
"European Commission President Jose Manuel Barroso, European Central Bank policymaker Christian Noyer and French Finance Minister Pierre Moscovici all called on Tuesday for swift moves to create a euro zone banking union.

Barroso told the Financial Times that a cross-border banking supervisor, a deposit guarantee scheme and a bank resolution fund could be put in place in 2013 without changing EU treaties.

EU paymaster Germany has so far rejected a deposit guarantee or a resolution fund, saying they would require treaty change. The Bundesbank weighed in, saying a European banking union could bring advantages only if properly anchored in a fiscal union with powers to stop countries breaking budgetary rules."
(emphasis added)
In other words: it isn't going to happen unless Germany has guarantees that it won't end up paying for everything.
In a summary of Mrs. Fekter's history of diplomatic faux-pas, which actually make her somewhat more endearing than that slick truth-bender from Luxembourg, it turns out that she's not the only one worried about Italy:
"Fekter's typically outspoken comments came after Italy's industry minister dismissed the idea that Rome may need external help, saying reforms adopted by his government so far had put the Italian economy on a sound footing.

Her concerns are shared by one of the German government's council of economic advisers, Lars Feld, who told Reuters that Italy could be next in line.

"Overcoming the troubles in Spain will bring calm to the markets for a while, but the chances are not so small that Italy may also come under fire, in particular as the promised labor market reform has turned out to be less ambitious," Feld said.

The Austrian minister has a record of speaking out of turn. She angered EU paymaster Germany last month by suggesting Greece might be forced out of the European Union over its economic problems.

She infuriated Eurogroup chairman Jean-Claude Juncker in March by rushing out to brief the media on a deal to increase the euro zone's financial firewall before he could make the official announcement. She later apologized.

And when U.S. Treasury Secretary Timothy Geithner was invited to a euro zone finance ministers' meeting in Poland last year to plead for a more robust rescue fund, Fekter said bluntly that Washington should look after its own worse fiscal mess first.

In Brussels, EU officials voiced exasperation at her latest comments on Italy.

"The problem is that this is market sensitive," said a euro zone official, whose position does not authorize him to speak on the record. "It's one thing if journalists write this but quite another if a euro zone minister says it. Verbal discipline is very important but she doesn't seem to get that."
(emphasis added)
The unnamed eurocrat does have a point: there are times when it is better to just shut up. But telling Turbo Timmy to take a hike has to count for something, right?
Taking another look at Spain's 10 year yield, we have noticed an emerging pattern similarity with Greece's 10 year yield chart anno 2010. There can of course be no guarantee whatsoever that the pattern will continue to evolve in a similar manner, but if it does, then we'll presumably be experiencing one of the biggest financial sh*t-storms in history.
Take a look:
---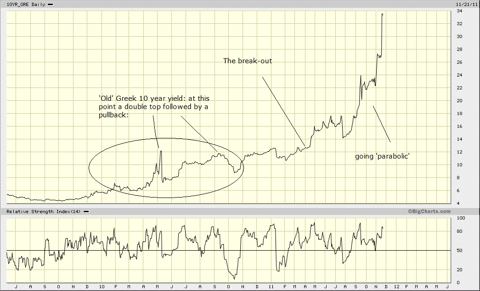 Click to enlarge
The fiscal crisis of Greece went through several stages. After the initial panic peak, yields fell back as the euro-group decided on a bailout mechanism on occasion of its first emergency summit. The French finance minister at the time insisted that anyone who thought that Greece could possibly default was basically not right in the head. Then yields rose to make a double top, only to fall back again for a few weeks when rumors about the Fed's 'QE2' program began. The third advance to the 12% level was followed by a breakout after which yields went 'parabolic'.
---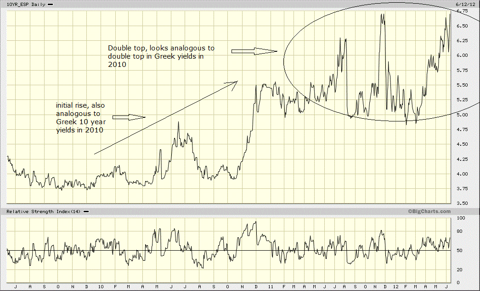 Click to enlarge
This is Spain's 10 year yield - the period denoted by the ellipse is very similar to the double top in Greece's bond yield in 2010. If the pattern similarity continues, then it should now pull back for a little while, and then break out to even higher levels after the next run-up.
---
One probably shouldn't bet the farm on a repeat of the entire pattern, but since we noticed the similarity, we thought we should show point it out to our readers - it is something to keep at the back of one's mind as things progress from here.
Incidentally, Fitch has cut the ratings of yet another 18 Spanish banks on Tuesday. This is slightly odd timing, given that the banking sector is getting a big bailout, but there it is.
That Didn't Take Long: Ireland Wants Better Terms
On Monday, we wrote regarding Spain's bank bailout:
"Other countries that have become wards of the EFSF, or rather wards of the 'Troika', probably are none too pleased that they had to submit to a far more rigorous regime."
Not only were they not pleased, the apparently don't quite see why they should not get the same terms. The most logical candidate has now spoken up, namely Ireland. Ireland's situation is indeed quite analogous to Spain's: the only reason the government needed a bailout was that could in turn bail out the country's banks which had become insolvent after the bursting of a massive property bubble.
As the APF reports, the Irish now want to renegotiate their bailout - not an unreasonable position, all things considered:
"Ireland wants to renegotiate its rescue plan to benefit from the same treatment as Spain, which looks set to win a bailout for its banks without any broader economic reforms in return, European sources said on Saturday.

"Ireland raised two issues: one is the need to ensure parity of the deal with Spain retroactively on its bailout from EFSF," one European government source told AFP, referring to the temporary rescue fund, the European Financial Stability Facility.

Another European government source confirmed the information.

Ireland secured an 85-billion-euro ($112 billion) rescue deal from the European Union and the International Monetary Fund in November 2010, but only after agreeing to draconian austerity measures.

Unlike Ireland, Spain's economy minister said a deal on financing for the country's troubled banks would not impose any conditions on the wider economy. Dublin plans to raise the issue during the next meeting of eurozone finance ministers to be held June 21, the sources said."
(emphasis added)
And so the special treatment accorded to Spain is beginning to unravel the discipline that was held to be a sine qua non for resolving the crisis. Naturally, the Irish are quite right to raise the issue - why should they be treated differently?
Some analysts also argue that Greece will get concessions in the wake of Spain's bailout. If so, then everybody will have to get concessions.
More Ruin Amid Ruins - Cyprus Goes Down for the Count
It's a good thing Cyprus is really small, otherwise the latest news from it might have unsettled markets even further. As it is, a bailout of Cyprus - the banking system of which has sustained severe collateral damage from Greece - is jump change compared the the sums that have been thrown at the problems elsewhere thus far. Still - this is now the fifth euro area member of 17 that is in dire straits. Moreover, it appears that it sports an enormous private sector debt load, with both households and corporations drowning in debt.
---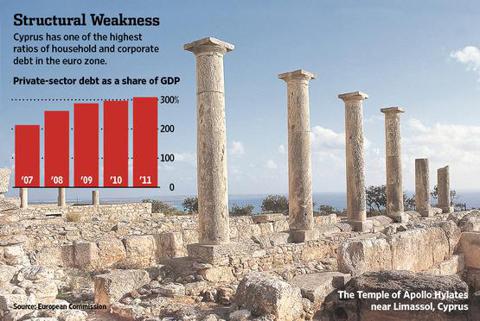 Click to enlarge
They must have misunderstood something. Apollo is the God of Light, not the God of Debt.
---
The WSJ reports that the government of Cyprus is in a hurry to get hold of some money - and since it is mainly for the banks, it also wants - surprise, surprise - the same conditions as Spain!
"Cyprus said that it urgently needed European financial aid to boost its banks' capital, a step that would make it the fifth euro-zone economy to seek help from the region's bailout funds.

Cyprus Finance Minister Vassos Shiarly said that the country's need for an international bailout was "exceptionally urgent" in order for it to recapitalize its banks, and that the issue would need to be resolved by the end of the month.

According to several European officials, the size of any bailout would be unlikely to exceed €3 billion to €4 billion ($3.8 billion to $5 billion), a sum that wouldn't strain the resources of the euro zone's bailout funds. The economy of Cyprus-an island of 800,000 people-is 1/60th the size of the economy of Spain, which said over the weekend that it would seek European funds to recapitalize its own banks.

However, some European officials said the main impact of Cyprus's request on Monday might be to send a further signal that contagion is spreading in the euro zone. Greece, Ireland and Portugal are all in bailout programs.

Officials said Cyprus's government would probably seek funds along the model for loans to Spain, under which conditions will be placed on the country's banking sector but no new impositions will be placed on the way it manages its economy.

Cypriot banks-particularly the nation's second-largest lender, Cyprus Popular Bank-need to rebuild capital after suffering losses in the Greek government-debt restructuring earlier this year."
(emphasis added)
Yes, it may be chump change, but it is no doubt true that the signal it sends is disturbing - one domino after another is tumbling.
That said, a reversal in 'risk assets' on Tuesday seems to be suggesting that the markets are oversold enough to produce a short covering rally until the next batch of bad news emerges (which could be as early as next weekend when Greece votes; obviously this could just as well provide a short term positive impetus, depending on the outcome).
Addendum: ECB Review
The ECB has just released its 'June 2012 Financial Stability Review', presumably as a service for fans of horror stories. We think it should actually be renamed the 'Financial Instability Review'. Apparently the ECB also wants a 'banking union' to be established in the euro area. This is no surprise - we imagine that the monetary bureaucrats are by now getting a tad uneasy about all the 'ELA' funding they are throwing around.
Charts by: WSJ, BigCharts