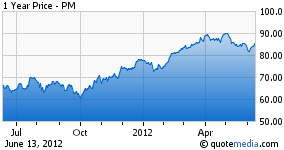 Shares of Philip Morris (NYSE:PM) were up about one percent on Wednesday morning after the company announced a new stock buyback plan. The company will spend $18 billion over three years to continue purchasing shares. The company expects the new plan to start August 1st, following the completion of the existing program. The current buyback, which started in May 2010, will finish early. That plan was for a buyback of $12 billion.
As I've mentioned in the past, this stock needs to be in your portfolio. I have detailed several times that the company expects to buy back $6 billion of its stock this year, and they reiterated that stance this morning. In 2011, the company bought back over 80 million shares at a cost of $5.4 billion, so 2012 purchases will be up more than 10%.
In the same announcement, the company declared its quarterly dividend of $0.77 per share, or $3.08 annually. The dividend will be payable July 12 to shareholders of record at June 27th. The company stated that the ex-dividend date is June 25th. Most investors in this name are long-term holders, so I wouldn't expect too many to jump in just to receive the dividend.
Based on this morning's price of $86, the current dividend gives the stock a 3.58% annual yield. There were times late last year where the yield was over 4%, but at that time, the stock was below $77. It is up nicely since then, and just a few dollars from its all-time high of $91.05. The company is expected to increase the dividend sometime later this year. My current prediction is a raise to a range of 82 to 85 cents per quarter, and those that I've talked to about this name tend to agree with the higher side of that range.
Philip Morris continues to be one of the best value names in the market, and the following quote from Louis Camilleri, Chairman of the Board and Chief Executive Officer, sums it up best.
"Since our spin-off from Altria Group, Inc. in March 2008, we have returned, on a cumulative basis, nearly $40 billion to our shareholders through dividends and share repurchases."
$40 billion returned to shareholders. Wow, that's a lot of money. That's roughly $10 billion per year. With the company increasing its profits, it is completely possible that they could return even more than that in future years. That's why this name is such a favorite, and why I think it is going to $100 before too long.
Currently, analysts have Philip Morris increasing revenues by 2.7% this year and 5.3% next year. Earnings per share are expected to rise even faster, with a 7.6% jump this year and 10.7% next year. This isn't an extreme growth company, it is a value play. But you always appreciate some growth, and Philip Morris will give it to you.
In conclusion, today's news reinforced why Philip Morris is one of the best value names out there today. A more than 3.5% annual yield from the dividend plus $6 billion of buybacks per year give great shareholder value. The company is still growing revenues and earnings.
When this name was around $90, I recommended waiting for a pullback before buying. I advised on a buying range of $84.64 to $87.29, and we are in the middle of that range right now. The name is still a good buy here if you are looking to pick up some shares. However, should we get continued bad news out of Europe, this stock could fall back to the lower $80s where we saw it recently. The name is a good buy at $86 but an even better buy at $82. No matter what price you get in at, or already have gotten in at, there are many reasons to own Philip Morris. Today's news only proves that.
Disclosure: I have no positions in any stocks mentioned, and no plans to initiate any positions within the next 72 hours.