CapitalSource (NYSE:CSE), a diversified REIT, reporting a disappointing $0.07/share fourth-quarter GAAP loss amidst serious derivative losses, mark-to-market losses on its MBS portfolio, and a growing provision for loan losses (see conference call transcript).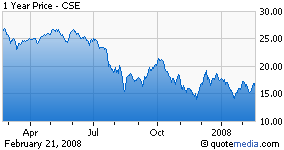 CapitalSource seemingly brushed off the actual results, focusing instead on a healthy dividend outlook and a less competitive landscape for 2008. Analysts on the call seemed a bit dazed and confused, with Moshe Orenbuch at Credit Suisse asking:
And then, I guess with respect to your thoughts on kind of the adjusted earnings level versus the dividends, someone asked a question or kind of inferred that since part of that dividend is paid at the start, is there a period of time where you are willing to under earn the dividend, how should we think about that?
Maybe you should think beyond the smoke and mirrors that CapitalSource is throwing up. The Company has a strong record of delivering on its investments, but the overall structure is suffering under management's one-stop shop attitude. CSE bills itself as a SuperREIT, a hybrid diversified vehicle that can do it all. Unfortunately, the REIT structure is not quite as accommodating as CSE would like for it to be.
CapitalSource's entire reasoning for converting to REIT structure was to enjoy significant tax advantages. However, CSE posted an "overall effective tax rate in 2007, expressed as a percentage of consolidated pre-tax GAAP net income, [of] 33.2%." Obviously, the Company is earnings most of its income within its TRS subsidiaries and not with the tax-sheltered qualified REIT subsidiaries. CSE is basically structured as conglomerate of three separate divisions: 1) a corporate finance TRS, 2) a healthcare net lease REIT, and 3) some sort of structured finance segment. It's a BDC, a healthcare triple net lease REIT, and a poorly performing mortgage REIT all in one!
Seems pretty obvious to me that CapitalSource could unlock significant value by selling off its poorly performing residential mortgage portfolio, spinning off its profitable healthcare net lease REIT as a separate entity, and restructuring its corporate loan portfolio as a BDC. The Company already operates with low leverage, and could eliminate a lot of repurchase agreements by disposing of the residential mortgage portfolio holding up its REIT status.
CapitalSource can perform from an operations standpoint. I wish they'd give themselves the opportunity to do so.
Disclosure: none