Stealth? Well, if you read John Cassidy's article posted at Portfolio.com, you'll get a sense of what's "really" going on behind the scenes.
It links obliquely to what we wrote about yesterday regarding re-rigged CPI data and the "look left, run right" manner in which the government is operating currently.

Look, there is plenty of logic that argues that officialdom just can't let the financial system break down completely. But, there's a price to pay beyond "Moral Hazard" issues and that tab looms in the future.

The two-way volatility continues with equity prices taking a major hit Thursday offsetting Wednesday's comeback performance due to dismal economic data, primarily from a decline for a fourth straight month in leading economic indicators.

Thursday's volume was decent and breadth was much more negative than Wednesday.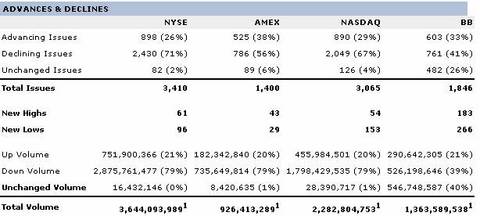 Stepping back from the daily noise is our custom. Instead, let's take a longer term view.




Go to page 2 >>