Cimatron (NASDAQ:CIMT) was Israel Newsletter's February Stock of the Month. The following is an interview with it's CEO, Dan Haran:

Hi Dan, can you tell us what Cimatron does?
Dan Haran, CEO: Cimatron is in the CAD-CAM arena for manufacturing. When companies manufacture things, they still need a lot of CAD-CAM or Numeric Control [NC]. When people have to machine anything (milling, turning, etc.), this all needs to be computer driven.
What do you do for plastic manufacturing?
DH: With plastic-injection molds, it's quite complex to make the mold. It's not just two pieces of metal with a cavity. Manufacturers need to inject plastic, cool it, eject the part – the machine to do this is quite a complex machine. Molds have up to 5,000 parts (pins, screws, plates). To design these machines, it's a very complex design task. Typically, one person designs the product, but another person (usually in another company) designs the molds for each part. Having good software is essential to managing this process.
What about metal?
DH: Working with metal, it's a similarly complex process. Every metal part has to be manufactured by a press. Someone has to design a press. The die is a tool that goes into the press. The progressive process turns a coil of metal into parts. Dies and molds are a key part of tooling.
What's the manufacturing process like in aerospace?
DH: When it comes to turbine blades, you need to take a block of metal and machine each part individually. There is a whole industry focused on discrete manufacturing — you really have to machine one by one.
So, where does Cimatron come in?
DH: Cimatron develops and sells software to moldmakers, die makers, parts manufacturers or subcontractors. OEMs don't have milling machines but all suppliers down the chain do. So, we're playing in this space.
Where does most of your global manufacturing take place?
DH: Europe still accounts for 44% of global manufacturing, the U.S. and Canada 30%, and the rest comes from the Far East. By the way, Vietnam is the new China. We're also seeing things migrating eastward in Europe. The trend to send everything to China is stabilized. High-end products can't be sent to China. Quality, tolerance and even the steel is subpar there, and dies did not go East like molds did. Expertise and know-how is certainly required for dies, and that hasn't been shipped eastward.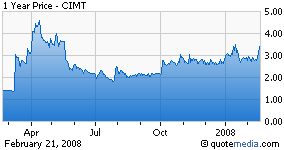 How big is your market?
DH: Simdata provides data on software supplied to the manufacturing industry. The market sizing is $1.3B. We see the overall market growing 7% per year. It's a mature industry. These numbers, by the way, include software in the distribution channel. The industry is $900 million if you just look at the vendor.
So, what's your growth strategy?
DH: Our growth strategy is really to grow within our markets. A few years ago, our product suite just appealed to plastic industry. Mold design is much more mature than die design and consequently, more competitive. In die design, AutoCAD, competitors are still in 2D and should see significant growth. Just 18 months ago, we didn't have a product for complex 5-axis milling, a truly complex technology.
We've been selling this product for 18 months and have 14% of the market. Most shops don't have 5-axis machines, but now, we're seeing rapid growth in 5-axis, and Cimatron is riding this growth. In this industry, you must have relationships with machine vendors. Buyers don't trust any software vendor – they turn to the machine vendor to ask who should power their software. We're busy working on relationships. We do lots of test cuts, give free seats, and hold open houses to build our presence.
How does pricing work?
DH: The industry uses modular pricing for software vendors. The average price/seat is around $15,000 but it varies a lot by deal, and geography.
Who are your competitors?
DH: The "Big 3" is comprised of UGS (recently bought by Siemens), Dessault (Catia), and PTC. Combined, these firms sell about $100M in the industry. No one company dominates the market, and we have competitors in 5-axis. UG, who was recently bought by Siemens and OpenMind, a German company, is the leader in the 5-axis market.
Tell us about Gibbs, your recent acquisition.
DH: We recently announced that we acquired Gibbs. We did this to get into 2.5-axis where the z-axis is pretty simple. They see large quantities and need to be programmed and machined properly. Millturn (combo milling and turning) is the fastest growing sector in manufacturing. It's like a factory in one machine. Gibbs has a best in class product, focused on production.
CIMT has traditionally focused on tooling, but Bill Gibbs agreed to stay with company for 5 years. In 2007, it had $12 million in revenues. Looking at non-U.S. GAAP, it has 10% profits. Distribution for both companies is complementary. Gibbs has 70% of its business in the U.S., while CIMT has traditionally focused on Europe and Japan. We're now mobilizing to sell Gibbs products in Korea. The deal was $5 million in cash, and 1.5 million shares.
What's the distribution model?
DH: The model for distribution depends on an individual country. Sometimes we hire our own employees and sometimes we either work with local partner or buy local partner. We cover 90% of the industry with CIMT product. Auto is still largest piece of revenues, since Auto is the largest industry using plastic parts, then consumer electronics [CE], toys, and medical (which we see as a high growth area). We're focused on success in execution and can now address a market 3 times bigger than what it was two years ago.
We want countries like Japan, who see Cimatron solely as a NC expert, to know about Gibbs and the rest of our product suite. We think there will be a lot of cross selling opportunities resulting from the acquisition. In 2008 and 2009, we're looking to keep growing and becoming more profitable. We are still looking for more acquisitions and consolidating the market. I like to keep an open mind about balancing organic and acquisitive growth. We're tight on budget control.
What are the risks for Cimatron?
DH: A global recession could hurt CIMT, as could fewer phones, and plasma TVs. Gibbs acquisition is not being integrated from a product point of view so there is not a lot of acquisition risk.
What are you doing to get the word out?
DH: We're talking to Israeli investment houses. Our immediate targets are Israeli institutional investors. We also attended the Unterberg Small Cap conference. We have U.S. shareholders, too. Our float is low and we hear from investors, "we'd like to buy, but there isn't a lot of stock out there to buy." In terms of holdings, I have an options package. Our two major shareholders are DBSI and Rimon Ben Shaul (Chairman), and they own about 50% of company after dilution.
Danny Haran joined Cimatron in 2003 after holding senior management positions at Comverse (NASDAQ:CMVT), most recently as Chief Operating Officer of the Intelligent Network Division. Mr. Haran holds a B.Sc. in Computer Engineering from the Technion Institute, M.Sc. from the Weitzman Institute, and an MBA from Tel Aviv University, Israel.