In psycho-analysis, codependency usually is not a good thing. This article discusses a couple of hot growth stocks that have codependency issues, but that is not all bad.
I grew up in the inner city in Dallas, Texas. In the 1950's, the streets were noisy with gangs of World War II baby boomers. The guys in the gang grew up together from pre-school to high school, and we developed our own rules and hierarchy. My classmate, Jerry, was big, athletic, popular and a little mean. He had a next-door neighbor, Mickey. Mickey was smallish and a big mouth, but everyone tolerated him partly because Jerry watched out for him. Mickey was codependent on Jerry for his social acceptance, and Jerry liked the adulation.
Mickey regularly managed to be a nuisance. For instance, occasionally a turf skirmish erupted with one of the adjacent gangs over a baseball diamond or basketball court, and Mickey's braggadocio got us all into brawls that might have been resolved peacefully otherwise. Jerry moved across town when we were 14-years old, and we still accepted Mickey. After all, he was one of the guys, and we were too naive to know that everyone was supposed to be perfect. Unfortunately, Mickey was slow to recognize the consequences of his smart mouth, and, without Jerry's protection, he had a summer of black eyes.
Companies that are codependent on other companies can benefit greatly from the size and popularity of the larger enterprise, but may be weaklings without that association. Our "Shadow Stock" series focuses on under-the-radar companies that may benefit from the same growth drivers of a larger company in the same industry segment. This month's offering looks at two companies that have a codependent, yet synergistic, relationship with a blue chip.
US Home Systems (NASDAQ:USHS) is codependent on Home Depot (NYSE:HD) for its livelihood. U.S. Home Systems, Inc. engages in the design, manufacture, procurement, sale, and installation of custom specialty home improvement products in the United States. It offers kitchen and bathroom refacing products, including cabinet refacing systems, cabinet doors, drawer fronts, and drawer boxes. USHS markets its products through the Home Depot almost exclusively.
The company is not exactly unknown, as it saw a meteoric rise at the start of 2012, followed by a drop that put it back in a good value range. Below is a chart of both USHS and HD gains over the past year.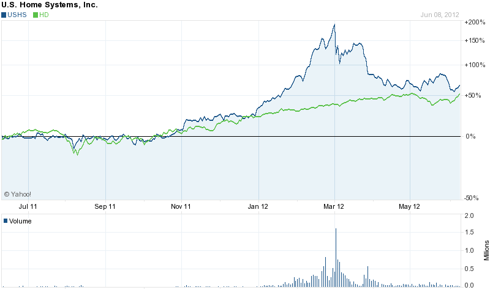 In its latest quarter, USHS reported a revenue increase of 8% and EPS improvement of 52%. Analysts currently project USHS to earn $.74 in 2012, giving it a PE of 11.5, and a target price of $13.75, a 60% increase over its current price of $8.52. The share price is about double the book value and one-third of sales, which are good value measures. USHS recently initiated a 1.4% dividend.
USHS has some growth drivers, including a recent association with Martha Stewart to produce a new line of cabinetry products, also available in Home Depot. It also has an agreement with a Canadian retailer to place displays in a limited number of those stores on an experimental basis. If this is successful, USHS will be able to market its products in hundreds of stores in the Canadian market. USHS is developing an online design site.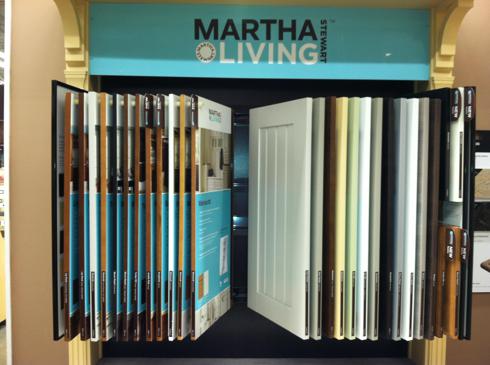 The codependency on Home Depot has enabled USHS to ride on the coat tails of HD advertising and capture home improvement customers where they shop. HD has elevated Kitchen Refacing to a strategic driver in 2012, according to USHS. This implies more ads, floor space and sales effort in the kitchen departments. The symbiotic relationship has been good for HD as well as USHS, and the cabinet refacing allows HD to cross-sell other products.
Of course, even though USHS and HD have agreements that extend this relationship into the foreseeable future, if HD decided to change the relationship, USHS does not have enough independent activity to survive. USHS is moving to expand its reach beyond Home Depot, but it is not there yet. On the other hand, HD has no reason to make such a change, and practically cannot eliminate USHS without it setting back their progress as the leading retailer in the cabinet refacing business. Competitors would face large entry costs to place displays and vignettes in hundreds of stores and tool up for volume business.
USHS has been able to register good growth numbers despite conditions that could be better for its business. The stagnant housing market has not affected the home improvement industry as much as home builders, but more active home turnover would help USHS. Unemployment reduces the funds available by households for badly needed improvements. The tight credit is especially difficult for USHS, as 25% of the customers have been declined by lenders for loans for cabinet refacing, versus the historical rate of 7%. Any improvement in those conditions would create additional market for US Home Systems.
Craft Brew Alliance, Inc. (NASDAQ:BREW) managed to appreciate 20% in the past three months while the general market dropped. The gain was powered by strong performance from the beverage sector and a first quarter earnings surprise. Craft Brew Alliance, Inc. engages in brewing, marketing, and selling craft beers under the Widmer Brothers, Redhook, and Kona brand names in the United States.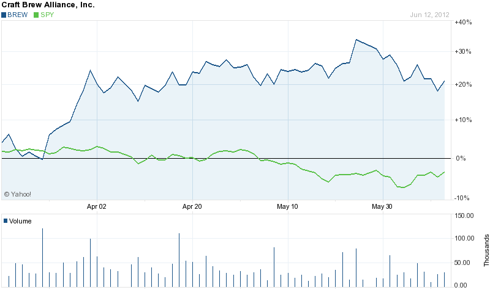 BREW is dependent on Anheuser-Busch (NYSE:BUD) for distribution of most of its product. According to the BREW Annual Report:
"We distribute our products in substantially all of our markets through A-B's wholesale distribution network. A-B's domestic network consists of more than 510 independent wholesale distributors, most of which are geographically contiguous, and 14 wholesale distributors owned and operated by A-B. This distribution relationship with A-B has offered efficiencies in logistics and product delivery, state reporting and licensing, billing and collections. We have realized these efficiencies while maintaining full autonomy over the production, sale and marketing of our products as an independent company."
A Motley Fool article had a less rosy view of this agreement:
"Craft is able to grow at the rate it has because Anheuser-Busch distributes its products across the country. Craft pays distribution fees, as would be expected, but the agreement also gives Anheuser-Busch surprising discretion and power. Not only can Anheuser-Busch appoint two board members, it can also terminate the distribution agreement at any time if Craft marketing, management or board does anything that Anheuser-Busch deems to be "incompatible conduct" or contrary to its image or reputation. Craft's growth prospects exist at the whim of Anheuser-Busch."
Obviously, there are advantages and disadvantages to the relationship between BUD and BREW. We think it is notable that A-B actually owns 32% of the BREW common stock, which represents a significant interest in BREW's success. In the first quarter report, BREW mentions that the distribution fees have been reduced by A-H.
Part of the success of both BREW and competitor Boston Brewery(NYSE:SAM) is the cultural phenomenon that has helped Starbucks (NASDAQ:SBUX) sell $3 cups of coffee: when the large luxuries are out of reach, the small luxuries flourish. The "craft" beer market is growing rapidly, and A-B is certainly aware of this. The agreement with BREW allows it to participate in this market with 3 of the 5 most popular new US craft brands: Widmer Brothers Rotator #2, Kona Island Hopper #3, Redhook Pilsner #5.
From a value point of view, BREW is not cheap; however, it has some pros and cons in comparison to other brewers. Its latest growth numbers are exceptional, and the price compares favorably with sales and book value. However, both BUD and SAM have much better margins, and SAM and BREW are comparable with high PE's.
| | | | |
| --- | --- | --- | --- |
| -- | BUD | BREW | SAM |
| Market Cap: | 108.87B | 141.33M | 1.40B |
| Stock Price : | 68.13 | 7.50 | 110.05 |
| Qtrly Rev Growth (yoy): | 3.70% | 19.20% | 10.90% |
| Revenue: | 39.38B | 155.40M | 524.09M |
| Gross Margin : | 57.87% | 30.67% | 56.10% |
| EBITDA : | 15.34B | 14.07M | 108.14M |
| Operating Margin : | 32.06% | 4.40% | 17.00% |
| Net Income : | 6.58B | 10.33M | 69.59M |
| EPS (2012): | 4.67 | 0.25 | 4.18 |
| P/E (2012): | 14.6 | 30.0 | 26.3 |
| P/BOOK | 2.90 | 1.34 | 7.17 |
| P/SALES: | 2.74 | 0.91 | 2.65 |
In a diversified portfolio, an entry from the beverage sector is a good idea, considering the somewhat recession-proof nature of the business. BREW may offer the most explosive opportunity, but it is a riskier bet than a reliable and fair-priced BUD. SAM is considered the "best of breed" in the craft beer market.
Conclusion: While there are drawbacks to being codependent on another company for product distribution, it is not necessarily a reason to completely ignore a stock. One very real possibility for rapid price appreciation is take-over of the codependent company by its larger partner. BUD already owns a large equity share of Craft Brew Alliance, and, if growth accelerates, possibly the main reason to not acquire BREW is to maintain its image as a boutique brewer. We doubt that stockholders would criticize Home Depot for acquiring US Home Systems, a no-debt cash cow. On the other hand, if trouble develops in these relationships, it is the little guy that will end up with the black eye.
Disclosure: I am long USHS.