Philip Morris (NYSE:PM) recently announced a new three year repurchase plan of $18 billion, beginning in August this year. This move can be considered one of the best use of cash for shareholders' wealth if the buyback is repurchased at the discount to its intrinsic business value.
Over the past four years, the company has kept repurchasing its shares, as indicated in the shareholders' equity information in its financial statement.
| | | | | |
| --- | --- | --- | --- | --- |
| USD million | 2008 | 2009 | 2010 | 2011 |
| Treasury stock | -5154 | -10228 | -14712 | -19990 |
The level of treasury stocks is increasing over time, from only $5.1 billion in 2008 to nearly $19.9 billion in 2011. The stockholders equity has been reduced from $15.4 billion to only $229 million, mainly because of increasing stock repurchases.
Over the past five years, its annualized EPS growth is 11.2%. In addition, Philip Morris keeps generating free cash flow. In the period of 2007 and 2011, the free cash flow has been growing from $4.5 billion to $9.6 billion, with the impressive annualized growth of 16.35%. Within the same period, the stock price is quite in line with the company's EPS.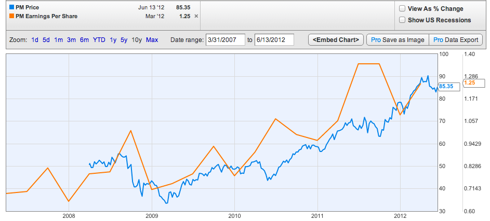 Ycharts.com.
Along with the announcement of a stock buyback plan, it also declared quarterly dividends of $0.77 per share.
Last month, Camilleri Louis, the company's chairman and CEO, sold 70,000 shares of the company at the average price of $85.64 per share. After the transaction, he still owns more than 1.6 million shares.
Currently, Philip Morris is trading at 16.8x P/E, 1250x its book value and 14.8x its operating cash flow. The high valuation in book value is simply due to the rapid increase in its stock buybacks. Given the historical sustainable growth of the company's fundamental performance, fantastic brand loyalty, and the frequent stock repurchase, investors might consider Philip Morris as a very good long-term investment candidate.
Disclosure: I have no positions in any stocks mentioned, and no plans to initiate any positions within the next 72 hours.